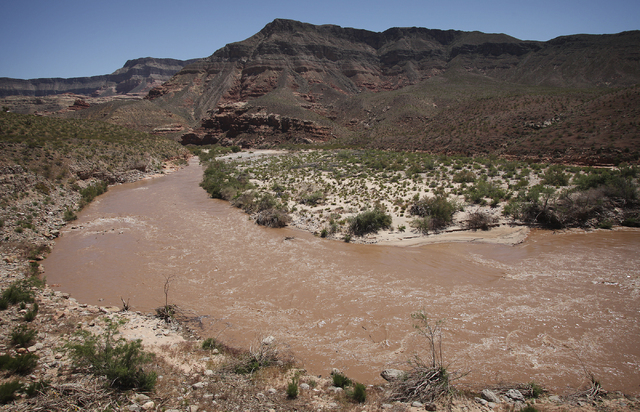 ST. GEORGE, Utah — Many farmers and residents in southern Utah will no longer be able to use water from the Virgin River because of continuing drought conditions that have greatly diminished water levels in the river and its tributaries.
Only people with water rights dating back earlier than 1900 will be able to divert water to irrigate crops, grow pastures and give animals drinking water, the Spectrum of St. George reported.
About 100 people will lose their water rights under the action, assistant state engineer Jared Manning said.
The Utah Department of Natural Resources sent a letter earlier this month alerting people to the changes. State officials blame extremely dry conditions over the last three years.
People who don't follow the new guidelines will face significant fines, ranging from $1,000 a day for an unintentional violation and $5,000 a day for an intentional violation, Manning said.
"This is an extraordinary action which will require an immediate response," the letter says.
The rules apply to the river and its tributaries from near Zion National Park to a diversion dam near St. George.
The Virgin River begins in southern Utah, crosses a small stretch of Arizona and flows into Nevada, where it winds through the city of Mesquite and empties into the northern tip of Lake Mead.
The Southern Nevada Water Authority, wholesale supplier for the Las Vegas Valley, has bought up rights to the river, storing that water in Lake Mead for future use. The Utah cuts will not affect water rights holders along the Virgin in Nevada.
At a public meeting Tuesday in St. George to discuss the changes, Manning said the restrictions will allow those with pre-1900 permission to get the water they need.
"There's only a finite amount of water, and it has to be split up by priority to the users who have the right to it," Manning said, according to the Spectrum.
As stream flows change, the cuts could be modified, or eventually eliminated, he said.
State officials have regulated water use off the main Virgin River, but this marks the first time they've expanded the limitations to the tributaries, Manning said.
Some people in line to lose water are worried about the effects.
"It's all the irrigation. Pastures, the town park, trees," said Lisa Stout, of Virgin, a small town about 10 miles west of Zion National Park.
Kevin Stout, president of the Virgin Canal Co., told the Deseret News that the new rules will hurt families in Virgin who farm and garden because they will have to use the more expensive, treated water.
"We're going to take a considerable cut in what water we do have," Stout said.
Las Vegas Review-Journal writer Henry Brean contributed to this report.