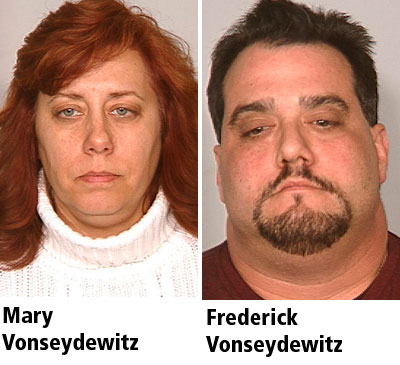 A husband and wife were arrested earlier this week on dozens of incest-related charges dating back to when their children were minors, Las Vegas police said Tuesday.
Police booked Frederick Vonseydewitz, 44, and his wife, Mary Vonseydewitz, 48, into the Clark County Detention Center on Monday on charges of sexual assault, sexual assault with a victim under the age of 16, and lewdness with a minor under the age of 14. Both were in the county jail Tuesday afternoon on $390,000 bail.
According to a police report, a brother and sister, 22 and 20 respectively, notified police they had been abused by their mother and stepfather.
The 20-year-old woman told police Frederick Vonseydewitz had sex with her when she was 13. She reported that her brother was 10 when her mother engaged in sex acts with him. The report states that the boy was sexually assaulted by both suspects until the age of 14 or 15. The girl was sexually assaulted several times by her stepfather at the age of 15, the report states.
The report states there were instances in which Frederick and Mary Vonseydewitz participated in sex acts with their children together.
On Monday, detectives separately interviewed both suspects, who admitted that the accusations probably were true, the report states.
Frederick Vonseydewitz told police his stepchildren have "no reason to lie and make false accusations," the report states.
Metropolitan police spokesman Bill Cassell would not speak specifically about the case. But he said cases involving incest are not uncommon.
There were 1,400 sexual assault cases filed under Las Vegas police jurisdiction in 2008. Cassell said 1,100 of those cases — or 79 percent — involved family members or acquaintances as the perpetrators.
"When you think of sexual assault or rape, you tend to think of a violent crime committed by a stranger, and that's generally not the case," he said.
Contact reporter Antonio Planas at aplanas@reviewjournal.com or 702-383-4638.