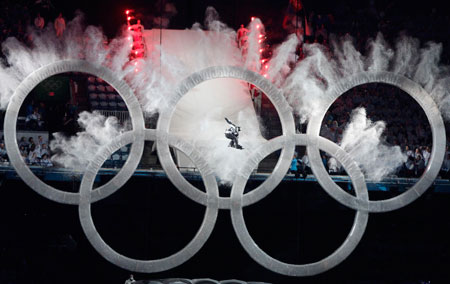 VANCOUVER, British Columbia (AP) — In time-honored tradition, the show went on.
Despite the training-run death earlier in the day of a luger from the country of Georgia, the Olympics' opening ceremonies unfolded in a mostly jubilant atmosphere, with an upbeat crowd filling BC Place Stadium.
The festive mood, including a snowboarder's leap through giant Olympic rings, contrasted sharply with the grief that befell the games earlier in the day when luger Nodar Kumaritashvili died in a horrific crash on the sliding track at Whistler.
The ceremonies were dedicated to Kumaritashvili, and a moment of silence was observed in his memory. The seven remaining members of the Georgian team, who decided to stay and compete, wore black armbands as they marched behind a black-trimmed flag. Most of the crowd rose to give respectful applause.