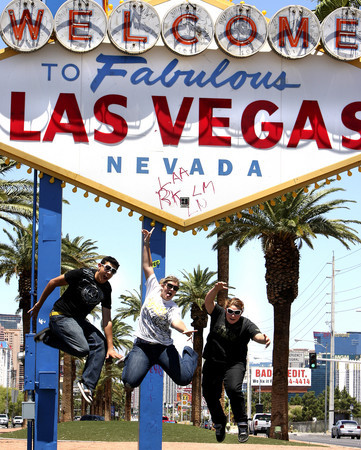 The famous diamond-shaped "Welcome to Fabulous Las Vegas, Nevada" sign received an unwelcome addition this weekend — a series of initials scribbled with a red marker.
It was the first act of graffiti on the sign that Russell Davis, a spokesman for Clark County public works, can remember.
"It looks like someone got on someone's shoulders (to do it)," he said. "It's unfortunate, because it's not the iconic Las Vegas sign when it's covered with graffiti."
A cleaning crew will be dispatched today to clean up the sign, Davis said.
The sign was designed by Betty Willis in 1959.
In December, a $400,000 project to add parking spaces and a paved walkway on the traffic median holding the sign was finished.
The improvements made accessing the sign easier for tourists — and, apparently, for vandals, Davis said.
"Probably just some kids," he said.
The sign, at the south end of the Strip, is not actually in the city of Las Vegas, but Las Vegas Mayor Oscar Goodman — who famously championed corporal punishment when graffiti showed up on a tortoise sculpture underneath the Spaghetti Bowl interchange — took offense anyway.
"When they graffitied my tortoise, I said, 'Off with their thumbs!'" the mayor said through a spokesperson. "This deserves, 'Off with their heads!'"
Anyone with information on the graffiti is asked to call 455-4509.
Review-Journal writer Alan Choate contributed to this report. Contact reporter Mike Blasky at mblasky@reviewjournal. com or 702-383-0283.