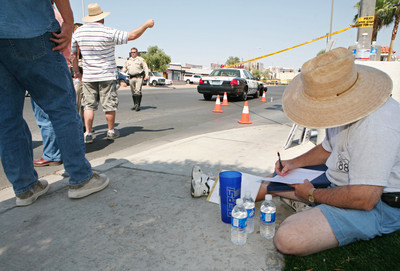 A union sheet metal worker was injured while picketing outside the Gold Coast Friday when a man driving a black Ford Bronco struck him.
Witnesses said 41-year-old Lenny Butterfield, a journeyman sheet metal worker, was picketing with other union members of the Sheet Metal Workers Local 88 when the Bronco pulled into the Gold Coast parking lot.
The Bronco then stopped a short distance into the parking lot, stopped, and peeled out in reverse back toward the street, witnesses said.
The union members were crossing the entrance to the parking lot inside the crosswalk when the Bronco hit Butterfield.
"He (Butterfield) went flying out into the street," said Dan Mulhern, an organizer with the union who witnessed the collision.
Mulhern and other witnesses said the incident seemed intentional.
The Bronco then sped off through the parking lot.
Las Vegas police were searching for the man but had not found him Friday afternoon.
The vehicle was described as well-maintained, with license plate number 663-JLU.
Butterfield was taken to the University Medical Center, where he was treated for cuts and bruises and released.