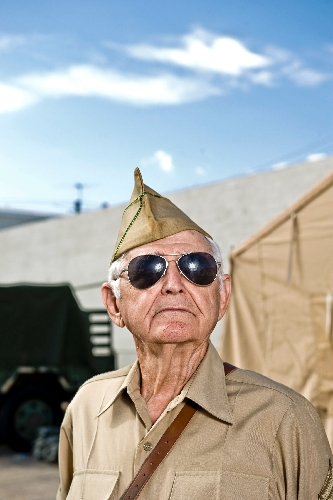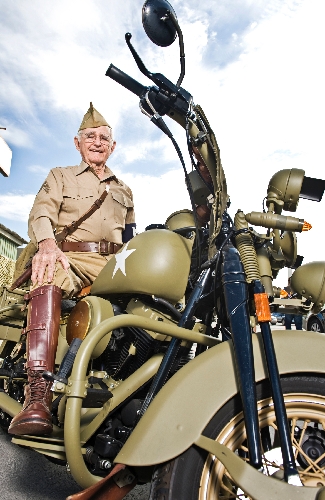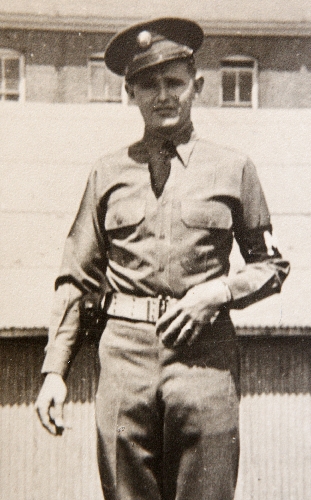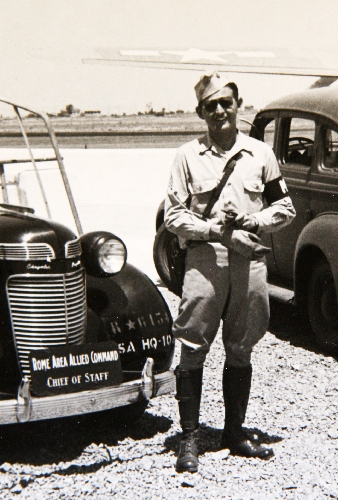 Except for his snow-white hair and wire-rimmed glasses, Gene Stephens appears ageless at 94 years old.
He still looks fit in his Military Police Corps uniform. His shin-high, brown cavalry boots have a polished shine. His khaki breeches look crisply pressed. And the black armband around his left shirtsleeve with tall, white "MP" letters is just like the one he wore in World War II.
To the best of his knowledge and in the memories of Military Police Regimental Association members, Stephens, of Las Vegas, is the last living original member of the Military Police Corps, a branch of the Army that dates back to 1941.
He will be honored as such when the corps holds its 71st anniversary celebration this month at Fort Leonard Wood, Mo.
"It's a new wrinkle in my life," Stephens said recently. "It's really awesome because it's something I never anticipated."
The week of events begins Sept. 14 with a golf tournament in which Stephens plans to play (he's a regular player at Sun City Summerlin). It ends Sept. 22 with the Regimental Ball, when he will don his 1940s-vintage MP uniform and greet the attendees.
Then, he will change into his dress blues and sit at the head table with Brig. Gen. Mark Inch, commander of the U.S. Army Military Police Regiment and commandant of the Army Military Police School.
"Sitting at the table with the general, that's a really big thing," Stephens said.
During the ball, Inch will present Stephens with all five of his World War II medals that were obtained for him by Sen. Dean Heller, R-Nev. Besides the World War II Victory Medal, the others are the American Defense Service Medal, the European-African-Middle Eastern Campaign Medal, the Army of Occupation Medal, and the Good Conduct Medal.
The day before the ball, he will observe the induction of four former MPs into the corps' Hall of Fame. They include Theodore S. Kanamine, a retired brigadier general who was the first American of Japanese ancestry to achieve the rank of general officer in the corps. As a boy, along with his family, he was put in a U.S. internment camp during World War II, when Stephens was serving in North Africa and Europe.
During a photo shoot this summer in the war-zone motif of the soon-to-open Battlefield Vegas on Industrial Road, memories of Stephens' days as a motorcycle MP in Algiers, Rome and London rolled through his mind after Bally Technologies executive Bruce Rowe drove a special, olive-drab Harley-Davidson into the compound.
The 2002 customized messenger motorcycle with Gatling gun exhaust pipes and bayonet-handle foot pegs was built as a tribute to Rowe's father and grandfather, Army veterans of World War II and World War I.
"This is unbelievable," Stephens said. "It brings back memories from way back. I just wanted to jump on that motorcycle and take off."
Stephens, who was known as "Tex" because he was raised in Edinburg, Texas, was a salesman working in Battle Creek, Mich., when he was drafted on Jan. 21, 1941.
He was sent to Fort Brady, a post in Sault Ste. Marie on Michigan's Upper Peninsula, where the 702nd MP Battalion was formed in May 1941, predating by four months Secretary of War Henry L. Stimson's establishment of the Military Police Corps as a branch of the Army.
Assigned to Company A, his first advanced training focused on cold-weather exercises, particularly skiing.
"We were supposed to go to Finland," Stephens recalled. "We had professional ski instructors."
He was in Detroit on Dec. 7, 1941, when Japanese warplanes attacked Battleship Row and nearby installations on Oahu in the Hawaiian Islands, signaling the outbreak of World War II for the United States.
His draft obligation was extended indefinitely. He continued combat training in Wisconsin before traveling to Brooklyn, N.Y., to sail with troops aboard the Queen Elizabeth to northern Scotland, arriving in June 1942.
His duty station was the airfield at Rushden, England, where his unit stayed in private homes and he trained a cadre of motorcycle riders.
Their first assignment was Gen. Dwight Eisenhower's Bushy Park camp in London with the 888th MP Company of the Army's Eighth Air Force.
"When Eisenhower wanted to go somewhere, he'd whistle for us and we'd lead him wherever he wanted to go. We were his personal company," Stephens, a sergeant in the company's traffic section, said in a 2011 interview.
In London, they packed .38-caliber Smith & Wesson Victory revolvers as they whizzed through city streets with sirens wailing, riding big Model 74 Harleys to escort Ike and other generals.
There were speed limits near Camp Griffiss, and one time Stephens pulled over a sedan going too fast in the zone. Eisenhower himself was inside the car with a driver and some of his staff.
"I didn't give him a ticket. I knew better than that," Stephens said. "His staff guy came around and said, 'Do you know who's in this car?' He was very cordial. There was no problem, and he went on his way."
In November 1942, Stephens' unit was sent to Oran, Algeria, where it was renamed the 281st MP Company. "They issued us brand-new Model 45 Harley-Davidsons, which was a lot easier to handle and lots peppier."
On North Africa's Mediterranean coast, their job was to direct convoy landings and assist Maj. Gen. George S. Patton's troops as they emerged from Casablanca to prepare for the invasion of Sicily.
In Algiers, Stephens' company was called to apprehend German and Italian soldiers who were surrendering as U.S. and British forces swept across North Africa. They also pulled crowd-control details for celebrities on USO tours, including Frank Sinatra when he came to Algiers for three days in 1943.
Once, in 1943, Stephens' team provided a nighttime motorcade escort for President Franklin D. Roosevelt. The president had arrived in North Africa to travel to the Tehran Conference and meet with British Prime Minister Winston Churchill and Soviet Premier Joseph Stalin.
They picked up FDR at the Oran seaport and escorted him to the Algiers airport. Although Stephens was the 281st company photographer, no pictures were allowed during that mission. One of his most unusual jobs was escorting 800 warplanes – P-38s, P-51s and P-47s – that were wingless when they were unloaded from ships in Oran and Algiers.
Later during the war, he served 14 months in Rome, often patrolling the streets to keep order among rowdy, combat-hardened soldiers who came to the city on liberty passes. He was honorably discharged in October 1945.
After the war, Stephens made a career as a real estate manager for a Minneapolis-based retail chain store, Gamble-Skogmo Inc. He retired in 1971 and went into business as a consultant and owner of nursing homes and developer of about 20 retirement centers. He moved to Las Vegas from Clearwater, Fla., in 1992.
His three-word recipe for longevity: "Tender loving care."
Contact reporter Keith Rogers at krogers@reviewjournal.com or 702-383-0308.