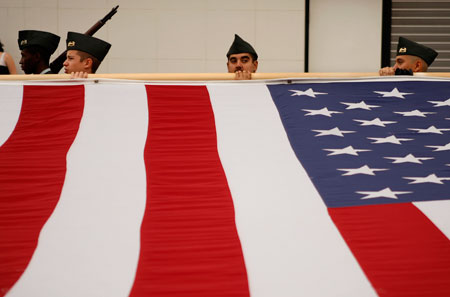 It's a little after 8 a.m. Wednesday, and a chill hovers over downtown.
A rickety old guy with a red, white and blue afghan across his lap zooms his wheelchair-scooter between people on Fourth Street's sidewalk.
The street is already lined with people, from the dirty part near Charleston Boulevard all the way to the gaudy glitz of Neonopolis. Organizers say they got a decent turnout this year for the annual Veterans Day Parade, which ran from 10 a.m. until long past noon.
Billy Stojack, the parade's senior adviser, doesn't have a crowd estimate, but guesses that it was down a little from past years.
He blames the chilly weather, the bad economy, the fact that Veterans Day was on a Wednesday this year.
But the crowd size isn't what matters, he says. The parade went off without a hitch.
Attendees included veterans, parade participants and their family members.
The veterans who came had served all over the globe, in Iraq and Afghanistan, Europe, Japan, Vietnam and Korea.
"Robert from Casper, Wyoming," says the rickety guy by way of introduction.
He's wearing a red baseball cap with U.S.M.C. embroidered across the front. "Pfc. Woodruff" is written on the bill in black ink.
Is that you?
"Was, a long time ago," he says.
He doesn't stop to talk, just to relight his pipe. He's riding a red, four-wheeled scooter toward the area where parade participants have gathered. It's got a license plate on the rear that says "God bless America" and huge bull horns strapped to the front.
An American flag flies atop the whole contraption.
Yeah, he served, he says, in 1951.
Did you serve in Korea?
"Yeah, but I don't talk about it."
He says he's in town for a few days.
Why are you here? Why did you believe it was important to come to the parade?
"Don't ask me that," he says.
He chuckles at the question and shakes his head. "You know better than that."
He zooms away to find whatever it was he was looking for.
A blond woman down the block sits on the sidewalk, her back resting against a light pole. She's across the street from A Special Memory Wedding Chapel, near Fourth and Gass Avenue.
She's got a 7-Eleven coffee cup next to her, a tiny American flag in her hand and two little kids buzzing around her like caffeinated bumblebees.
Those are two of her seven kids, she says. The oldest is 26; the youngest is 4. She's 47, a single mom.
Her 14-year-old daughter is in the Army JROTC at Bonanza High School. She'll be marching in the parade, as her older sister did last year.
"I wish I'd joined it," says the woman, Denise Castagnier.
She says the organization teaches the kids discipline, respect and a work ethic.
She's a dog groomer, unemployed at the moment.
It's a tough world out there, and she wants her kids prepared for it. None of them are in the military, but she wouldn't discourage such a choice once they're older.
"I want them to go somewhere in life," she says.
The crowd is growing around her as people set up folding chairs on the sidewalk or stake out choice bits of concrete on which to sit.
Over here is a hawker with a shopping cart full of goods: balloons and flags, blow-up toys and hats.
Over there is a homeless guy in military-style fatigues.
A military cadence washes over the crowd just then, from somewhere a block or two away.
There is the sound of drums, a marching band. Bagpipes. The roar of motorcycles. The hum of a classic convertible preparing for the parade.
"There's going to be a lot of stops and starts," barks the leader of an Army marching band. "This is not a straight shot parade. Despite the fact that we are near the front, I guess there's going to be a lot of that."
He turns out to be right, as there are well over 100 entrants in this parade. It starts soon enough, and there are cheers from the crowd. More than cheers, really, there is simple, sustained applause. There are shouts of "Thank you!" and occasional conversations between parade participants and parade attendees.
Some of the most raucous applause goes to a group of women in T-shirts. Their shirts say "Freedom is not free" on the front. Most of the shirts are imprinted with photos of young men in fatigues or military uniforms.
The women represent the Gold Star Families. Their children and relatives have been killed in war.
They are marching in the parade so people will know what they have given up for the rest of us, says one of the women, Miranda Vance, as she gears up for things to begin.
"He left me so much," says Vance. "His memory is still very much alive."
She's talking about her son, Ignacio Ramirez, whom everyone called Nacho because he wasn't all that happy with his first name.
He was 22, a chemical specialist in the Army. He died in Ramadi, Iraq, on Aug. 9, 2006.
He was loving and caring and the kind of guy who'd do anything for anyone, a helper.
He had enlisted as soon as he turned 18 and talked about it long before that. Vance did not discourage her son from enlisting.
"Are you ready?" was really her only question.
Nor will she discourage any of her seven kids from doing what they believe in, she says.
Her 15-year-old has recently become enthralled with going to the Air Force Academy.
So be it, says Vance, as the parade gets going. She'll back that decision up.
Contact reporter Richard Lake at rlake@reviewjournal.com or 702-383-0307.