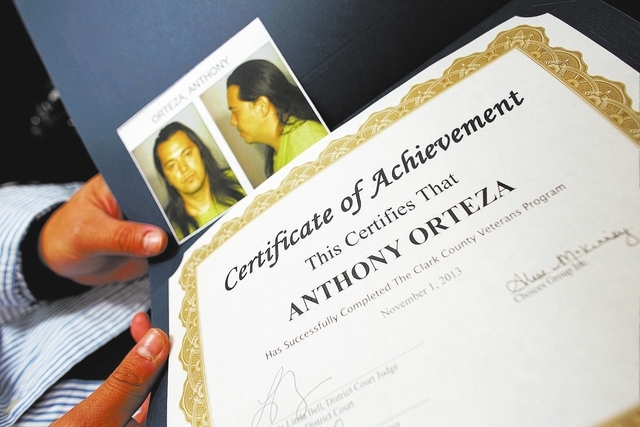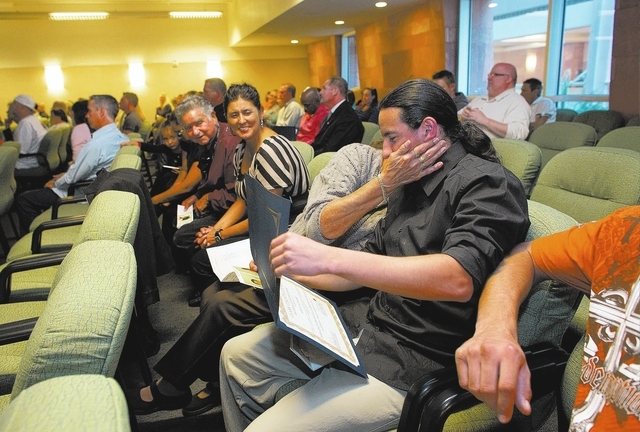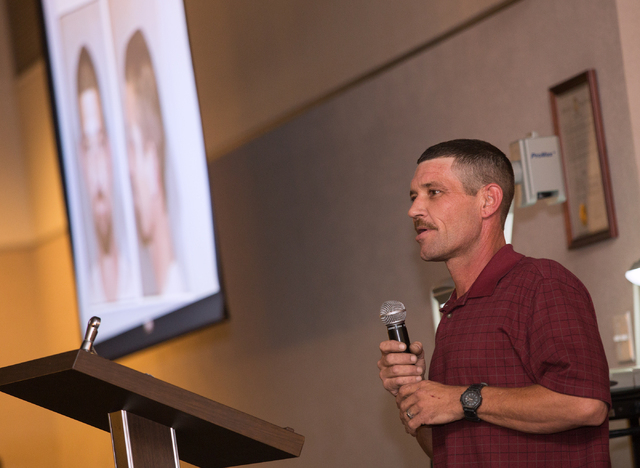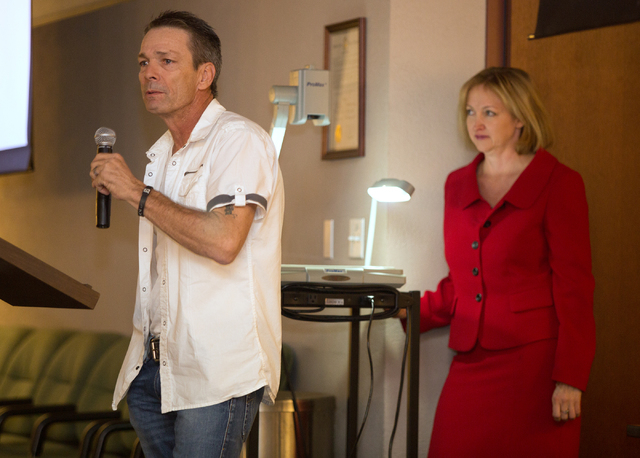 Anthony Orteza looked at his police mug shot, blown up on an overhead projector.
"I don't even look like that anymore," Orteza chided as he accepted a certificate marking the U.S. Navy veteran's graduation from Clark County's Specialty Courts.
Orteza was one of two men who graduated Friday from the Eighth Judicial District's year-old veteran's specialty court, which aims to keep nonviolent offenders from rotating in and out of the Clark County Detention Center. It provides guidance and treatment to prevent defendants from re-offending, saving tax dollars.
District Court, Justice Court and Municipal Court have different types of specialty courts, including drug, DUI and mental health court.
Orteza said the specialty court saved his life.
He started using drugs during his time in the Navy. "You leave your family and a part of you is left behind," Orteza said, explaining why he began using drugs.
At first he used drugs recreationally, but then began using methamphetamine.
Now, thanks to the support and guidance from veterans court, he's working as a cook. He's been sober for two years.
"It helped me stay clean," he said.
There are 40 veterans in the program now, with 65 veterans having gone through the program since its creation.
Friday marked the anniversary of veterans court being added to the list of specialty courts offered in District Court. It is the youngest of the specialty court programs. Drug court, the oldest, recently marked its 21-year anniversary.
In all, 46 people graduated from the different specialty court programs Friday at a ceremony in the jury services room of the Regional Justice Center.
The police mug shots of the graduates were shown as a striking visual example of the graduates' metamorphosis from addiction to sobriety.
Many of the graduates smiled. Others were overcome with emotion.
One woman said through tears and laughter that she graduated the program thanks to "the grace of God … and um … house arrest."
Judge Linda Bell, who runs the specialty court, handed out certificates and hugs during the ceremony.
Bell, who has described her role as a mix of sternness and compassion, reminded the graduates how difficult the journey was and how they should be proud of their success.
The reward, beyond sobriety, is that the criminal case is dismissed once a defendant successfully completes the specialty court requirements.
But not every defendant successfully completes the program, and it takes some longer than others to finish.
While avoiding prison is a big motivator at the beginning, by the end of the program graduates are more interested in sobriety and re-establishing themselves with their family and in the community.
Local court officials estimate that the specialty courts has saved more than $40 million since the first was founded by former Judge Jack Lehman.
According to the National Association of Drug Court Professionals, for every $1 invested in specialty drug courts, taxpayers save more than $3 in criminal justice costs.
Photographer Samantha Clemons contributed to this report. Contact reporter Francis McCabe at fmccabe@review journal.com or 702-380-1039.