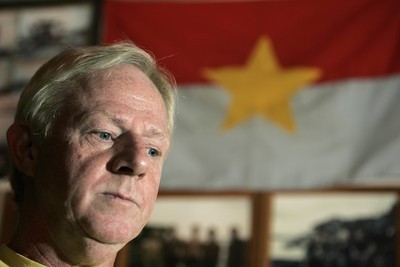 WASHINGTON — Combat veterans are voicing fears that a bill in Congress would rob them of gun rights and put them on a government list alongside criminals who are restricted from buying weapons.
The bill aims to increase state reporting of criminal and mental health records for use in the National Instant Criminal Background Check System used for gun purchases.
It grew from the Virginia Tech shootings on April 16.
A mentally ill student, Seung-Hui Cho, gunned down 32 students and faculty members after slipping through a gun background check.
The gun control bill passed the House by voice vote on June 13, two days after it was introduced.
But since then, two veterans groups and a gun organization have raised concerns it could unjustly prevent veterans afflicted with combat-related health problems from buying a gun.
Some veterans might avoid seeking treatment for fear of being put on a gun watch list, they say.
"Just about everybody left in my unit has PTSD," post-traumatic stress disorder, said Ralph Christopher, an author and Vietnam veteran from Las Vegas.
"In fact, I don't know any combat vet that doesn't have it. Whether they claim it is another story."
The proposed gun restrictions "may not be directed at us, but it apparently is affecting us," Christopher said.
As defined by the National Institute of Mental Health, PTSD is an anxiety disorder caused by an event "in which grave physical harm occurred or was threatened."
The American Legion also has expressed opposition to the bill. Mark Seavey, a legislative liaison, said it needs to be amended to clarify who would be placed on the no-gun list.
"We would like to see it codified so the only way a veteran would be (put on the list) is if they are deemed a threat to themselves or others, as opposed to another determination through a low-level board or by a single psychologist," Seavey said.
The National Rifle Association supports the bill. Spokesman Andrew Arulanandam said it wouldn't affect most veterans.
To the extent veterans might be restricted from buying guns, it features an appeals process to remove their names from the list.
"For the first time ever, there would be an avenue for those who have had their rights denied to appeal," Arulanandam said. "It is a vast improvement over current law."
But Erich Pratt, communications director of the Gun Owners of America, said the appeals provision was "like giving a mugger access to your home" and then being told, "You have a right to hire a lawyer after the fact."
On its Web site, the Gun Owners of America are calling it "The Veterans Disarmament Act."
Some others think that goes too far.
Although the American Legion opposes the bill, Seavey said a number of "misperceptions" are being spread about it on the Internet.
Saying the bill intends to take away veterans' guns is "unfortunate," Seavey said.
"There is no such thing," he said.
A leader of the Order of the Purple Heart said the bill could cause greater harm to veterans in need in mental health care.
"Many of the troops returning from Iraq now are being diagnosed (with PTSD), and it could cause them not to seek treatment," warned Herschel Gober, the group's legislative director.
"We don't want to attach a stigma for receiving any medication or treatment for PTSD or any other condition," Seavey said.
Despite the bill's overwhelming support in the House, veterans' opposition has found an ear in the Senate. Sen. Tom Coburn, R-Okla., is blocking it, citing their concerns and other problems.