View 'America's Party' from a helicopter above the Strip
December 30, 2015 - 4:42 pm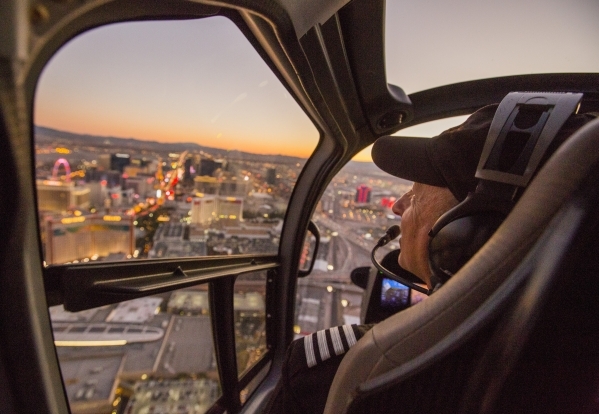 It'll be a short flight, but considering the unique perspective, worth the $499-per-passenger ticket price.
Seventy-two Sundance Helicopters customers will watch the "America's Party" fireworks display on the Strip from 1,000 to 2,000 feet above where fireworks shells will burst into their colorful patterns.
"It opens up some opportunities to experience New Year's Eve in a whole different way," Sundance President Jay Francis said.
Sundance got aviation clearances and put the package on sale late last week. There are still some seats available to fly for about 45 minutes while more than 300,000 people look skyward from Las Vegas Boulevard to watch the choreographed pyrotechnic display that is expected to last about 15 minutes.
Francis said his top pilots worked with the Federal Aviation Administration's McCarran International Airport tower to get a letter of agreement that will outline the altitudes and paths helicopters will be flying during the display.
"It was a great example of how well we work together, tourism operators and government entities, to produce something people will remember about Las Vegas for a long time," Francis said.
On Sundance's standard commercial flights to view the lights of the Strip, helicopters generally fly directly over Interstate 15 and Koval Lane for views of the resorts on Las Vegas Boulevard.
Francis said the company plans to fly 12 helicopters with six passengers and a pilot.
"The package includes a limousine pickup and ride to our terminal," Francis said. "We've already told passengers who have purchased the package where to meet for the ride to the terminal. They'll get here around 11:30 then load up between about 11:45 and 11:50, then we'll get in position for the show."
The weather forecast calls for winds of 5 to 10 mph Thursday night and company officials expect their helicopters to fly even if wind speeds approach the 10 mph level that could cancel the fireworks show. Sundance officials said the company's Airbus EC-130 helicopters have a higher tolerance to wind than the fireworks.
New Year's Eve won't be the first time that Sundance has flown above fireworks displays. The company experimented with it on the Fourth of July.
"One of the things we discovered is that there are quite a few other really good displays in the valley so next July we may set up some things to fly at other celebrations," Francis said.
Sundance was the first air tour company to offer its terminal as a party venue so there will be some New Year's Eve revelry there before the special fireworks flight departures.
When the aircraft return to the base, passengers will have New Year's toasts and hors d'oeuvres at the terminal before heading out to other parties.
Contact reporter Richard N. Velotta at rvelotta@reviewjournal.com or 702-477-3893. Find him on Twitter:@RickVelotta