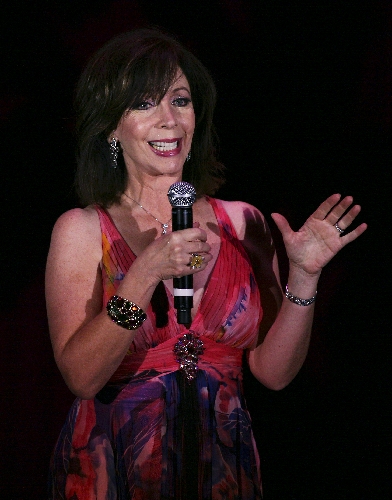 Rock star Vince Neil, recently jailed for a June DUI charge, has continued to get behind the wheel since having his driver's license revoked in October.
He was seen in a Department of Motor Vehicle office last week taking a driver's test.
DMV records show his license was revoked Oct. 12 as part of the June case.
Since his release from house arrest on Feb. 25, there have been multiple sightings of the Mötley Crüe frontman on the town, with his black Lamborghini parked in valet.
Starting Feb. 15, he spent 10 days of a 14-day sentence in the Clark County Detention Center followed by 11 days of a 14-day house arrest sentence. His sentences were shortened because of his volunteer work.
Last Tuesday, Neil's girlfriend of seven months, Alicia Jacobs, entertainment reporter for KSNV-TV, Channel 3, issued a statement saying, "due to the decisions Vince continues to make," she was ending the relationship.
During an interview with Jacobs during his house arrest, Neil said his DUI arrest was "a wake-up call."
He added, "Not gonna happen again … absolutely not."
Another DUI charge and he faces seven years behind bars.
In 1984, Neil's close friend, Hanoi Rocks drummer Razzle Dingley, was killed and two others injured when Neil hit a car head-on in California. Neil was ordered to pay $2.5 million in restitution to the victims.
He served 20 days in jail.
SMALL WORLD
A recent drama playing out on Broadway has Las Vegas roots.
In the 1970s and early '80's Las Vegas had a professional theater, The Meadows.
At the time, Arlene Peikoff (now Blute) acted there along with Philip McKinley, who was actor/director.
Blute played Yenta in "Fiddler On The Roof," and McKinley directed the show. Arlene's 16-year-old daughter, Jodi Peikoff, was in the chorus.
Broadway followers will recognize McKinley as the man who replaced Julie Taymor as director of the troubled Broadway show "Spider-Man: Turn Off the Dark."
As for Jodi Peikoff? She's the entertainment attorney who negotiated his contract.
"Small world?" said Blute.
THE SCENE AND HEARD
Scott Sibella, MGM Grand president and chief operating officer, is the focus tonight in CBS' "Undercover Boss" series. It airs from 9-10 p.m. …
A film starring Rita Rudner and written and directed by her husband, Martin Bergman, won the audience award at the San Luis Obispo Film Festival for Best Narrative Feature. The week before, "Thanks" won the Best Independent Spirit Award at the Sedona Film Festival. Next up is a screening at the Directors Guild of America theater in Los Angeles. …
I'm in Scottsdale, Ariz., soaking up the final week of spring training. Before I left, R-J reader Gary Stromberg sent an e-mail saying he went to the Chicago Cubs-Los Angeles Dodgers game Sunday at Cashman Field. While perusing the Cubs' literature, Stromberg said a blurb noted Wrigley Field was named for chewing gum "magnet" William Wrigley. Stromberg asks: "Did that mean every time he went to a game, gum stuck to his pants?" …
In restaurant news: The new operating partner of the Pink Pony steakhouse, a legendary spring training watering hole in Scottsdale, is former Las Vegan Tom Cook. He worked at Steve Wynn properties. …
Rao's former executive chef, Carla Pellegrino, has taken on two new projects. She has opened Bratalian, 10740 S. Eastern Ave. in Henderson, and will take over operations of Bacio at the Tropicana. When it opens next month, it will be known as Bacio By Carla Pellegrino. Moving up to replace Pellegrino in the kitchen at Rao's is her protégé, Nicole Grimes, who might be the youngest head chef on the Strip. She is in her mid-20s.
SIGHTINGS
"Desperate Housewives" star Eva Longoria celebrated her 36th birthday Friday at her club Eve and Beso restaurant (CityCenter). … Jon Bon Jovi with friends Friday at Japonais in The Mirage.
THE PUNCH LINE
"Charlie Sheen is expanding his live tour. If you only get to see one live stage show featuring a man suffering from an undiagnosed psychiatric disorder this year, this is the one to see." — Jimmy Kimmel
Norm Clarke can be reached at (702) 383-0244 or norm@reviewjournal.com. Find additional sightings and more online at www.normclarke.com.