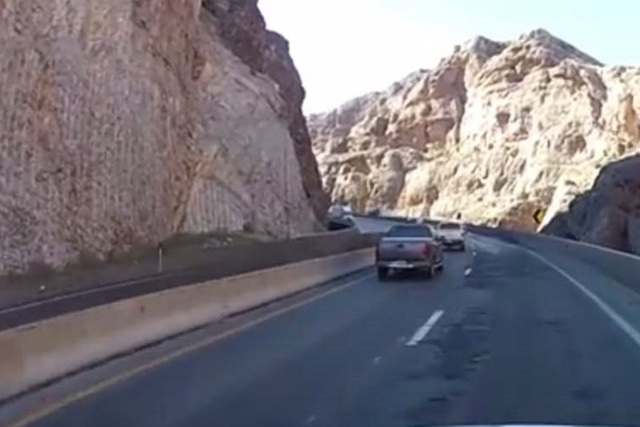 Travelers driving from Southern California or Nevada to Utah may see more delays in coming months thanks to highway construction projects.
The Interstate 15 Virgin River Gorge corridor, which was constructed in the early 1960s and early 1970s, is getting a face lift. With few alternate routes between Southern Nevada and the St. George area officials are urging drivers to allow for extra travel time.
Dustin Krugel, public information officer for the Arizona Department of Transportation, said construction on the stretch of road between Las Vegas and St. George, Utah is set to begin early January.
Beginning Monday, January 6, workers will be repair southbound bridge surfaces and girders on three of the 11 bridges along the corridor.
According to Krugel, the $2.8 million rehabilitation project is expected to last until summer of 2014.
I-15 will be narrowed to two lanes at each of the three projects, according to ADOT. The majority of the work will be done on weekdays between 6 a.m. and 6 p.m. in the southbound lanes, requiring two-way traffic in the northbound lanes.
Another, bigger bridge project to be discussed at the January, 2014 Arizona State Transportation Board meeting is also in the works for the corridor.
That $27 million, federally funded project will replace the superstructure of a fourth Virgin River bridge and widen the roadway through the narrow passage of the gorge. The project is scheduled to launch in spring of 2014 and be completed in 2015.
Despite its remote location, more than 1.4 million commercial trucks travel annually on Arizona's portion of I-15, and about 24,000 vehicles total per day.
Ultimately, all of the I-15 Virgin River bridges will need more repairs, a task Krugel believes will be challenging to fund. Current estimates for all of the necessary construction projects could cost as much as $250 million, according to estimates.
"Funding for transportation is limited," Krugel said. "We're exploring every option we can to fund our projects."
Contact reporter Kimber Laux at klaux@reviewjournal.com or at (702) 383-0391.