Virginia City residents fear new mine will kill tourism
August 15, 2011 - 12:59 am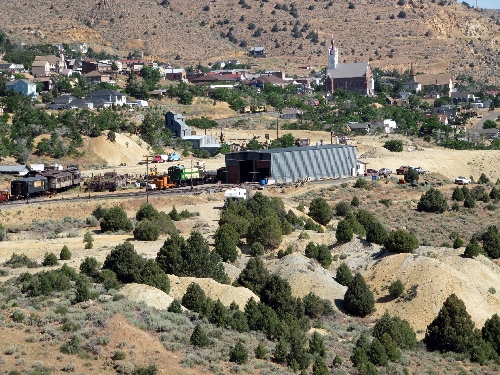 VIRGINIA CITY — More than 150 years after the discovery of one of the world's richest silver veins touched off a mining frenzy that drew thousands of people west and made Virginia City a wealthy boomtown, a mining company wants to resume digging for riches in the dusty hills southeast of Reno.
But unlike the scrappy miners who used picks and shovels to chisel away at the massive, underground pocket of silver and gold known as the Comstock Lode, the company's plans are for open pit mining. They aren't being met with open arms.
Residents in the historic Comstock region embrace the catacombs of century-old mines with pride and purpose. But these days, it's not wealth from gold and silver but the mining of tourists lured by the rich history of the Old West that keep the town humming.
Tours are conducted in an old underground mine beneath a saloon, and The Way It Was Museum displays artifacts from the past. Camel and outhouse races and a Rocky Mountain oyster festival keep tourists coming to take a "Step Back in Time" — the region's marketing slogan.
Residents fear that the Virginia City image is threatened by the Comstock Mining Co.'s proposal to use earth-moving machinery to dig up truckloads of earth and process the loads to extract flecks of the minerals that have reached record prices.
With the stock market fluctuating wildly, the price of gold soared last week, setting new records — $1,800 an ounce on Wednesday, for example.
Using high-tech modern mapping techniques and historic records, the company says it has identified roughly $2.8 billion in gold, if prices hold around $1,750 per ounce. That's roughly double the price the company estimated was needed to make the venture profitable.
Doug McQuide, Comstock public relations director, said the company hopes to begin production sometime this year.
Comstock thinks modern mining can coexist with history and complement the tourist trade, he said.
The company purchased the historic Gold Hill Hotel, and has invested in shoring up old mill sites to preserve the region's history. "We want to be overwhelmingly supported" by the community, McQuide said.
But it has been a tough sell.
For many folks in Virginia City, Gold Hill and Silver City, the idea of open pit mining in this state and national historic district is repugnant.
"Mining does work for Nevada," said Daan Eggenberger, proprietor of the restored Tahoe House Hotel, an antique-laden lodge on Virginia City's main drag. "It just doesn't work in a historic district."
The National Trust for Historic Preservation named Virginia City to its 2009 list of a dozen "Distinctive Destinations" across the country. The historic mining boomtown still boasts mines, mansions, saloons and museums that provide a glimpse into frontier life.
Founded with the discovery of the Comstock Lode in 1859, Virginia City made so many millionaires that the town was called "The Richest Place on Earth."
The wealth it generated helped finance the Union cause during the Civil War and to build San Francisco and the Bay Area.
In Gold Hill and Silver City, tiny towns a few miles down a twisting highway from Virginia City, residents say their serenity was disturbed last fall when Comstock Mining renewed exploration drilling at an existing site, and disclosed it had begun exploration on parts of mining claims it has acquired covering 6,100 acres. Of that, about 1,000 acres is on private property; the rest is public land.
Residents formed the Comstock Residents Association to fight the company's plan.
Storey County Sheriff Gerald Antinoro understands the dispute.
From a bluff outside his front door, he overlooks a canyon to the hills on the other side where heavy equipment has carved a dirt road up the steep slope. For a time, a test drill was erected a stone's throw from his front door. He hears the engines, the warning backup beeps, sees the dust.
He's not against mining.
"I'm not an opponent and I'm not a proponent," Antinoro said. But he's un­satisfied with the company response when he asks how the landscape will be restored once the gold and silver play out.
Comstock Mining has applied to Storey County for a special use permit to expand its exploration drilling. A five-hour hearing on that application drew an over­flowing, heavily anti-mining crowd on July 7. The hearing continues Thursday.
Corrado De Gasperis, Comstock president and chief executive officer, tried to assure residents and planning commissioners the company wants to be good neighbors.
"We care very much about the rich mining and natural history of the Comstock," he said. "We want to be judged by our actions."
Robin Cobbey, 62, who lives with her husband David Toll in Gold Hill, presented the planning commission with a petition signed by more than 300 opponents.
"One thing that is clear is that the residents of the area don't want this," Cobbey said.
Signs have sprung up around town reading, "No Open Pit."
McQuide said the company's plan is to begin with a "starter mine," a pit of about 30 acres and roughly 250 feet deep, but he said there's no plan to excavate the entire region. Underground mining techniques would be used to mine areas near Virginia City and Gold Hill, he said.
Of the total acreage, "probably less than 10 percent is envisioned as even targeted for pit mining," McQuide said.
Residents also question how mining can be allowed in a region that includes Superfund sites designated in 1990. They want extensive environmental studies.
The state has issued a permit for mercury emissions controls. Another general air quality permit is pending. But officials said the state lacks authority to require a full environmental study, something that would be required to mine on federal lands.
So far, all of Comstock's activities, except for some exploration, are on private lands.
Behre Dolbear, a worldwide mining technical consulting group, said the Comstock project could conceivably double the precious metals it has estimated.
But that doesn't sway opponents.
"Virginia City is a changed place now, it's a tourism destination," said Chris Chrystal, recently retired from the Nevada Commission on Tourism. "It would not be a good idea to hurt one economic contributor for the gain of another."