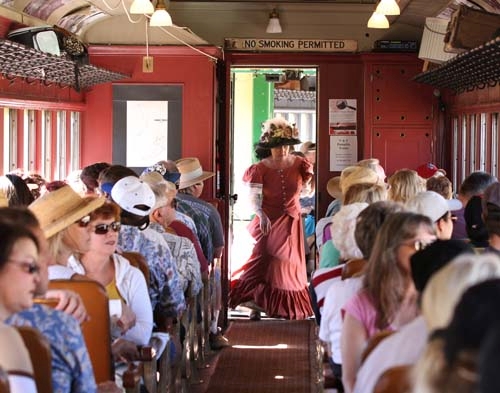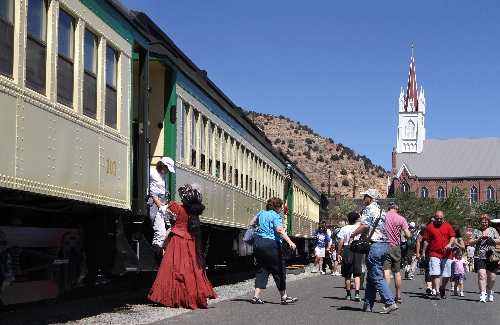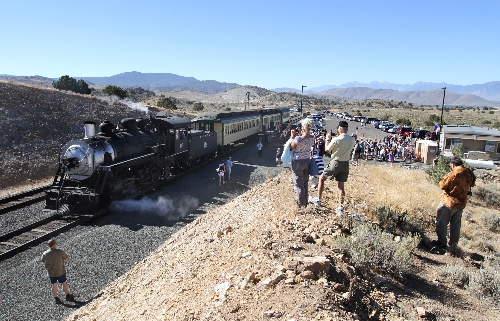 "Whoooo. Whooo. Whoo."
On this train, whistles are blown when deer and wild horses are sighted in the canyon below, the conductor tells passengers.
The whistles sound again before the train stops on a ridge to let the 225 riders watch blue- and gray-clad soldiers fire cannons in the re-enactment of a Civil War battle.
And they sound off before it enters a 500-foot tunnel through a mountain.
Some whistles are shorter, some are longer, depending on the message being sent, he says.
We are riding on the historic Virginia & Truckee Railway on its 14-mile journey from the outskirts of Carson City into Virginia City.
The V&T is rolling again between the capital city and the city at the center of the Comstock Lode. It took four years of work and nearly $40 million, including $2 million in federal stimulus funds, to make it happen in August 2009 — 71 years after its last run.
For most of this 90-minute journey, the 1914 Baldwin locomotive hauls three restored passenger cars over the same right of way used by original V&T trains.
Between 1870 and 1938, the rail line hauled silver and gold ore from the fabled Comstock Lode mines to mills along the Carson River. Passengers rode the trains to Carson City, Minden and Reno, where they caught Southern Pacific trains traveling the country.
The V&T was known as the richest short-line railroad in America as mines produced minerals that would be valued at more than $30 billion in today's world.
Now a tourist excursion train, the V&T runs at 10 a.m. Friday through Sunday, Memorial Day to Nevada Day, out of a depot near the Carson City landfill.
"This is fantastic," said Sacramento, Calif., resident Frank Reynaldi as he stared out an open door at a steam locomotive hauling passengers over the Labor Day weekend.
"We have been coming up here for years in anticipation of them putting it together. It has been well worth the wait. It is a very nice trip."
Passengers see the back country that only the most hardy hikers have seen for more than seven decades — rugged mountains, abandoned mines, water holes, wildlife and trees.
On portions of the journey, the train chugs near cliffs, just a foot or two from a 500-foot drop-off.
If you are impatient, forget about this train. Top speed is about 25 mph on downhill stretches. A good long-distance runner might beat it in a race.
Reynaldi wears a vest covered with lapel buttons from dozens of restored historic railroads on which he has ridden. The Cumbres and Toltec Scenic Railroad in New Mexico and Colorado is his favorite, although V&T isn't far behind.
He hopes the V&T adds a dining car. Now only bottles of water are for sale on the train.
The $50 round-trip ticket isn't out of line with what other historic railroads charge, he said.
Riding the V&T triggers happy memories of his youth for Portland resident Wayne Haays. He remembers more than 60 years ago when he would ride the Union Pacific free from Los Angeles to Omaha, Neb.
"My dad worked for the UP, so we could ride for free, eat for nothing," Haays said. "It took two and a half days."
Whatever their reasons for riding, passengers have filled the trains for almost every trip, according to Kevin Ray, project coordinator for the state Commission for the Reconstruction of the Virginia & Truckee Railway. The commission owns 12 miles of the 14 miles of track and right of way.
The locomotive and cars are owned and operated by Tom Gray, whose family for 30 years has been operating a two-mile V&T tourism train between Virginia City and Gold Hill.
Gray has rights to the original Virginia & Truckee Railroad logo. That's why the new V&T is called the V&T Railway. All trains run on the two miles of Gray's track.
"If you build it, they will come," Ray said. "The demand is greater than we expected. People are excited to ride on the train. Some keep coming back."
Consequently, he intends to run a Saturday-only train from Nevada Day, which is Oct. 31, to just before Christmas.
This month he also will begin running a $15 "Saturday night foliage train" through a just-completed, two-mile segment in the scenic Carson River Canyon.
Next year, Ray envisions the train will run four days a week, and eventually every day during the summer months.
The goal of the trains is to attract additional tourists to Carson City and Virginia City. There is a three-hour layover in Virginia City before the train returns to the Carson City depot.
That layover gives passengers time to visit mines or museums, pan for gold, watch gunfights and visit dozens of funky shops and museums that all seem to offer fudge, T-shirts, ice cream, hot dogs and beer. There also are a couple of better quality restaurants and clothing stores for the more high-falutin' visitors.
From the looks of the old buildings and wooden sidewalks, time stopped in about 1880 in Virginia City.
"Virginia City is our Disneyland," said Dwight Millard, chairman of the state Commission to Reconstruct the V&T. "The sidewalks our boardwalk."
That both Carson City and Virginia City see dollars in these train passengers should not shock anyone.
To construct the railway, Carson City has been charging everyone an extra one-eighth percent sales tax, along with a 2 percent room tax assessment. Storey County has been assessing a quarter-cent sales tax charge for the railway.
The Nevada Department of Transportation kicked in about
$13 million in various federal grants, including federal stimulus funds.
Millard isn't sure whether a dining car will be added to the train, but he envisions organizations buying out the train for evening rides and stopping at scenic places along the route for special barbecues or for dinners at the Gold Hill Hotel.
Some locals have complained about the expense of round-trip tickets.
The V&T responded with $29 round-trip tickets on Friday trains pulled by diesel locomotives.
But for an extra $21, riders can get the steam train and a real sense of 19th century railroading.
That includes Shar Bouvier, dressed appropriately in Lillian Russell-era feather hats and gaudy dresses.
She calls herself the mayor of Virginia City and is there to answer questions about the train and local history.
"I am period correct for 1870," Bouvier says. "Virginia City's tagline is 'A step back in time.' This is all part of the experience."
Contact Capital Bureau Chief Ed Vogel at evogel@reviewjournal.com or 775-687-3900.
TICKETS TO THE COMSTOCK
To purchase tickets for a Virginia & Truckee Railway ride from Carson City to Virginia City, go to the website: www.visitcarsoncity.com. Adult round-trip tickets on the steam train are $48, while children's tickets cost $30. Since most trains sell out in advance, it is advisable to buy tickets online, which costs an extra $2 per ticket.