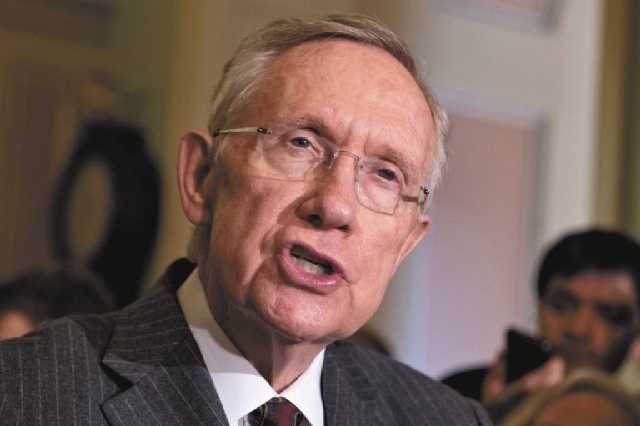 WASHINGTON — In dusty Searchlight, Harry Reid grew up a gun guy. Now 73, he still owns guns and target-shoots in the backyard with his grandchildren. During his political career, he carved a comfortable relationship with the gun lobby, including twice voting against a ban on assault weapons.
But the senator from Nevada professed to be troubled by gun violence in the past few years whose victims included movie-goers in Colorado, schoolchildren in Connecticut and a congresswoman from Arizona.
"We have no greater responsibility than keeping our most vulnerable and most precious resource — our children — safe," he said after the shootings at Sandy Hill Elementary School in Newtown, Conn., where 20 first-graders were killed in December.
Much as he changed his position on immigration and same-sex marriage during his political career, Reid on Wednesday completed another transformation, reversing a long-held position and voting for an assault weapons ban, even as he knew it had no chance of passing. It was defeated, 40-60.
Reid called his decision one from his conscience after he said he came to believe there should be limits on the destructive weapons that civilians are allowed to own.
"If tragedy strikes again, and I'm sorry to say it will, if innocents are gunned down in a classroom or a theater or a restaurant, I would have trouble living with myself, knowing I didn't do everything in my power to prevent that incident."
In a speech announcing his vote, Reid said he was voting not only as a senator but as a "husband, a father, a grandfather, and I hope a friend of lots and lots of people."
"We must strike a better balance between the right to defend ourselves and the right of every child in America to grow up safe from gun violence," he said.
It was language reminiscent from May, when Reid acknowledged a change in his position to favor same-sex marriage. He said he was influenced by his children and grandchildren to adopt a stance that probably "will carry the future."
And after introducing legislation in 1993 to revoke birthright citizenship for children born to mothers who are in the United States illegally, he later apologized for it and became a supporter of the DREAM Act, which would grant a path to citizenship to young people brought into the country illegally.
Political scientist Eric Herzik at the University of Nevada, Reno, noted Reid's nods to the younger generation on the key issues. He ascribed personal motivations to Reid's vote on assault weapons, saying it's possible that age has brought him "clarity" or caused an "epiphany" on guns.
"It's one of those things where he is looking at events and instead of calculating all the political angles at this stage of his career and life, he just came out and said, 'Hey, this is wrong,' " Herzik said.
Reid's vote gave immediate rise to speculation it was a signal he does not plan to run for re-election in 2016, when he will be 76.
Herzik said he was not so sure.
"That would be making too much of it," he said. "It's one vote out of many. Whether you want to attribute this vote to the wisdom of age or a different perspective having lived a long life in the public sector, I don't think it's a foreshadowing of a decision to run or not run."
Contact Stephens Washington Bureau Chief Steve Tetreault at stetreault@stephensmedia.com or 202-783-1760. Follow him on Twitter @STetreaultDC.