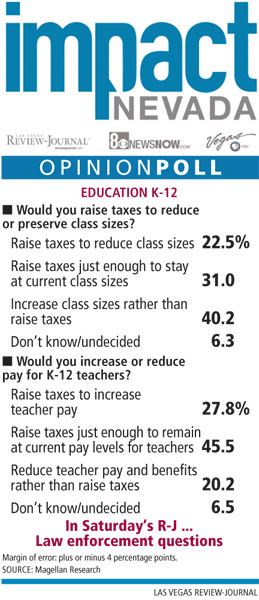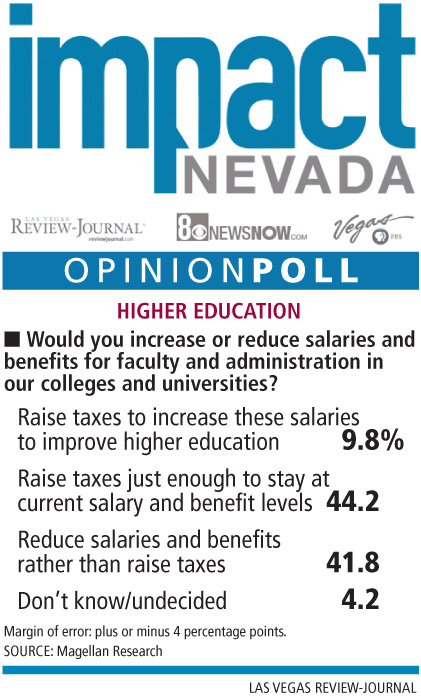 Nevada's voters say they're OK with paying higher taxes if it means the state will keep class sizes small and pay teachers at least what they're making now.
But in general, people don't want to pay more for education services they're not directly using. They would rather the state charge those who are using them, such as college students or high school football players.
Those are among the results of a new poll commissioned by the Review-Journal, 8NewsNow and Vegas PBS. The poll, conducted by Magellan Research, surveyed 600 likely voters by phone statewide from Sept. 6 through 16. It has a margin of error of 4 percentage points.
Marvin Longabaugh, president of Magellan Research, said class sizes and teacher salaries, in particular, were popular with the surveyed voters. More than half of the respondents said they would pay more taxes to decrease class size or keep them as they are, while nearly three-fourths said they would pay more taxes to increase teacher pay or keep it where it is.
Otherwise, Longabaugh said, the poll revealed a general attitude among Nevadans that harkens to its libertarian tradition.
Respondents were OK with keeping services "as long as the people who use the services are willing to pay for it," Longabaugh said. "Just don't make me pay for it."
He said the down economy appears to have caused voters to tighten their wallets when it comes to taxes.
"Nevada can hardly afford to raise taxes," he said. "But they (voters) realize some tax increase is inevitable."
Education — both K-12 and higher ed — account for more than $3 billion a year. That's about half the state's entire budget.
Voters said they would rather see tuition increases at the colleges than the elimination of more programs. They also said they would rather charge fees to the parents of children involved in extracurricular activities or those who use busing than eliminate those programs.
The two candidates for governor, however, have already promised not to raise taxes at all.
"I don't believe tax increases are the right thing to do when we're in the middle of the most severe economic crisis in the history of our state," said Republican Brian Sandoval.
"Now is not really the time to raise taxes," said Democrat Rory Reid's campaign spokesman, Mike Trask.
Still, education leaders said they saw good news in the polling data.
Higher Education
Dan Klaich, chancellor of the state's higher education system, interpreted the data to mean voters support the most vital functions of higher ed.
He said it was reasonable that voters would want small programs to pay for themselves through tuition and fee increases.
He said the system recently began moving toward charging higher tuition and fees, with some conditions.
He and the Board of Regents want the colleges and universities to be allowed to keep what they charge students. Currently, most of that money goes to the state's general fund, which is then redistributed.
Both Sandoval and Reid have said increases in tuition should stay with the institutions that charge them.
When it came to faculty and administrative salaries, by far the largest expense in higher education, a majority of those polled said they were against cuts. Ten percent said they would support a tax increase to pay higher salaries. Forty-four percent said they would support an increase to keep salaries where they are, and 42 percent said they'd rather see salaries cut.
"I'm glad to hear that people feel we shouldn't absorb more cuts to faculty salaries," said Sondra Cosgrove, a history professor at the College of Southern Nevada and that school's representative to the Nevada Faculty Alliance.
She said it would be difficult to implement sharp tuition increases at the community college and at Nevada State College, though, because they serve primarily a working class population that cannot afford to pay more.
At the state college, which opened in 2002 and is designed to offer four-year degrees at a lower cost than the universities, more than half of voters said they would support tuition increases rather than closing the school. Twenty percent said they would support tax increases to keep the school going, while 15 percent wanted to close it.
Klaich said higher ed leaders must be careful in implementing tuition increases. Making college cost too much can drive potential students away. In the end, that would mean not only fewer college graduates in Nevada, which already has a low number of them, but it would mean the institutions would not be collecting tuition and fees from those lost students.
Assemblyman Moises Denis, D-Las Vegas and vice chairman of the education committee, said the higher tuition and fees go, the more it would lock out lower- and middle-income students. He wanted to be careful that the system does not do that.
K-12 Education
Terri Janison, president of the Clark County School Board, said keeping class sizes from growing is among the most important things educators can do. She said it was great news that voters wanted to keep class sizes small.
"I hope the Legislature listens to that," she said.
She said that charging fees to pay for extracurricular activities might sound like a good idea in concept, but it is difficult in practice.
Parents in more well off areas of town, for example, might be a lot more willing to pay for a football team than parents in low income areas would be. That could leave the district in a bind. It would be unfair to only have extracurricular activities in wealthy areas, no matter who paid for them.
Despite that, she said she was willing to look into the possibility of implementing some sort of pay for use system for both transportation and extracurricular activities. The difficulty, she said, will be in hammering out the details.
Denis, who represents a low income area in eastern Las Vegas and North Las Vegas, agreed that charging fees for extracurricular activities and busing could be a problem.
"I would be very leery of that," he said.
Janison also noted that, like in higher ed, nearly 90 percent of the district's cost is for salaries and benefits. She was happy to see voter support for teacher pay.
Ruben Murillo, president of the Clark County Education Association, agreed.
"It makes me happy to see that Nevadans value teachers and the work they do in the classroom," he said.
He was disappointed that voters were not willing to pay more for extracurricular activities, however.
"A sound education also includes athletics," he said. "The arts. The library. Music. P.E."
Contact reporter Richard Lake at rlake@reviewjournal .com or 702-383-0307.
News, poll results
COMING STORIES
Saturday: Law enforcement
Sunday: Respondents' final word