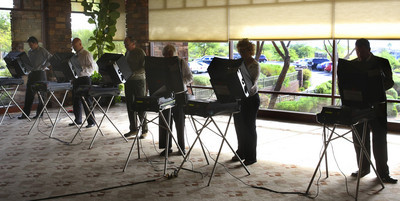 In a presidential race that occasionally resembled a class war, what could be classier than a polling place with valet parking and a grand piano?
Red Rock Country Club is home to some of Southern Nevada's wealthiest voters, and dozens of them gathered in the community's posh clubhouse to cast their ballots on Tuesday.
They stood in line next to the piano and a large fireplace, and voted in a space usually reserved for banquets and wedding receptions.
Outside, voters mixed with people on their way to play tennis.
McCain supporter Judy Dulaine said all the talk of Obama's plans to spread the wealth certainly made an impression on her and her husband. "We work very hard for our money," she said.
Carol Halprin also voted for McCain, though she said her choice had more to do with Obama's lack of experience than it did his plans to tax the wealthy.
"Obama was a senator for like 120 days," she said.
Republicans outnumber Democrats by more than two to one in the two precincts assigned to the members-only clubhouse inside the guard-gated community.
But Obama supporters were not hard to find.
Richard Amar is a registered Republican who owns a dry cleaning business that serves Wynn Las Vegas. He said the economy now is "the worst I ever saw it" in more than 20 years in Las Vegas. That's why he bucked his party and voted for change, he said.
For Amar's wife, Fina, voting for Obama was especially meaningful. On Sept. 15, she was sworn in as an American citizen and immediately registered to vote. Before Tuesday, she had never participated in a national election, not even in her native Mexico.
Stay-at-home mom Jessica Amick brought her two young children to the polls because she wanted them to be a part of history.
As the three of them emerged from the clubhouse each wearing an "I voted" sticker, Amick explained why she picked Obama.
She and her husband considered how their taxes might be affected by an Obama presidency. "But I'm looking at the broader view," Amick said. "What's going to make a better world for my children?"
Tim DeRosa declined to say how he voted, but the developer and business owner said the economy and the war in Iraq had "everything to do with it."
The signs of economic trouble are everywhere, he said. "You see it in less people in restaurants and less people spending money. You don't see it in Red Rock Country Club per se."
Then the valet arrived with his shiny black Mercedes convertible, and DeRosa drove away.
Contact reporter Henry Brean at hbrean@reviewjournal.com or 702-383-0350.