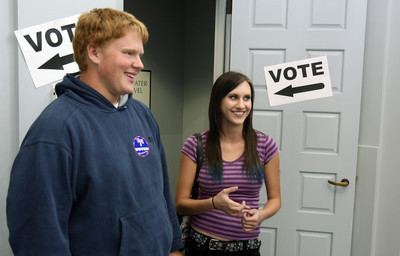 The Clark County Library on Flamingo Road near Maryland Parkway was the designated polling place for University of Nevada, Las Vegas students who live on campus.
Students trickled in steadily all afternoon Tuesday, but there were no lines.
"I guess it's kind of worrisome, given all of the hype about college students turning out," said 19-year-old sophomore Barry Regan, who voted for Republican John McCain.
Students said there was a lot of activity on campus in the weeks leading up to Election Day, including long lines at the early voting site on campus. Democrat Barack Obama has been the overwhelming favorite among students, they said.
Many of the students at the polling place were first-time voters. "It actually feels really good" to vote, Regan said. "I don't have to listen to my parents giving me crap about not voting anymore."
Contact reporter Lawrence Mower at lmower@reviewjournal.com or 702-383-0440.