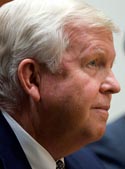 Election Day in Southern Nevada ran smoothly, with only scattered problems reported at polling places around the valley.
"In the big picture, things went quite well," Clark County elections chief Larry Lomax said. "There are always minor issues in a big election, but none of them were significant."
He predicted final turnout would near 700,000 and set a county record.
A lawyer for the American Civil Liberties Union of Nevada agreed with Lomax's assessment.
"There were some individual concerns and complaints, but certainly nothing systematic," said the ACLU lawyer, Allen Lichtenstein.
The ACLU was part of the Election Protection coalition, a nationwide nonpartisan group that put volunteers in polling places to protect voters' rights. Hundreds of lawyers were also posted among polling places to help resolve legal issues.
The ACLU said workers at several sites, including Bridger Middle School in North Las Vegas and Shadow Hills Baptist Church and Stanford Elementary School in northeast Las Vegas, improperly kicked out of polling sites some poll observers and media.
Those problems were quickly resolved after discussions with the Nevada secretary of state's office and county elections officials, Lichtenstein said.
The ACLU also noted problems involving provisional ballots, saying it received about 150 complaints Tuesday.
The complaints involved poll workers incorrectly explaining the provisional ballot process to voters, said Gary Peck, executive director of the state ACLU.
"There was just a lot of confusion, people being turned away, people not being told of their rights," he said.
Lomax said the ACLU exaggerated the problem.
"They've got to do something to defend their existence," he said.
His office trained more than 4,000 poll workers to staff the 339 polling sites across the county.
"I can't say they did it perfectly in every instance, but they were giving it their best shot," he said.
All but one of the county's polling sites opened on time and without issues. That site, Mountain View Elementary School in the northeast valley, encountered voting machine problems that delayed voting about 30 minutes.
Overall, county voters avoided the long lines that plagued other parts of the country.
County elections officials reported no problems with long waits at polling places. More than half of Clark County's more than 815,000 registered voters cast their ballots during early voting or by absentee ballots.
Contact reporter Brian Haynes at bhaynes@reviewjournal.com or 702-383-0281.