Wagner takes oath as North Las Vegas councilman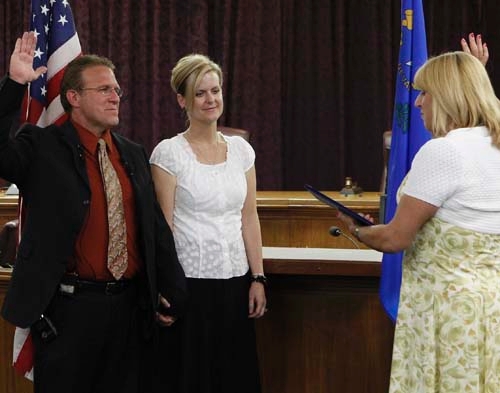 After a judge cleared the way, Wade Wagner was sworn in as a North Las Vegas city councilman Monday night.
Wagner defeated incumbent Richard Cherchio by a single vote in the June 7 election. But the election was tied up in court by several lawsuits after it was discovered that an election worker had mistakenly allowed someone to vote in the wrong ward.
District Judge Elizabeth Gonzalez resolved the legal challenges Monday afternoon, allowing Wagner, a 48-year-old dentist and a Republican, to become the new councilman from Ward 4.
Another judge, Douglas Smith, had issued a restraining order Thursday prohibiting Wagner from taking office until a new election could be held — although the judge allowed the City Council to canvass the general election results that night.
Lawyers for both sides agreed to consolidate all the lawsuits filed in this matter. Bradley Schrager, Cherchio's attorney, voluntarily withdrew Smith's restraining order Monday, paving the way for Wagner to take office.
Neither Wagner nor Cherchio attended Monday's court hearing. Wagner was on Mount Charleston with his daughter and out of cellphone range.
Keith Buck, who worked on Wagner's campaign and is the husband of North Las Vegas Mayor Shari Buck, had to drive up the mountain to inform Wagner that he had won.
"I was ecstatic," Wagner said. "It was a long haul. I'm glad that part of it is over and we can move ahead."
He drove down the mountain and got dressed for the swearing-in ceremony at City Hall. He can take his seat on the council at its regular meeting Wednesday. He told reporters he's waiting to be briefed so he can tackle the city's problems, which include a $6.6 million budget deficit.
"We just want to move forward, make the city a good place to be," he said, "and see if we can't turn this ship around."
But Cherchio hasn't surrendered. Contacted after the hearing, he said he would seek a recount. Under state law, he must make that request no later than Wednesday .
The recount could be the end of the matter or simply the start of another round of court battles.
If the results are the same — 1,831 votes for Wagner, 1,830 for Cherchio — Judge Gonzalez's ruling stands and the dispute is resolved.
But if the recount yields more surprises, Cherchio, 64, vowed to fight.
"The people of North Las Vegas in general and Ward 4 in particular deserve nothing less," he said.
Cherchio, a Democrat, blamed his loss on public safety workers. He said he was targeted by police and firefighters unions after he requested the two groups to take pay cuts and layoffs "and suffer with the rest of North Las Vegas."
"With the state of the city, this economy, proper long-term leadership is important, and when you have a disputed election you should have a recount. Until that process plays out there is no legitimate election," he said.
Photographer Duane Prokop contributed to this report. Contact Doug McMurdo at dmcmurdo@reviewjournal.com or 702-224-5512.