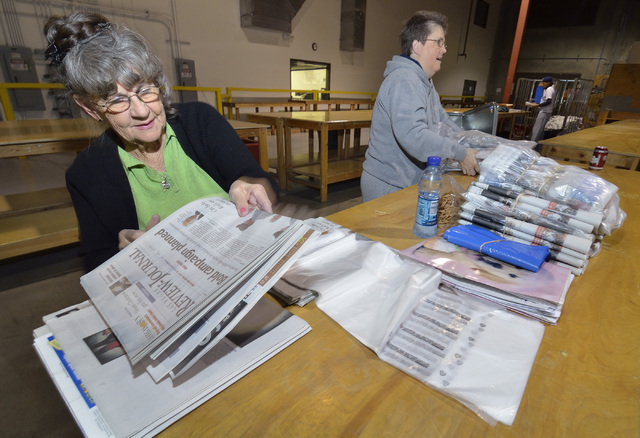 There was this moment when Geri Hutt was shown the math.
Let's see. Hmm, 330 newspapers a day, times 365 days a year, times 25 years.
Wow. She's delivered more than 3 million newspapers since she started in 1988.
"Oh. My. God. That's ridiculous," she said, laughing. "Oh, geez. I'm tired."
Hutt, who is 73, didn't plan to deliver the newspaper for pretty much the rest of forever. That's just how things worked out.
"I'll do it until I drop," she said.
Hutt is one of about 400 people who deliver the Review-Journal and its other publications every day. Nationwide, the efforts of people like Hutt result in 44 million papers being tossed onto front porches every day. Newspapers are still an influential force in American news.
It's why the Newspaper Association of America, an industry trade group, named today International Newspaper Carrier Day.
George Cherayil, the R-J's director of circulation and audience development, said it takes a special talent to do what Hutt does. The carriers typically have to get up in the middle of the night, gather up everything they're delivering, and remember where it all goes. And they don't get any days off.
Distribution Director Kathy Minnick said the industry has changed in the last 25 years. Kids on bicycles no longer throw the paper.
Instead, it's all adults in their vehicles. In the past, most of them used newspaper delivery as a second job, but that's changed.
"In this economy, there's a lot of people living off of it right now," she said. She estimated it's an even split between people for whom newspaper delivery is the primary income versus those who use it as a supplemental income.
For Hutt, the few hundred dollars she earns a month tossing newspapers helps supplement her Social Security. And around Christmastime, she said, the tips really help out. "People are so generous," she said.
Way back when, that's what delivering the paper started as, too. A supplement.
She and her husband, William, owned a local drywall business. It wasn't doing all that well, so William took up a newspaper route.
Often, Geri, and sometimes their six children, helped out.
Eventually, the drywall business failed, and so both William and Geri delivered newspapers. William also took a job as a porter at the Boulder Station casino, and later at Green Valley Ranch. The family income was never great, but the hours weren't bad and newspaper delivery provided just the right amount of freedom.
This is how they lived their lives, rising in the middle of the night, folding hundreds of papers and throwing them from their car. They got to know the neighborhood near their Henderson home very well. They got to know some of the people, too, the early risers who are sometimes out walking their dogs before the sun rises.
There's Mrs. Dobbs, who is from New York, David, and Mr. and Mrs. Langer and, well, you get the point.
It's been almost 10 years now since William died of heart trouble. This left Geri and the kids, three of whom now live with her. The youngest, Jamie, 38, is mentally disabled and does much of the driving and the tossing these days, Geri said.
That's not such a big deal on Mondays, when the paper is smaller. It's easy to fold, easy to throw. But on Sunday? On Thanksgiving?
"Holy cripe," she said. "That one always gets me."
But she'll be there this year, just like she always is, her children with her, just like they always are.
Contact reporter Richard Lake at rlake@reviewjournal.com or 702-383-0307.