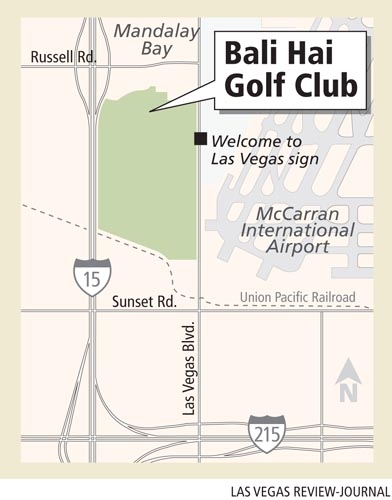 Developer Bill Walters contends that his Bali Hai Golf Club was unable to generate enough revenue to pay rent to McCarran International Airport over the past 10 years.
But now as his firm, The Walters Group, pursues plans to convert what he calls a money loser into a giant industrial park, yearly audit reports show the firm took in at least $6 million since 2000 that didn't get counted as revenue.
As a result, the airport has never made a dime from the 18-hole course in which golfers pay $75 to $295 to play near Las Vegas Boulevard, south of Russell Road.
The lease agreement calls for McCarran to receive 40 percent of Bali Hai's net profit as rent, which is to be put into the airport's operations.
In this case, net profit is the revenue left after debt payments and operating costs are deducted.
The lease allows wide latitude in what can be declared as an expense. Walters' sister company, Nevada Links, which operates Bali Hai, paid The Walters Group $6 million in "management fees" over a decade, according to yearly audits by the airport. Walters is a major partner in both entities.
The company wrote off the fees as operating costs.
Clark County officials and financial experts say Walters is doing nothing illegal or unethical. He is simply using the accounting methods allowed under the lease agreement.
"The airport negotiated a terrible lease," County Commissioner Steve Sisolak said of the Walters deal. "This is not an isolated case."
Dozens of leases on airport land base rent on net profit, and in nearly all instances the airport and county have received little or no money, Sisolak said, calling them "the worst leases in the world."
Because Walters' firm is private, he is not compelled to publicly disclose how he spends the management fees he receives — for instance, whether the money goes toward paying executives' salaries.
And the airport's yearly audits of the golf course don't list labor costs in the reports.
Mike Luce, The Walters Group's president, wouldn't comment on the Bali Hai lease or explain how the management fees are spent, saying the firm's attorney advised against it.
Randy Walker, the airport director, said the lease allows a portion of Walters' revenue to be used as management fees. This is typical of revenue-based leases, Walker said, adding that a tenant can hire an outside company to manage the property or handle it in-house.
Walters managed the golf course internally and reimbursed his company.
Sisolak argued that this is why net-revenue leases are troublesome.
"They (tenants) get to write off too much of the income as costs," he said.
Commercial project proposed
Bali Hai came under scrutiny in July when Walters sought to revise his 99-year lease so he could turn the golf course into a 2 million-square-foot commercial complex. He says a glut of local golf courses were built in the late '90s, making it even more difficult to earn a profit in the bad economy.
He hopes to break ground in 2012 on the industrial park, which would house diverse vendors who would supply hotels and casinos with uniforms, beverages, soaps and other products. A 365,000-square-foot shopping center would be built on the edge of the 155-acre site facing Las Vegas Boulevard.
Walters has said the $49 million he borrowed to build the golf course created a stifling debt that eats up much of Bali Hai's income.
A commercial complex could pull in $110 million during the first 10 years and generate $4 million a year in tax revenue for the county, he estimates. The county last year collected a mere $88,000 in property taxes for the land, because of 2005 legislation — which Walters lobbied for — that classified golf courses as open space.
Walters has drawn kudos and criticism for his style of doing business.
Fans call him a shrewd entrepreneur, while detractors accuse him of cutting deals with local governments that appear to benefit only his companies.
He sued Lisa Mayo-DeRiso, a business consultant, whom he claimed made disparaging remarks about him. Court records indicate the lawsuit is still pending.
COMPETITIVE BIDDING REJECTED
County Commissioner Chris Giunchigliani has expressed support for converting Bali Hai to an industrial complex, but she thinks such a sweeping change should require the lease to be re-bid. A 2005 law that she, when she was an assemblywoman, helped draft calls for a public auction when certain land agreements are revamped.
Walters should prove he has the best project by beating out competing bidders, she said.
But fellow commissioners disagreed. They voted to let Walters and airport officials revise the lease and bring back the new version to the commission for final approval.
Commissioners are still waiting for the new lease, which airport officials say is being delayed because the airport is in the midst of this year's audit of the golf course.
Giunchigliani also pushed to have an outside firm do a feasibility study on Bali Hai. The study would have taken a more detailed look at Bali Hai's finances to see whether a golf course should be profiting at that site.
But the other commissioners rejected that proposal as well.
Giunchigliani said she wants to ensure the public gets "the best bang for the buck," something that hasn't been done with net-revenue leases.
She agreed with Sisolak that Walters' Bali Hai lease is one of many bad deals the county struck, and said her intention wasn't to single out Walters, whom she considers a good businessman.
"We negotiated a lousy lease, a bunch of them," Giunchigliani said. "We can't fault the business folks. We're not good at negotiating leases with the private sector if the taxpayer is reaping no benefit."
airport didn't benefit
McCarran buys and leases properties to foster business parks and other development that fit with airport operations. It also seeks to prevent projects, such as houses, schools and hospitals, from being built near the airport or noisy flight paths.
There are about 30 net-revenue leases on airport land. Airport executives brokered some of the agreements, and county officials handled others.
In the case of Bali Hai, the County Commission was involved in crafting the lease 10 years ago.
Walker said the leases are a trade-off. McCarran entered many of these deals to encourage companies to develop the infrastructure at the sites, so the airport wouldn't have to do it, he said.
The leases are a way of "sharing risk," because the airport and tenants are banking on the ventures making a profit, he said. He acknowledged that Bali Hai hasn't panned out.
"The whole golf course lease has been a disappointment," Walker said.
Still, he blamed the slumping industry more than the lease itself. Not all net-revenue contracts are money-losers, he said.
For instance, the airport had a lucrative net-revenue lease with Majestic Runway Partners, which built a warehouse complex on airport land, Walker said.
Records show the airport received about $4.6 million from Majestic before McCarran officials swapped the site for property around the Henderson airport six years ago.
McCarran also has gotten about $1.3 million in rent since 2007 for a business office at Spencer Street and Russell Road.
The airport makes little money on a couple dozen leases because the Bureau of Land Management owns the land and takes 85 percent of net revenue, Walker said. The state gets 5 percent, leaving the airport with 10 percent.
He contends leases requiring tenants to pay a fixed rent have their own risks. If the business files for bankruptcy, the airport could lose money.
When National Airlines filed for bankruptcy, the carrier defaulted on $7.5 million in leasing fees it owed McCarran, Walker said.
TWO COMMISSIONERS WANT RENT
But Sisolak argued that collecting rent is safer. Revenue-based leases are done with the hope of getting a bigger payoff later, he said.
For that reason, he will insist that Walters' new lease for the industrial-park project require a monthly rent instead of a portion of the profits, he said. A business venture of this magnitude could take years to turn a profit, especially in this economy, he said.
"I want guaranteed money on that thing," Sisolak said.
Giunchigliani echoed his sentiments.
"A percentage of nothing is nothing," she said.
Walters originally asked that his firm and the airport do a 50/50 split of net profit on the industrial park. He later stated he would be open to paying flat rent on the complex to work with the county.
Walters has another net-revenue lease on airport land that has made the county no money: Durango Commons.
Commissioners will discuss on Jan. 18 whether to cancel the lease on the retail and office complex at Durango Drive and Warm Springs Road because Walters failed to finish the project's second phase by June.
Sisolak said Walters is unable to fill the existing commercial space in this economy, making it untenable to build more space. The commission will decide whether to end the lease or extend the deadline, he said.
Anchored by a Glazier Food Marketplace, the shopping center and medical offices stirred contentious debate when Walters proposed them in 2002.
He originally leased the land to build a golf course. He later requested that 64 acres be rezoned so he could develop the plaza.
Hundreds of neighbors at the time opposed it, saying it would increase traffic and diminish their quality of life. Competing developers also argued that Walters would get an unfair edge by leasing cheaper government land.
Commissioners approved rezoning 40 acres. Walters scrapped plans for a golf course and built the complex, which he says is now struggling.
Revenue-based leases such as this one made sense when the economy was booming and a solid return seemed likely, Walker said.
"Obviously, the recession hit and all development in the valley went into the tank," he said.
Contact reporter Scott Wyland at
swyland@reviewjournal.com or 702-455-4519.