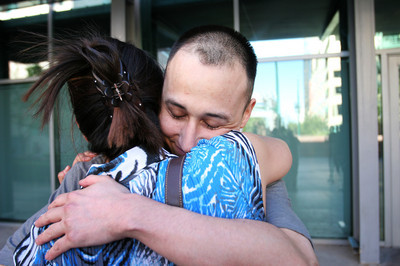 Moments after stepping outside the county jail, Iraq war veteran Walter Laak embraced his relatives and muttered the words they had been waiting a year to hear: "I knew it was going to be all right."
A Clark County jury acquitted Laak, 27, of murder charges Friday afternoon after a weeklong trial.
Laak was arrested a year ago on charges he shot and killed 19-year-old Juan Cordova during a confrontation at a friend's house. He had remained in jail since his arrest June 6, 2007.
The former Marine, who served two combat tours in Iraq, had maintained he shot Cordova in self-defense.
"It's great to be out," said Laak, who plans to celebrate his freedom by spending time with his family and eating Korean food. Laak is half Korean.
Lara Laak shed tears Friday when she learned a jury had found her younger brother not guilty. The jury had the option of convicting him of first- or second-degree murder, voluntary manslaughter or acquittal.
Lara Laak and other relatives had attended every day of the trial and, although she said she knew her brother wasn't guilty of murder, she worried that the jury might convict him of the charge. After hearing the "not guilty" verdict, she thanked each juror in the courthouse hallway.
"I love you all!" she said through tears.
On the night of the shooting, authorities said, Walter Laak was at a friend's house near Hollywood Boulevard and Vegas Valley Drive when a woman and three men drove up. They were there to confront Laak's friend, Oscar Orozco, who was dating the woman in the car, Leyvi Adrianna Aguirre-Rodriguez.
Aguirre-Rodriguez had told her friends that Orozco had hit her, authorities said.
Laak, who was outside the house smoking a cigarette, testified during the trial that he saw the three men running toward the house. He said he showed his 9 mm handgun to the men to scare them off, but one, Cordova, kept coming at him.
Laak said he chambered a round and fired a warning shot at Cordova. But Cordova continued to advance and swung wildly at Laak, he said.
Laak fired another round to stop Cordova but didn't intend to kill him, he said. The bullet struck Cordova in the abdomen, killing him.
"He (Cordova) didn't stop. He kept coming at me like I didn't have a gun," Laak said.
Laak fled after the shooting but turned himself in to Las Vegas police the next day.
Chief Deputy District Attorney Frank Ponticello said Laak didn't need to kill Cordova that night. He said Cordova stood about 5 feet, 5 inches and weighed about 140 pounds and was so intoxicated, he couldn't stand up straight. Laak is 5 feet, 10 inches tall and weighed about 190 pounds on the night of the shooting.
One of Laak's attorneys, Edward Kane, said had Laak intended to kill Cordova, he would have shot Cordova twice in the chest, as he was trained to do as a Marine. Instead, Laak fired a warning shot and fired in a downward direction, hoping to wound Cordova.
Laak conducted counter-sniper and security patrols and served as a colonel's bodyguard, frequently coming under fire, during his two combat tours in Iraq.
A friend, Sgt. Jeffrey Allen Wirges, credited Laak with saving his life and the life of another serviceman during a firefight in 2003. Laak was "calm, cool, collected," Wirges testified during the trial.
Upon his return to the United States, Laak wasn't living a hero's life. He took part-time jobs as a grocery store security guard and nightclub bouncer while he attended ITT Technical Institute. He lived with his parents, and money was tight.
Several jurors said Laak's military service played little role in their decision to acquit him. Lisa Pleman, the jury forewoman, said his military service showed Laak's character, but it was ultimately a case of self-defense.
"He really tried to get out of the situation," she said.
Contact reporter David Kihara at dkihara@reviewjournal.com or 702-380-1039.