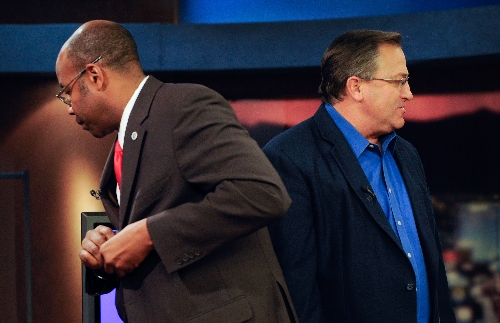 The gloves have been off for a while, but now two candidates for Las Vegas City Council are breaking out the knives and brass knuckles.
On Wednesday, when Ward 6 Councilman Steve Ross and challenger and Planning Commissioner Byron Goynes each reported campaign finance contributions, their campaigns descended to accusations about lies and extortion aimed at drawing as much blood as possible before voters cast their ballots.
Ross' campaign, which reported raising more than $104,000 for a 20-day campaign to defend his seat, highlighted the fact that a consultant accused of attempting to extort a county commissioner was also part of the campaign to recall him from office.
Goynes, who reported raising $9,000, shot back that Ross "is incapable of telling the truth so he has to try to divert the attention to me by lying."
Goynes' campaign is left to decide whether it wants to go forward with a series of three mailers to highlight what it says are lies by Ross despite not yet having the money to pay for it.
"The total amount of money we need, we are right on the edge," Goynes campaign manager Steve Forsythe said.
The harsh words Wednesday — the day before a two-day early voting period starts for the Jan. 31 special election in the ward — are a continuation of a campaign that has gotten increasingly nasty.
Goynes' first mailer highlighted ethics violations against Ross dating to 2007 that included Ross failing to disclose he worked at the time as secretary-treasurer of the Southern Nevada Building Trades Council before casting votes for a city hall construction project.
Given the tight finances, though, the Goynes campaign plans to spend the remainder of the campaign walking door to door and making phone calls to potential voters to make their case.
It is also dealing with the Ross campaign's extortion accusation, which requires unraveling several layers of complicated relationships for voters with short attention spans.
It's based on the role Fierro Communications played in two successive efforts to gather signatures needed to force a Ross recall vote onto the ballot.
The company is run by Mark Fierro, who is accused by Clark County Commissioner Steve Sisolak of attempting to extort money from him.
Sisolak is engaged in an ugly, public legal battle with an ex-girlfriend, former Henderson City Councilwoman Kathy Vermillion, who accused him of telling county officials she failed a drug test and of having an untoward interest in her teenage daughter.
Fierro attended a meeting with Sisolak on behalf of Vermillion and, with Vermillion's lawyer, Rob Martin, attempted to get Sisolak to pay $3.9 million to end the dispute.
Sisolak called it extortion. Fierro and Martin said they were merely trying to settle a lawsuit that Vermillion filed against the commissioner last week.
The Ross campaign said the fact that Fierro's firm, using money from another Ross foe, car dealer Joe Scala, was a key player behind the Committee to Recall Steve Ross is relevant to the campaign against Goynes.
"These are the people that are running the (Ross recall) effort," said Steve Redlinger, campaign manager for Ross. "People involved in the effort and their extracurricular activities are an issue."
The Ross campaign highlighted the Scala connection in a recent mailer, as well, urging voters to "vote 'no' on Byron Goynes," because, "he's Joe Scala's puppet to get revenge against Steve Ross for standing up to Scala's corruption."
Nonsense, Goynes backers say.
Forsythe said the Goynes campaign is independent of the recall.
They cite campaign finance reports that list no contributions from Scala or expenditures to Fierro's firm.
"We haven't gone to (Scala) for a donation, and he hasn't offered," Forsythe said.
They're also upset that the text on recently mailed sample ballots, which include statements in favor of and opposing Ross, calls the vote Scala's "attempt to get his new candidate, Byron Goynes, elected."
Forsythe said the statement is inaccurate.
"There are no campaign contributions. There are none of his people working on the race," Forsythe said. "That is an incredible lie."
The Goynes campaign did, however, hire Marc Newman, a political organizer who coordinated the signature gathering effort for the Committee to Recall Steve Ross, to gather signatures for Goynes' petition of candidacy.
"When I go in as a campaign manager, I need to find the best grass-roots team I can find," said Forsythe, who said he has worked with Newman on past campaigns. "I would be out of my mind not to bring him on board."
Scala has been accused by the secretary of state and the attorney general of not reporting anti-Ross ads as campaign expenditures.
Whether tying Goynes to Fierro and Scala works with voters, it could help dry up potential contributions, said Ronni Council, a political consultant who lives in Ward 6 but is not involved with either campaign.
Council said linking Goynes to Fierro and Scala gives the entire recall effort a whiff of impropriety, even if nothing improper actually happens.
"I think he is probably sending that message out to the insiders or any possible last-minute donors for Goynes," Council said. "It will make those people think twice. Nobody wants to be involved in a scandalous effort, not that it is a scandalous effort."
The allegations of ties to Fierro and Scala aren't the only factors working against Goynes, Council said.
Goynes also has less money and more work to do than Ross.
Because Ross has a base of existing supporters, he can concentrate on getting them out to vote.
Goynes, the challenger, has to send two messages, oppose Ross and vote.
"Goynes is having to persuade people and get them to the polls; Ross is only having to get them to the polls," Council said. "It is all about field work and about getting to ID'd, inveterate voters."
Contact reporter Benjamin Spillman at bspillman@ reviewjournal.com or 702-229-6435.
WARD 6 RECALL RACE
Registered Las Vegas voters in Ward 6 are eligible to vote in the City Council special election between incumbent Councilman Steve Ross and Planning Commissioner Byron Goynes.
Early voting takes place today and Friday.
Today , early voting will be at Centennial Plaza at Centennial Center Boulevard and Tropical Parkway from 9 a.m. to 5 p.m. and at the Centennial Hills Community Center, 6601 N. Buffalo Drive, from 10 a.m. to 6 p.m.
On Friday, voting will take place at Centennial Center and at Albertsons at 4850 W. Craig Road from 10 a.m. to 6 p.m.
On Election Day, Tuesday, voting will take place at the same locations from 7 a.m. to 7 p.m.