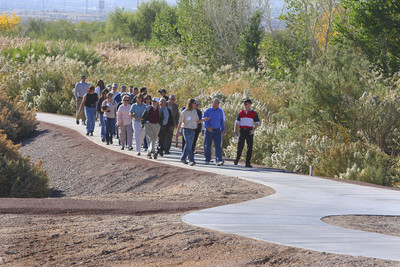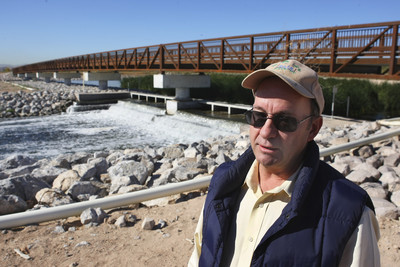 Not so long ago, the Las Vegas Wash carved its way through a southeast valley wasteland of illegal dump sites, homeless encampments and tangled forests of tamarisk shrubs.
"It was a wild and crazy place back then. You really didn't want to be out here alone," said Gerry Hester, who used to collect erosion data along the wash for the federal government. "I've been shot at several times."
What a difference a decade makes.
Hester and about 80 others gathered Monday along the banks of a very different Las Vegas Wash to mark the 10th anniversary of the group responsible for the transformation.
The Las Vegas Wash Coordination Committee was formed in 1998 to restore and protect the wash, which drains the entire 1,600-square-mile valley and carries all of the community's treated wastewater downstream to Lake Mead.
In the 1970s, Las Vegas Wash was bracketed by a 2,000-acre wetland teeming with birds. But as the valley's wastewater output grew, the increased flows cut a deepening channel through the desert, cutting off plants from their water supply and killing much of the wetlands. Meanwhile, downstream, Lake Mead's Las Vegas Bay was beginning to fill with millions of tons of sediment.
To tame the wash and slow its flow, the coordination committee has directed construction of 11 erosion control structures, or weirs, from just northwest of Sam Boyd Stadium to Lake Las Vegas. For flood protection, more than five miles of shoreline has been reinforced with boulders and chunks of concrete recycled from demolished hotel-casinos and highway ramps.
Slower-moving water carries less sediment and allows growth of wetland plants that help filter pollutants from the wash.
The newest structure, known as the Upper Diversion Weir, went on line in September just downstream from the spot where the Clark County Water Reclamation District releases its treated wastewater into the wash.
The weir is topped with a concrete and steel pedestrian bridge that connects the 130-acre Clark County Nature Preserve at the east end of Tropicana Avenue to a network of trails and picnic areas now being developed in a 2,900-acre area known as Wetlands Park.
Monday's event was held in a banquet tent at one end of the bridge, next to a grove of fledgeling mesquite trees and other native plants that weren't there two months ago.
A group of almost 600 volunteers planted the trees and shrubs — 4,690 plants in all covering almost 13 acres — during a Green-Up event Sept. 27. It was the 13th such event organized by the Las Vegas Wash Coordination Committee, which includes 30 community organizations and government entities headed by the Southern Nevada Water Authority.
Allen Biaggi, director of the Nevada Department of Conservation and Natural Resources, can scarcely believe 10 years have passed.
During Monday's ceremony, Biaggi said that before coordination committee came along the wash was "subject to abuses of all kinds."
"At the time, it was viewed primarily as a wasteland. It certainly wasn't viewed as a resource," he said.
Hester, who serves as program manager for the water authority's work in the wash, made his first visit to the area while investigating damage from a deadly 1975 flood.
At its worst, he said, the wash flowed through the eroded cuts that went down 40 feet or more, leaving sheer walls of dangerously unstable earth bracketing the water.
"You could literally stand out here and watch the banks collapse and watch all that sediment move downstream," Hester said.
In 2001, researchers concluded that if nothing were done to slow erosion in the wash, another 7.5 million tons of sediment would be dumped into Lake Mead over the next 15 years. That's enough soil to bury a football field under a pile 60 stories high, Hester said.
The weirs and shoreline stabilization work has cut the wash's sediment load by about 75 percent, while the revitalized wetlands are helping to improve the overall quality of the water Las Vegas discharges into Lake Mead.
The wetlands' recovery also has brought back the birds, including harriers, ospreys, great blue herons, and the occasional pelican.
More than 100 species of birds and 17 species of bat frequent the wash, as do lizards, rodents, coyotes and the occasional bobcat or beaver.
Their habitat has grown significantly over the past 10 years, thanks to the removal of 21/2 tons of trash and more than 200 acres of non-native tamarisk shrubs that have been replaced with nearly 38,000 native plants.
"I'm very proud of it. I'm like a proud papa," Hester said as he stood in one freshly replanted area next to the Upper Diversion Weir.
The job is only half done.
Eleven more weirs are slated for construction over the next five years, and another seven miles of shoreline is due to be armored with boulders and concrete.
The push to replace tamarisk with native plants also will continue.
The work so far has cost almost $70 million. The committee is funded through state and federal grants, contributions from its member agencies, and revenue from a quarter-cent sales tax.
Hester said the remaining work is expected to cost about $99 million. Roughly $20 million of that money has yet to be secured.
Contact reporter Henry Brean at hbrean@ reviewjournal.com or 702-383-0350.