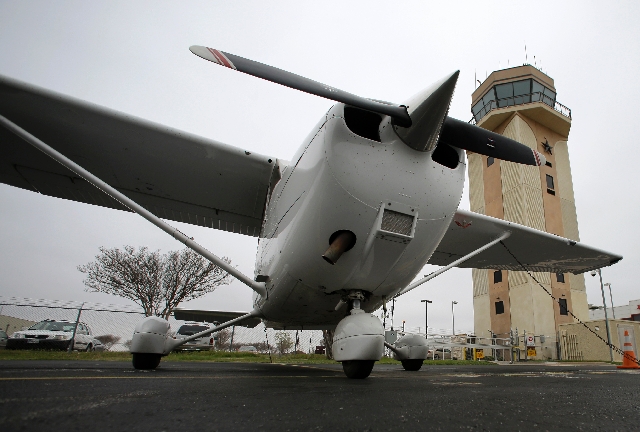 WASHINGTON — Congress approved legislation last week to fund the federal government for another six months, averting a shutdown and softening the impact of automatic across-the-board spending cuts required under sequestration.
The federal government has been operating under a series of short-term spending resolutions since the 2013 fiscal year began in October. The latest one expires Wednesday .
The $984 billion spending bill will keep the government funded through the end of the fiscal year on Sept. 30. It includes $85 billion in automatic spending cuts triggered earlier this month under a 2011 debt limit agreement.
The final bill, however, also eases the blow of the so-called sequestration cuts by including additional funding for military operations as well as a measure to ensure meat and poultry inspectors are not furloughed.
Despite lobbying from individual lawmakers, Congress did not restore funds to keep air traffic control towers open at smaller airports. It also did not provide funds to reopen public tours of the White House.
The Senate voted for the bill, 73-26. Sen. Harry Reid, D-Nev., voted in favor. Sen. Dean Heller, R-Nev., opposed it.
The House approved the bill, 318-109. Reps. Joe Heck, R-Nev., Steven Horsford, D-Nev., and Dina Titus, D-Nev., voted in favor. Rep. Mark Amodei, R-Nev., did not vote.
HOUSE, SENATE DEBATE, APPROVE CONTRASTING 2014 BUDGET BLUEPRINTS
Debate over the 2014 budget took a partisan divide last week as the House and Senate disagreed on how to reduce future deficits.
The House approved a budget resolution by Rep. Paul Ryan, R-Wis., that would eliminate annual deficits in a decade through cuts in nondefense programs. It also called for a tax system overhaul and a restructuring of Medicare.
Republicans said the measure was tough but necessary to control government spending and foster economic growth. Democrats uniformly opposed the Ryan budget, calling it misguided and ruinous.
"Once again, House Republicans doubled down on a budget that will risk 2 million jobs next year, stall our economic recovery, raise taxes on the middle class, and end the Medicare guarantee. That is not a 'path to prosperity;' it is a 'path to pain' for working families, children, seniors and our economy," said Rep. Nancy Pelosi, D-Calif.
The House approved the resolution, 221-207, with 197 Democrats and 10 Republicans in opposition.
Heck, Horsford and Titus opposed the resolution. Amodei did not vote.
At about 5 a.m. EDT Saturday, the Senate voted 50-49 to pass a budget resolution proposed by Sen. Patty Murray, D-Wash., that would reduce — but not eliminate — annual deficits.
Reid voted for the Senate budget resolution. Heller voted against it.
The plan calls for about $1 trillion in spending cuts and $1 trillion in tax hikes over 10 years.
House Speaker John Boehner, R-Ohio, lashed out at Senate Democrats for considering a budget that "never balances — ever."
The Senate debate began Thursday and included votes on dozens of non­binding amendments mostly designed to score political points ahead of the 2014 elections.
Among the amendments, the Senate voted against the Ryan budget, 40-59.
Reid and Heller opposed it.
The Senate voted against repealing President Barack Obama's signature Patient Protection and Affordable Care Act, 45-54.
Heller voted for repeal. Reid opposed repeal.
And, the Senate rejected, 45-54, a measure to prohibit tax increases when the unemployment rate exceeds 5.5 percent.
Heller voted for it. Reid voted against the proposal.
Contact Stephens Washington Bureau reporter Peter Urban at purban@stephensmedia.com or 202-783-1760.