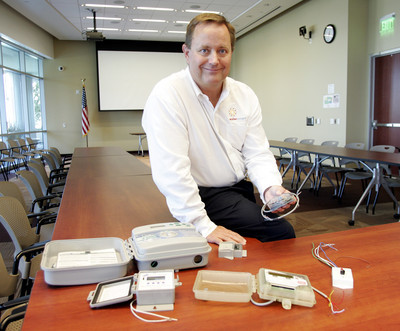 They reminded you. They cajoled you. They even tried fines and implied threats to the family jewels.
Now, Southern Nevada Water Authority officials are zeroing in on a way to get you to follow their seasonal watering restrictions with or without your help.
The authority is getting ready to test a new device, designed specifically for use in the Las Vegas Valley, that will automatically adjust irrigation clocks each time the watering restrictions change throughout the year.
Patrick Watson, a conservation services administrator for the water district, said there are a few irrigation clocks on the market that track the weather and even monitor the moisture content of soil. But none of them is programmable "to this level of detail," he said.
"I was a little surprised that (the technology) didn't exist either," said authority spokesman J.C. Davis. "Who knew?"
Early last year, the authority solicited proposals for a device that would take all the thinking out of living water smart. By October, water authority officials had received eight promising designs.
After narrowing the field to six, they instructed each of the finalists to produce 100 prototypes for field testing.
Now the authority is looking for residents and business owners who are willing to try out the devices, free of charge, and rate their performance.
Watson said the 600 prototypes will be judged based on how easy they are to install and operate, as well as how well they work.
The goal is to produce a functional and reliable device that attaches to existing irrigation clocks with relative ease.
Once a winning design has been picked, Watson said the authority may decide to give the devices away to valley residents — a gift that could end up costing as much as $1.25 million.
"The water savings would be more of a savings to us," Watson said.
For the technology competition alone, the authority has budgeted $250,000, enough to reimburse the participating companies for the cost of designing and producing prototypes.
"Basically, they're building these things from scratch. They're developing a whole new product, and there is engineering involved," Watson said.
The reward for the winning company, he said, is an initial order of 10,000 to 50,000 units, each probably costing somewhere between $14 and $25.
The participating companies also may find a market for their water-saving designs outside the Las Vegas Valley.
As persistent drought and population growth continue to strain water resources, Watson said, "these kinds of devices become marketable all over the Southwest and the West."
The prototypes come from some of the biggest manufacturers of irrigation controllers, including Toro and Hunter Industries. DiG Irrigation Products submitted prototypes for two designs, both of them with precision timers that are set using a hyper-accurate atomic clock.
Also in the running is Irrometer, a company that specializes in soil moisture sensors.
The competition's scrappy underdog, though, might just be Alex-Tronix, which Watson described as "a small clock builder out of California."
"He's got a nice little device," Watson said. "We'll see how it works."
Because lawns use the most irrigation water and represent the largest opportunity to conserve, the authority is limiting the pilot program to properties with at least 25 percent of their landscapes dedicated to grass.
The study is slated to last a year, Watson said.
"We'll start Sept. 1 and go through our watering calendar."
Valley residents are free to water as often as they like during the summer. In spring and fall, sprinkler use is limited to three assigned days a week. In winter, the number drops to one assigned day a week.
The system of seasonal restrictions and assigned watering days was created in 2003 in response to drought on the Colorado River, source of 90 percent of the valley's water.
In 2006, with the drought still going strong, the authority sought to step up compliance with an edgy advertising campaign in which one wasteful water-user gets attacked by a lapdog and another gets kicked in the groin by an old lady.
Response to the ads has been strong, but not total, authority officials said.
Contact reporter Henry Brean at hbrean@reviewjournal.com or 702-383-0350.
WATER-SMART TEST SUBJECTS Anyone interested in participating in the Southern Nevada Water Authority's one-year trial of new water-saving technology should call 862-3760 and select option two. Individuals also can apply online at www.snwa.com/ html/news_watering_ assistant.html. Qualifying participants must have an irrigation clock and grass that takes up at least 25 percent of the landscaping at their home or business.