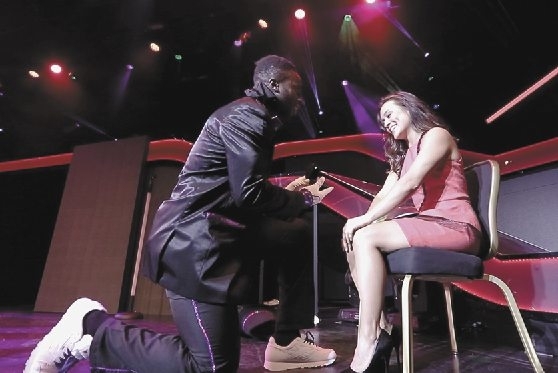 So Marlon Wayans calls me while he is about to walk into a gym in Los Angeles, but he runs into some other famous guy who won't stop talking to him.
"Hold on," Wayans politely tells me. "Russell Simmons is interrupting your call."
I hear Wayans tell his buddy:
"What's up Russell? … I'm just finishing a call, I'll talk to you in two seconds. … I love you, man! I'm trying to be funny" on the phone.
Then Wayans gets back to me and apologizes.
I am telling you this story not to bust on Wayans or Simmons, but to give you an inside look at how phone calls get surreal between celebrities and the press.
Anyway, Wayans is coming to Las Vegas this weekend with his brother Shawn. They perform stand-up at the Palms' Pearl on Saturday ($40-$70).
Wayans, 41, is the youngest of 10 Wayans, and he has starred in hit after hit — the "Scary Movie" franchise, "In Living Color" and in this year's "A Haunted House," which earned $60 million on a budget of $2.5 million.
Wayans says Saturday's Vegas gig is one of his last stand-ups for a while because in a month he will start production on "A Haunted House 2."
After that, he will work on creating a new comedy-video site called WhatTheFunny.com, launching by winter 2013 or spring 2014.
"It's basically the urban answer to FunnyOrDie.com," Wayans says.
Wayans is working on WhatTheFunny with several founders of FunnyOrDie. They are meeting with famous funny people, funny writers and newcomers as potential contributors.
Does Wayans think there isn't enough urban comedy on FunnyOrDie?
"I think there's an opportunity because nobody's really speaking to that urban audience," he says.
"I'm not talking about (just) African-Americans. I'm talking about Latinos. I'm talking about youth culture."
He says his site will have a different kind of joke taste than FunnyOrDie — it won't be "college frat house."
"There's a huge audience that's underserviced, and we plan on giving them jokes to talk about … a 'wow factor.' "
By the way, Marlon and Shawn Wayans serve different roles in their family.
"I am definitely the silly one. I am what you call 'the fool,' " Marlon says. "Shawn? That's the pretty one. He hates that title but he is. We say, 'Stop being so pretty.' "
LATE SIGHTING
New York Giants cornerback Prince Amukamara last Friday got on one knee and proposed to girlfriend Pilar Davis — onstage — during the Luxor's Jabbawockeez' "Prism" show.
She was pulled onstage to be part of the show.
He was secretly onstage already, wearing a Jabbawockeez mask. (He's a fan of their moves.)
Then he lost the mask, surprised her and popped the question. She said yes. True love. The end.
Doug Elfman's column appears on Page 3A in the main section on Mondays, Tuesdays, Thursdays and Saturdays. He also writes for Neon on Fridays. Email him at delfman@reviewjournal.com. He blogs at reviewjournal.com/elfman.