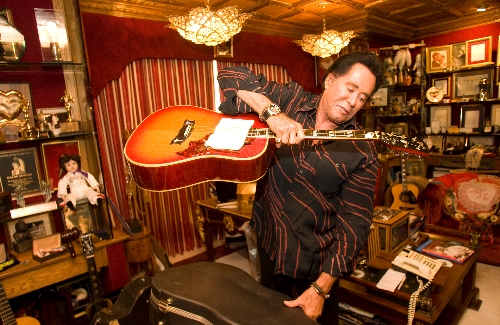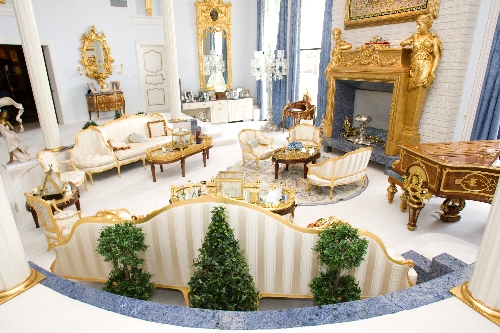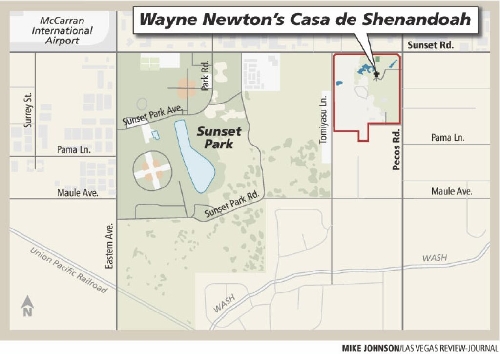 Even a gloomy overcast can't dim the opulence of Wayne Newton's 52-acre ranch, where Arabian horses graze in lush pastures and gold trimmings adorn the furniture and interior décor.
The 14,000-square-foot house could be deemed historic, partly because it has been home to an area icon — nicknamed "Mr. Las Vegas" — for 44 years. It also harks back to an era when Vegas was more rural than urban.
Newton, 68, hopes to offer paid shuttle tours of his gated Casa de Shenandoah ranch at Pecos and Sunset roads within a year, a plan that has drawn opposition from some residents in his upscale neighborhood.
He also is partnering with Steven Kennedy, a Texas businessman, to build a museum and theater on 10 acres of commercially zoned land north of Sunset Road.
In an interview Wednesday, Newton dismissed rumors that he was trying to turn his home into a tourist attraction because of money problems.
He said his main interest is showcasing a home that he molded into a unique setting, filled with antiques, animals and ponds fed by artesian wells. Making profits on the enterprise is secondary, he said, insisting that he is financially healthy.
"Frankly, it's become humorous to me," said Newton, referring to the scuttlebutt about his money woes.
Ticket prices have yet to be determined, he said, adding that some of the proceeds would go to charity.
Clark County commissioners must approve a special use permit for commercial shuttles to take visitors on and off the property.
Newton's representatives will present the plan Tuesday to the Paradise Town Advisory Board . The board then will make recommendations to commissioners, who probably will review the plans in November.
Some residents fear that Newton's tours would increase traffic and ruin what is left of the neighborhood's rural character. A group of them aims to speak against his plans at the town board meeting.
The issue has grown rancorous. Kennedy, the Texas developer, sued one critic, M.J. Harvey, and alleged defamation after she publicly denounced him and his intentions.
Harvey declined to comment for this story, citing legal concerns.
Wendy Meoz, another neighbor, said letting Newton run tours would open the door for other residents to launch business ventures in their homes. That would lead to more nonresidents driving in and out of the neighborhood, she said.
"This is a money-making operation that benefits only the owners of the property," said Meoz, a 25-year resident. "We want to keep our area low-key. This is an old, established neighborhood, and we like it a lot because of its rural atmosphere."
But Michael Montgomery, who has lived just south of Newton for 30 years, said the tours would have almost no effect on the area.
Newton has asked that the ban on commercial vehicles be lifted on the northern 200 feet of Tomiyasu Lane, which abuts the western side of his ranch, Montgomery said. That would allow him to bring visitors onto the property a good distance away from the nearest neighbors, he said.
Otherwise, Newton will pursue commercial zoning for a portion of property facing Sunset Road, so the shuttles can enter from there, Montgomery said. That action would change the complexion of the area more drastically.
"If they (residents) want to preserve the area as they've known it for 30 years, they should play ball with Steve Kennedy and Wayne Newton," Montgomery said.
Newton concurred with Montgomery's statements. And he added that running shuttles would be far less intrusive than building the 80 houses that current zoning would allow on the property.
He noted that when he built the ranch in the mid-1960s, the area was truly rural with none of the strip malls or subdivisions you see today along the corridor. He was practically the only homeowner in the area.
"I don't want to offend my neighbors," Newton said. "But I was here before we had neighbors."
Newton said he and Kennedy formed CSD Management LLC to handle future commercial ventures. He said he turned over his Shenandoah ranch to the firm but still controls the property.
County records show Kennedy as the firm's managing partner and Newton receiving about $19 million in the transaction.
Newton said he envisions opening a museum to display the copious memorabilia he has collected over the decades during his association with nearly every big-time star who graced a Vegas stage.
Visitors would tour the museum and then jump on a shuttle that would take them to Shenandoah, he said. Some tours would include a walk-through of his home's first floor.
His ranch features an exotic menagerie, including 54 Arabian horses, a miniature monkey, African cranes and some cockatoos, which could be heard screeching in an adjoining room.
Antique buffs can check out his 20 classic cars and his centuries-old furniture and statues, he said.
There is also his disabled Fokker airplane that he keeps on the grounds as "garden art," he said.
The twin-engine plane transported him on concert tours for 14 years until the Federal Aviation Administration ruled that the engines no longer could carry aircraft of this weight, Newton said.
Replacing the engines would have cost $2 million, and most of the electronic equipment was stolen while the plane was housed in Detroit.
So he hauled it by truck to the ranch, where it will remain, he said.
Newton said he could foresee his museum evolving into a Las Vegas entertainers' hall of fame.
In his Red Room, he stores a treasure trove of old Las Vegas items: guitars that Johnny Cash and Elvis played, Frank Sinatra's old microphone, Jack Benny's violin.
And this is just a fraction of the historic wares that museum-goers would see.
"There really is nothing in the world quite like the Shenandoah," Newton said. "I'm very proud of what I've created here."
Contact reporter Scott Wyland at swyland@reviewjournal.com or 702-455-4519.
Wayne Newton talks about Casa Shenandoah tourist attraction