Wedded bliss requires faith
October 26, 2008 - 9:00 pm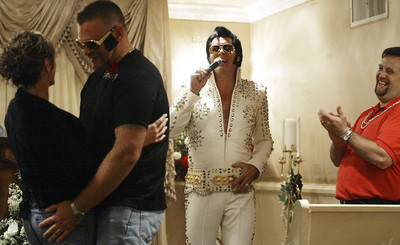 CARSON CITY
When the Elvis impersonator asked you to say "I do" in that wedding chapel ceremony in Las Vegas, did you know his religious affiliation? Was he a Baptist?
He might have been. Or he might have been a Catholic. Or even a Buddhist.
But there's one thing you can be sure of. He wasn't an atheist.
With the exception of judges who are sanctioned by their office to perform weddings, Nevada law prohibits someone who is not affiliated with a religious organization incorporated or established in the state to perform marriages.
Las Vegas resident Michael Jacobson would like to change that.
Jacobson, a self-described atheist, saw his application for a "certificate of permission to perform marriages" rejected in June by Clark County Clerk Shirley Parraguirre because of the requirements in Nevada law.
"I was surprised," he said. "The (U.S.) Supreme Court in a case from the 1950s found that it was unconstitutional to impose a religious test for a public office. But they have stood by what is on the books in Nevada. It's clearly unconstitutional."
Jacobson, a Las Vegas resident for the past five years, said he decided to apply because another area resident who had been performing civil marriage ceremonies for local atheists, or humanists as some prefer to be described, had moved away.
The other individual had received approval to perform marriages through a humanist organization with the credentials needed to satisfy Nevada law, essentially a quasi-religious qualification, Jacobson said.
"Having to do that to get the right to be a celebrant makes no sense," he said. "It is a subterfuge to get the qualification."
So Jacobson applied for a marriage license and wrote in "not applicable" in the spaces regarding religious affiliation and other related questions, such as the name of his local congregation or denomination.
His application was rejected.
Parraguirre, who is also the commissioner of civil marriages for Clark County, said Jacobson's issue is with the Nevada Legislature, not her office, and that she is in the process of preparing a letter to tell him so.
The law requires the religious affiliation for those who perform marriages, and actually specifies that weddings should be only an ancillary part of an individuals religious duties, she said.
"It was like: 'Here I am; I want a license; give it to me,'" Parraguirre said. "We can't do that. We have to abide by the statutes."
The law does need reworking to clarify some ambiguities about the marriage license process, she said. But she is not recommending that just anyone be allowed to become licensed to perform weddings.
"You need to be a full-fledged minister," Parraguirre said. "If not, then anyone in the state of Nevada could get a license."
Last week, Parraguirre was sent a letter by the American Humanist Association on behalf of Jacobson, telling her legal action might be the next step if his application to perform marriages is not reconsidered.
The requirement of a religious affiliation to perform marriages violates the U.S. Constitution, said Robert Ritter, an attorney with the Appignani Humanist Legal Center in Washington, D.C., who sent the letter.
Ritter said Thursday he will recommend that Jacobson take the matter to U.S. District Court if Parraguirre does not reconsider her decision.
"It's clear to us the Constitution of the United States has no religious test for public office," Ritter said. "We're not looking at any animosity to religion. We just believe Nevada has no interest in limiting 'celebrants' to ministers."
Nevada is not alone in setting such requirements for who can perform marriages, Ritter said.
"There are some minor differences state to state, but generally speaking states authorize only those with religious credentials to perform weddings," he said.
An exception is Virginia, which has no such requirements, Ritter said.
Marriage is a big business in Nevada and Las Vegas in particular.
About 100,000 marriages are performed in Clark County each year.
Parraguirre said her office processes several hundred applications a year for people seeking permission to perform marriages. No fee is required. But some are rejected because of the qualifications to have a local congregation, she said.
There are about 2,500 people licensed in Clark County to perform marriages, Parraguirre said.
George Flint, who operates the Chapel of the Bells wedding chapel in Reno and represents several chapels as a lobbyist in the Legislature, said the state's involvement in marriage goes back to frontier times, when a judge was not always available to perform a wedding ceremony.
"So the state gave the authority to the local priest or minister," he said.
The issue gets murky when someone claiming some religious affiliation that is not mainstream seeks permission to perform marriage, which happened in Carson City several decades ago when a "tea leaf" reader sought such authority, Flint said.
In the case of Jacobson, all he has to do is work within the system by forming an association or fellowship of like-minded individuals and a county clerk would be hard-pressed to deny a license to perform marriages, he said.
But representatives of the American Civil Liberties Union of Nevada say such problems arise when the state inappropriately becomes involved in the exercise of religion.
"The problem is with the law itself," said Allen Lichtenstein, general counsel for the organization. "By giving licenses to some religious organizations and not others, or to religious organizations versus philosophical groups, it walks a fine line. Trying to choose between legitimate and illegitimate groups never works."
The law raises serious constitutional issues, Lichtenstein said.
The reason for the state's interest is to ensure that the two people are who they say they are and that they are qualified to be married, he said. This task could be performed by a notary. A couple could then decide to have a religious ceremony of their choosing.
"The law mixes government and religion in a way that benefits neither," Lichtenstein said.
State Sen. Warren Hardy, R-Las Vegas, said he has requested a bill for the 2009 legislative session to discuss the many issues dealing with the performance of marriage in Nevada.
"I have not educated myself to the point where I know what needs to be done," he said. "But this gentleman should be pleased to know we will be taking a look at it."
Jacobson said he will discuss his options with Ritter if the decision to deny his license is upheld by Parraguirre, but a court challenge is likely. Ritter's letter gives a deadline of Nov. 12 for a response. He doesn't want to make a federal case out of it, but it may come to that.
"If she takes that hard position I guess that's what we may have to do," Jacobson said. "But I try to avoid the legal system whenever possible."
Contact reporter Sean Whaley at swhaley@reviewjournal.com or 775-687-3900.
STEPS TAKEN TO PREVENT 'MARRYIN' SAMS'CARSON CITY — The marriage business is big business in Las Vegas but it really isn't supposed to be.
The laws dealing with who can perform marriages were last reworked in a serious way in 1967. The intent was that weddings be only an "incidental" part of a pastor or priest's full-time religious duties, said Clark County Clerk Shirley Parraguirre.
The legislature did not want to see the state fill up with "Marryin' Sams," she said. Marryin' Sam was a preacher in the comic strip "Li'l Abner" who specialized in $2 weddings.
Yet anyone who looks around in Las Vegas can see wedding chapels offering marriages 24 hours a day, with at least some licensed ministers seemingly performing ceremonies as full-time jobs, she said.
Because of this conflict between the law and reality, Parraguirre has asked the legislature to review the rules governing those who can marry couples in Nevada.
There are other inconsistencies and concerns that need to be addressed as well, she said. The legislature might not have an appetite to take up fee increases, but no fee can now be charged to process an application for someone who wants to perform weddings, Parraguirre said. Yet the office reviews as many as 2,000 such applications a year, she said.
A fee of some modest amount, $25 or $50, would seem reasonable, Parraguirre said.
Another concern is that once a license has been approved, the clerk's office for the most part loses control over the individual, Parraguirre said.
Clerks should have continuing jurisdiction over those who perform marriages in the county so steps can be taken if an issue arises, she said.
George Flint, who operates the Chapel of the Bells wedding chapel in Reno and represents several chapels as a lobbyist in the legislature, said Parraguirre should contact the wedding chapel industry for comments on any proposed legislative changes.
"Unfortunately and sadly, there has been no exchange between the industry and the clerks," he said. "If we could sit down maybe we could reach agreement on certain things that needed tightening up or liberalizing."
Flint said he would not be opposed to a fee, but suggested it be $500 to deter californians who come over to Nevada on weekends to make money performing weddings.
Flint, who has 47 years in the wedding business, said the idea of trying to determine how much time an individual is spending on weddings versus other religious functions is a slippery slope for lawmakers.
"Challenging anybody will raise church and state issues," he said. "I did 13 weddings last week. That is church for me." Flint said that as a retired member of the clergy, he no longer has to have a local congregation to meet the Nevada licensing requirement to perform weddings.
Sean Whaley/Review-Journal Capital Bureau