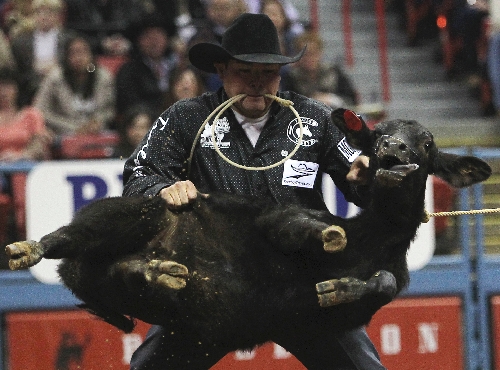 Former las vegas Mayor Oscar Goodman was known to unleash rhetorical fury against critics who dared to challenge his authority.
His wife and mayoral successor Carolyn Goodman is known for having a softer, gentler touch when it comes to dispute resolution.
But a recent council discussion of gun rules in city parks revealed the fairer Goodman is no shrinking violet when it comes to self-preservation.
"I would like to disclose I have a concealed weapons permit," Goodman said during the debate.
Consider yourself warned, Las Vegas.
BENJAMIN SPILLMAN
A Pearl Harbor Day story about retired Navy Lt. Cmdr. Leonard Gross, who survived the Sept. 15, 1942, sinking of the USS Wasp aircraft carrier during the Guadalcanal campaign, rang a bell with North Las Vegas military mom Jackie Hoffman.
Her son, Gregory Hoffman, a Naval War College communications professor, served on the 10th United States Ship named Wasp. She was there in Norfolk, Va., when it was commissioned on July 29, 1989.
While it was under construction in Mississippi, divers in the South Pacific retrieved a ship's bell from the sunken USS Wasp CV-7 so it could be installed on the new USS Wasp LHD-1, a multipurpose amphibious assault ship.
On cue during the ship's commissioning, bells rang and Gregory Hoffman joined 2,500 fellow sailors to scramble aboard to put the ship in service.
"It was breathtaking," Jackie recalled. "There wasn't a dry eye in the whole audience."
Among her children, grandchildren and in-laws, three serve in the Navy, two in the Army, two in the Air Force and one in the Coast Guard.
"I'm very proud of them," Gregory said.
KEITH ROGERS
UNFORTUNATELY WORDED EMAIL SUBJECT LINE OF THE WEEK: "news release – DA meth dealer life sentence."
Don't worry, we checked. The district attorney is not a meth dealer and has not received a life sentence.
TWEET OF THE WEEK: @Mikeweatherford (Review-Journal entertainment columnist) How do u measure Vegas rainfall? By # of trash cans catching rain on floor 3 Plaza hotel: I count 8!