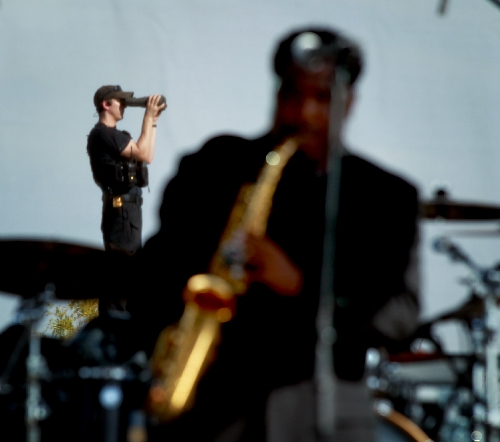 Election season is wearing on everyone, it seems.
That much was clear in an economic panel discussion Friday at The Orleans during the Governor's Conference on Small Business.
After talking about economic diversification, taxes and education, panelist Dan D'Arrigo, CFO of MGM Resorts International, finally found a way to get a rise out of the audience with a joke about political ad fatigue.
"I never thought I'd say it, but I will be happy to see a Viagra commercial," D'Arrigo said to raucous laughter.
BENJAMIN SPILLMAN
After seven years of looming over downtown like a bad joke, the Lady Luck sign was taken down recently as part of an effort to finally rebrand and reopen the shuttered hotel-casino.
The Lady Luck closed in 2005, and for a while it seemed like the property former Mayor Oscar Goodman once called a "carcass" might never catch a break.
Which is why there was some irony – intentional or not – in the way that the old sign was removed. The first word the workers took down was luck.
HENRY BREAN
Some people pine for the days when people dressed up for a visit to the Strip. Others prefer the casual, mostly dress-code-free atmosphere of today.
The scene inside Bally's looked like an argument between those two positions on Friday morning.
First came a woman wearing a cocktail dress and a fur stole, in spite of the mild weather. Then, just a few feet behind her, came a man in a T-shirt that proclaimed, in Gothic lettering, "Manure occureth."
And the debate goes on.
HEIDI KNAPP RINELLA
OVERHEARD ON THE SCANNER: Report of a 404 (unknown trouble) at the Excalibur. "A woman carrying balloons offering to expose herself to males."
TWEET OF THE WEEK: @RefriedBrean (Review-Journal reporter Henry Brean) Another reason to hate daylight saving time: Falling back = one more hour of campaign ads.