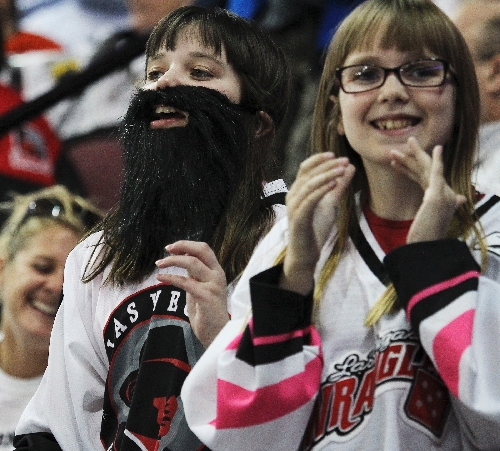 To promote its annual postseason awards show at Wynn Las Vegas in June, the National Hockey League sent the Stanley Cup to the Review-Journal office for a brief visit.
The famous trophy was escorted to the newspaper by an official handler who stood close by in a pair of white cotton gloves that many of us casual hockey fans assumed he wore to protect the cup from being tarnished.
Then someone dug up an old story from the Toronto Star about all the crazy, unsanitary things that have been done on, in and to the trophy over the years.
For example, when Kris Draper of the Detroit Red Wings got to keep the trophy for a day, as tradition dictates, he said he put his newborn daughter in the cup. She promptly pooped in there.
Maybe everyone who touches that thing should wear gloves.
HENRY BREAN
It was, after all, the garage of the Hard Rock Hotel, so it wasn't surprising to hear rock music thundering from a parked vehicle, complete with thumping bass.
What was a little surprising was the vehicle's license plate, a tribute to Nevada Libraries: SHHHH.
HEIDI KNAPP RINELLA
In his own eccentric way, former lieutenant governor and retired brain surgeon Lonnie Hammargren is like a less polished, less macho version of that "Most Interesting Man in the World" character from the Dos Equis commercials.
Talk to him for five minutes – assuming you can limit it to just five – and you'll soon realize that Hammargren has gone just about everywhere and done just about everything during his 74 years of life.
Here's perhaps the best way to sum it up: He might just be one of the only people you will ever talk to who can convincingly start a sentence with the phrase, "One time in Siberia … ."
HENRY BREAN
TWEET OF THE WEEK: @DannyZuker (writer and executive producer for a certain hit ABC sitcom) "So, do you watch 'Modern Family?' " I pathetically inquired thirty seconds into a lap dance. #Vegas