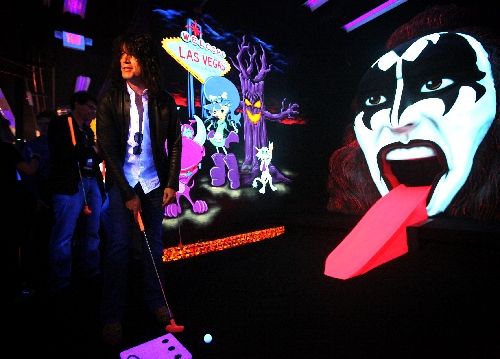 Everybody makes mistakes, including reporters.
Maybe especially reporters.
So it's mean and more than a little dangerous for one media outlet to openly mock an error made by another media outlet.
Lucky for you, Week in Review's middle name is "Danger."
Check out this breaking news flash KLAS-TV, Channel 8 sent out on Monday: "What initially appeared to be a fatal fire in a condom may have been an attempt to cover up a crime."
HENRY BREAN
A reporter who wrote a story recently about costumed characters on Las Vegas Boulevard got a call from a duck on Friday.
Actually it was man who said he did a great impression of Donald Duck and wanted some advice on where to rent a duck suit so he could take his talent to the Strip. Then he quacked some unintelligible words.
Not really knowing what else to do, the reporter transferred the call to the R-J's fashion reporter.
SONYA PADGETT
For Thursday's formal job review of general manager Pat Mulroy, Southern Nevada Water Authority board members traded their usual dais for a conference table and chairs.
Mulroy said she thought the more casual setup would help the discussion of her performance and her goals for the coming year.
But Clark County Commissioner Tom Collins didn't think it was quite casual enough.
"Well there's no beer, cards or chips," Collins said as he took his seat. "What the hell?"
HENRY BREAN
TWEET OF THE WEEK: @Kenny_Mayne (the ESPN personality and one-time UNLV football player during Thursday's game) If UNLV scores a lot of points and Colorado doesn't it's a new game. Pretty technical, I know.
BONUS TWEET: @DanBeebe (a Twitter parody account named in honor of — but in no way affiliated with — former Big 12 commissioner Dan Beebe) I'm not going to overreact about last night's final game, but it is my recommendation that UNLV drop basketball entirely.