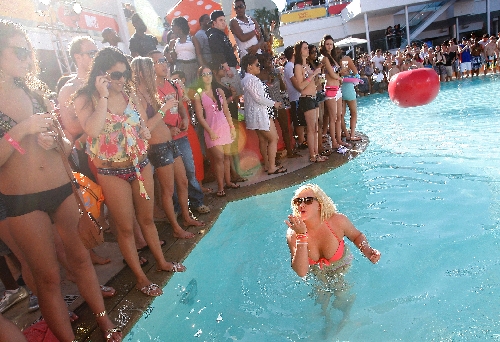 Sen. John Ensign announced that he would not seek re-election in 2012.
At a Las Vegas news conference Monday, the U.S. senator said he didn't want to put his family through an ugly campaign. He said his opponent would run TV ads focusing on his decline from a Christian conservative and rising GOP star to a man who cheated on his wife with the couple's friend.
Ensign's mistress worked for him in Washington, D.C., alongside her husband.
"I know that God has forgiven me, and so has my wife," Ensign said with wife, Darlene, at his side.
But it seemed increasingly likely that voters and campaign donors would not.
Although contrite about his affair, Ensign, 52, remained defiant in the face of a related Senate ethics investigation, saying he neither broke the law nor violated Senate ethics rules.
Monday
Trial delayed a year
District Judge Donald Mosley ordered a yearlong delay in the trial of Dr. Dipak Desai and two nurse anesthetists charged in the 2007 hepatitis C outbreak.
The trial was set to take place on March 14 for nurses Keith Mathahs and Ronald Lakeman without Desai, who has been found incompetent to stand trial.
But Mosley continued the trial until March 12, 2012, after hearing that prosecutors and defense lawyers still must review hundreds of thousands of pages of documents from the investigation.
Tuesday
Deep cuts at UNLV
The philosopher Aristotle once said, "All men by nature desire knowledge."
Soon, though, UNLV students may have to look elsewhere for such wisdom.
To meet proposed budget cuts, the university would eliminate 33 degree programs and 12 entire departments, — philosophy among them — killing 315 jobs, UNLV President Neal Smatresk announced.
Women's Studies and Social Work also would go under Smatresk's proposal, which ultimately would require approval from the higher education system's Board of Regents.
Wednesday
Malpractice murder?
A Las Vegas doctor who prescribed deadly amounts of painkillers to a patient over a five-year span was arrested on a murder charge Wednesday in connection with her death.
Richard Sy Teh, 49, an internist at Sun City Medical Group in northwest Las Vegas, was arrested by a Drug Enforcement Administration task force officer.
Murder charges are almost unheard of against doctors, who usually face discipline through suspension or loss of medical licenses when patients die because of their actions.
Thursday
Fewer workers, jobless
Joblessness in the Silver State eased off of its record levels from December to January, falling from 15.1 percent to 13.7 percent in Las Vegas and from 14.9 percent to 14.2 percent statewide.
It marked the first time since March 2010 that local unemployment fell below 14 percent.
But the gains came not from job growth, but from steep drops in the number of workers seeking jobs in Nevada.
Friday
Sahara to be deserted
The Sahara is "no longer economically viable" and will close May 16, a Los Angeles-based ownership group announced.
The nearly 60-year-old Strip resort, which employs 1,050 people, will remain shuttered while other plans for the site are explored.
Week In Review
More Information
QUOTES
"As I have learned through my mistake, there are consequences to sin."
U.S. Sen. John Ensign
Announcing Monday that he will not seek re-election because he doesn't want to put his family through what figured to be an ugly campaign.
"An extinct species is much easier to manage, and it won't interfere with anybody's vacation days."
Bruce Boyd
Henderson insect expert, calling it a "fiasco" not to list the Mount Charleston blue butterfly as an endangered species.
"(Our car) was the baddest thing on the West Coast today. Second sucks."
NASCAR DRIVER Tony Stewart
After leading 163 of 267 laps in the Kobalt Tools 400 in Las Vegas, then finishing behind Carl Edwards.
"The family feels if Jesus Christ was buried in a tomb, it's good enough for Devin."
Lois Westenskow
whose grandson, devin, died after he fell into an abandoned mine shaft in Pershing County. The 28-year-old man survived the fall, but the rescue was called off because it was deemed too dangerous. Officials plan to seal up the old shaft with his body still inside.
NUMBERS
63
The number of days you have left to spend time and money at the Sahara before it closes forever on May 16.
40 years
How long it took for a Navy pilot's dog tag to find its way to the man's son, who was 16 months old when his father's jet crashed in central Nevada in 1971.
1.246
The number of seconds separating first and second place in last week's NASCAR Cup race in Las Vegas.
$101,233
How much more prize money that 1.246 seconds meant for race winner Carl Edwards, compared to second-place finisher Tony Stewart's winnings.
MULTIMEDIA
• VIDEO: Landmark Laughlin smokestack crashes down
• SLIDE SHOWS: UNLV MWC Tournament games
• VIDEO AND SLIDE SHOW: Chaparral High School students protest after their school is selected for reorganization
• SLIDE SHOW: Spring break at the Palms
• VIDEO: Mob Museum adds artifact from murder scene
• SLIDE SHOW: IMAGE: Men's spring '11 trends