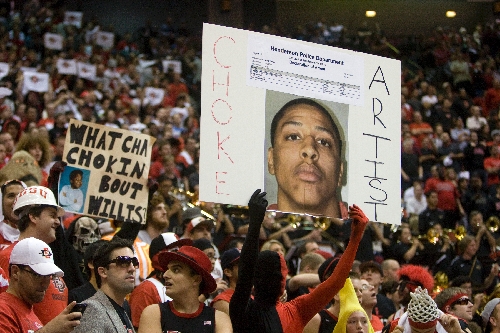 Nevada leaders entered the debate over security, guns and sharp political rhetoric in the wake of a Jan. 8 shooting rampage in Tucson that left six people dead.
Police in Arizona believe the attack was an assassination attempt against Rep. Gabrielle Giffords, D-Ariz., who was critically wounded as she held an event for constituents outside a grocery store.
As a show of support for Giffords, Rep. Shelley Berkley, D-Nev., held her own "Congress on Your Corner" event at her Las Vegas office on Friday.
The shooting also sparked reviews in Nevada of security procedures for public officials and renewed criticism of politicians who use gun-related analogies. Former U.S. Senate candidate Sharron Angle, in particular, took heat for her comment during last year's campaign that "Second Amendment remedies" were available to people "if Congress keeps going the way it is."
In a response Wednesday, Angle called such finger-pointing "an audience rating game" that "contradicts the facts as they are known."
Monday
A Crime of passion?
Las Vegas dancer Debora Flores Narvaez was killed in the heat of the moment by her dancer boyfriend, Jason "Blu" Griffith, according to a Metropolitan Police Department report.
The monthlong search for the missing Flores Narvaez made headlines before coming to a grisly end Jan. 8, when Griffith was arrested and the woman's dismembered body was found stashed in tubs of concrete in a downtown Las Vegas home.
Tuesday
Furloughs for guards
State correctional officers will be required to take one furlough day a month starting in February under a plan approved by Gov. Brian Sandoval and other members of the state Board of Examiners.
Despite earlier warnings to the contrary, new Corrections Director Greg Cox said the furloughs would not be a safety risk. The step is expected to save $312,700 a month in pay.
Wednesday
Taking our medicine
State lawmakers will be asked to make legal drugs with certain ingredients available by prescription only in an effort to thwart methamphetamine production.
A bill in the works by state Sen. Sheila Leslie, D-Reno, would require customers to have a doctor's prescription to buy cold medicines that contain ephedrine, pseudoephedrine or phenylpropanolamine.
Under a 2007 law, such medicines already are sold only in limited quantities from behind the counter at pharmacies and require buyers to sign a registry.
Thursday
Violent crime down
Violent crime in Las Vegas continued its multiyear downward trend in 2010 with one big exception: sexual assaults.
Violent crimes have fallen 15 percent since 2005, including three straight years of declines even as the economy has been on the skids. The police department's crime statistics follow a nationwide trend.
The news that sex crimes were up 16 percent since 2005 was the lone black eye in what Clark County Sheriff Doug Gillespie called an otherwise "impressive year."
Friday
Someone is hiring!
Station Casinos Inc., which operates 19 properties in Southern Nevada, announced plans to hire 1,000 employees over the next couple of months.
There are 500 full-time and 500 part-time positions being offered. The available job types include dealers, bartenders, waitresses, hotel operations, security, chefs and kitchen assistants.
Week In Review
More Information
NUMBERS
176
Number of bald eagles spotted around lakes Mead and Mohave during a recent count by biologists. That tops last year's record tally of 163.
5 percent
The pay cut for state employees proposed by Gov. Brian Sandoval, who wants to replace the current system of employees taking furlough days with salary reductions.
13
Charges faced by Vera Lopez, the so-called "Christmas Grinch," accused of stealing toys and gifts meant for needy children from a charity run by firefighters.
2
The number of babies born at Las Vegas Valley hospitals at 1:11 p.m. on 1/11/11.
QUOTES
"I hope you (expletive) rot in jail, you (expletive), for what you did to her, you (expletive). I hope you rot in hell."
Celeste Flores Narvaez
Screaming in court at Jason "Blu" Griffith, the man accused of killing her sister, Las Vegas dancer Debora Flores Narvaez.
"The crooks know who's crooks."
Donald Long
A 77-year-old Las Vegas retiree, Talking about the standing ovation he got from his fellow jail inmates on Jan. 5, when prosecutors in Virginia dropped a murder charge against him in the death of his first wife in 1964.
"It's the secret pastime of the adult industry. We have to nerd out."
Raven Alexis
Las Vegas Porn star, on the popularity of video games, science fiction series and other "nerdy" escapist pursuits among the women of adult film.
"When I was first elected, Mayor Goodman encouraged me to get two escorts like the showgirls he travels with."
Shari Buck
North Las Vegas Mayor, opening her state of the city address on Thursday while flanked by cardboard cutouts picturing North Las Vegas Mayor Pro Tem William Robinson as a shirtless UFC fighter and Oscar Goodman as Liberace in patriotic hot pants.
MULTIMEDIA
lvrj.com/multimedia
• VIDEO: Carol Cling's weekly Movie Minute
• VIDEO: Mayor Goodman's last "State Of The City" address
• VIDEO: Slain dancer's sister curses accused killer
• VIDEO, SLIDE SHOW: Memorial for slain dancer Debbie Flores Narvaez
• SLIDE SHOW: Unlv basketball vs. San Diego State University