December 19, 2010 - 12:00 am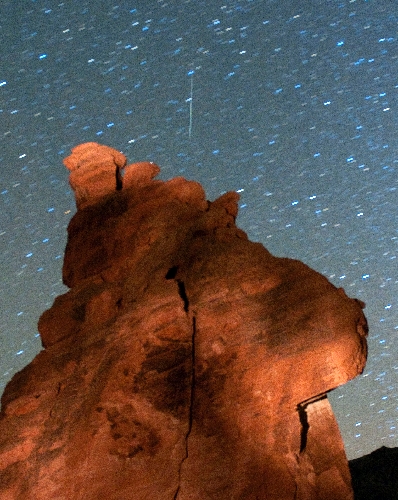 It was a brazen robbery that resembled a Hollywood heist movie, and the payoff may prove to be just as fictional.
A man in a motorcycle helmet who stole roughly $1.5 million in casino chips from a craps table at the Bellagio on Tuesday morning will have a very hard time cashing in on his crime. Authorities and gaming experts said it will be especially difficult for the man to get anything for the $25,000 chips, which are rarely given out and are closely monitored by casinos.
If nothing else, the motorcycle bandit has received more than a million bucks worth of attention. Reports and security video of the heist made news around the world.
The suspect has been linked to an earlier robbery, also by a man in a motorcycle helmet, at the Suncoast casino.
Monday
Invasion, resignation
Nye County Public Administrator Robert Jones resigned his elected post after he was tied up and robbed at gunpoint in front of his wife and child during a home invasion that authorities said was related to his job.
Five people were later arrested for terrorizing Jones and his family and stealing valuables he secured while administering the estates of people who died without leaving a will or next of kin.
Tuesday
Highly integrated city
Las Vegas ranks as one of the nation's most racially integrated metropolitan areas, according to an analysis of 2009 census data.
Among the 100 largest metropolitan areas, Las Vegas ranked 99th in segregation between blacks and whites, 100th in segregation between Asians and whites, and 65th in segregation between Hispanics and whites.
Wednesday
Last for a while?
The Cosmopolitan of Las Vegas opened to the public on schedule as locals joined tourists in exploring the Strip's latest hotel-casino — and probably the last to open over the next decade as Las Vegas and the gaming industry recover from a weak economy.
The $3.9 billion resort sits on 8.7 acres between the Bellagio and the CityCenter complex.
Germany's Deutsche Bank took over the property after foreclosing on the original developer in 2008.
Thursday
Speaker: Let's talk now
Incoming Assembly Speaker John Oceguera said he thinks legislative leaders could reach agreement with Gov.-elect Brian Sandoval on most budget issues before the Legislature convenes if they would hold formal budget talks now.
Reaching any sort of early understanding with Sandoval would be difficult, because the Republican has pledged not to raise taxes and Democrats say tax increases will be needed.
Friday
Mayweather arrested
Floyd Mayweather Jr. was released on his own recognizance after he was arrested at a casino on a battery charge just before midnight Thursday.
Las Vegas police said the misdemeanor charge stems from allegations he repeatedly poked a security officer in the face in a Nov. 15 confrontation over a parking citation.
Mayweather spent about 11 hours in the jail before his release about 11 a.m.
READ THE FULL STORIES www.lvrj.com/wir
Week In Review
More Information
NUMBERS
3 minutes
Roughly how long it took a man in a motorcycle helmet to walk into Bellagio with a gun and walk out with approximately $1.5 million in chips from a craps table.
60
The number of homeless people who died in the Las Vegas Valley this year and who were remembered in a vigil held Thursday.
1,272,433
The number of Nevadans who will receive some sort of tax relief under legislation signed into law Friday, according to Senate Majority Leader Harry Reid.
20
How high the UNLV men's basketball team rose in The Associated Press rankings before consecutive losses to Louisville and UC Santa Barbara.
QUOTES
"If you guys aren't the brightest, the only other place I can think of is Shanghai or Hong Kong."
Johanna Duffek
From the International Dark Sky Association, speculating on the unofficial title of brightest city on earth.
"After Saturday night, I don't want to do this anymore. I don't want this stuff in my home."
Robert Jones
Who resigned as Nye County Public Administrator after he was robbed at gunpoint in front of his wife and child during a home invasion.
MULTIMEDIA
lvrj.com/multimedia
• VIDEO: The Cosmopolitan Las Vegas opens
• SLIDE SHOW: UNLV Winter Commencement
• VIDEO: Police release surveillance video of Bellagio armed robbery
• SLIDE SHOW: Boxing: Khan defeats Maidana
• SLIDE SHOW: Basketball: UC Santa Barbara 68, UNLV 62