November 18, 2012 - 2:00 am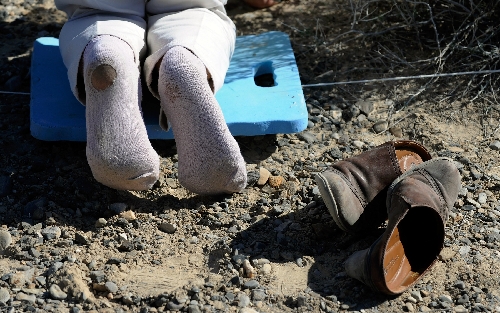 Las Vegas police officers are sent out on the street with scattershot training and cumbersome policies, and the shootings they get into are often preceded by poor radio communication and other tactical errors, according to a wide-ranging study by the U.S. Department of Justice.
The 154-page study released Thursday lays out 75 findings and recommendations for the agency, covering issues from a lack of "fair and impartial policing training" to reforming a "police-friendly" Use of Force Review Board.
Sheriff Doug Gillespie pledged to implement the suggestions. He said his department has completed many of them already.
The Justice Department's study was prompted by the Review-Journal's yearlong investigation of officer-involved shootings.
Las Vegas police shot and killed a record 12 people last year and tied its record of 25 total shootings in 2010. The number has dropped significantly this year.
Monday
Cancer clinic closing
In an about-face from its strategy laid out early this year, the University of California, San Diego has decided to shut down its Nevada Cancer Institute by the end of the year.
Meeting with employees on Nov. 5, cancer institute CEO Mickey Goldman revealed that their last day, except for a few needed to wind up operations, will be Dec. 31.
Comprehensive Cancer Centers of Nevada is expected to acquire some pieces of the medical practice, but specifics were not spelled out.
Tuesday
The mystery continues
The man found dead outside University Medical Center last month was thrown out of the hospital after demanding a "highly narcotic shot."
Hours later, his body was found curled into a fetal position outside the northwest entrance to the hospital's trauma center.
Police records obtained by the Review-Journal shed more light on the circumstances surrounding Jason King Forrester's Oct. 17 death.
But why the Irvine, Calif., man died – after twice being treated and released from the hospital – remains unclear.
Wednesday
Reid still in the lead
U.S. Sen. Harry Reid was reinstalled as Senate majority leader, from where the veteran Nevadan will continue to run the body and exercise influence on national policy for another two years.
When Congress reconvenes in January, Reid, who turns 73 on Dec. 2, will be entering his fourth term as majority leader, the longest in service since Sen. Mike Mansfield of Montana ran the Senate for eight terms in the 1960s and 1970s.
Thursday
Man with doll shot
Acquaintances of a 36-year-old man shot by Henderson police inside a grocery store described him as strange, quiet and prone to pacing around with an infant doll.
Jake E. Goldsborough had the doll with him when he barricaded himself in the bathroom of an Albertsons on Boulder Highway near Lake Mead Parkway on Wednesday. After a 45-minute standoff with police who were told he had an infant with him, Goldsborough came out of the bathroom with a pellet gun and was shot and wounded by SWAT officers.
A person who knew him said he was a father of three who lost his factory job last year and may have been suicidal.
Friday
More bitter than sweet
Forget the plaintive cries of sugar fiends. Dozens of valley residents stand to lose their jobs when Hostess Brands Inc., the maker of Twinkies, Wonder Bread and other snacks, shutters 33 factories, including one in Henderson.
The move comes after the company said striking workers across the country crippled its ability to maintain production.
NUMBERS
725
The new area code for Southern Nevada. It's set to take effect in 2014, when valley residents will be required to dial 10-digit numbers even for local calls.
21
Straight losses on the road for the UNLV football team, which has one last chance this season to break the streak Saturday at Hawaii.
38
The margin of victory for the UNLV men's basketball team. The 18th-ranked Rebels opened the season Monday with a 92-54 rout of Northern Arizona.
400 feet
The length of a trailer now creeping across Nevada, hauling a 398-ton piece of radioactive metal from a California nuclear power plant to a Utah waste dump.
QUOTES
"That's the main reason for the recommendations – the lack of accountability that's gone on."
James K. "Chips" Stewart, a former Oakland, Calif., police chief who headed the U.S. Department of Justice's extensive, sometimes bluntly critical, study of the Las Vegas Metropolitan Police Department.
"Just try to be that guy that can come in and play the game hard and play it the right way. That was my main goal, and to try to win the World Series."
Bryce Harper, Las Vegas baseball phenom, after being named the National League Rookie of the Year on Monday at the age of 20.
"Every one of 'em wanted to help boost her on her horse."
Pat Russell, a 71-year-old California cowboy, talking about other wranglers involved in Wednesday's promotional stunt that closed part of the Strip so singer Shania Twain could ride up to kick off her two-year residency at Caesars Palace.
"There is value everywhere to trying to connect people to the night sky."
Scott Kardel, stargazer and dark-sky advocate, applauding plans to build a new observatory near Las Vegas, a city famous for its light pollution.
MULTIMEDIA
lvrj.com/multimedia
VIDEO: Henderson police shoot armed man in Albertsons
VIDEO: Sheriff Doug Gillespie responds to U.S. Department of Justice report
VIDEO and SLIDE SHOW: Shania Twain arrives on Strip on horseback
SLIDE SHOW: Fossil enthusiasts rewarded with special dig