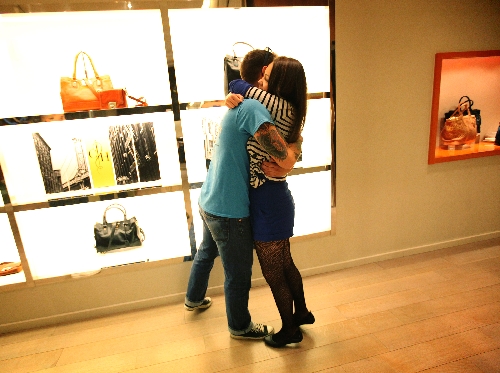 Deep cuts and budget shortfalls sent shock waves through the nation's fifth largest school district and Nevada's third largest city, as scores of teachers, firefighters and police officers were warned that layoffs are imminent.
At a raucous meeting Wednesday, Clark County School Board members adopted a proposed $2 billion budget for 2012-13 that included almost $60 million in cuts and 1,015 jobs eliminated.
One day earlier, the North Las Vegas City Council voted to slash the city's budget by $33 million and begin laying off up to 100 police employees, 57 fire department employees and 60 other city staff members.
In both cases, elected officials and management indicated that layoffs might be avoided with more union concessions.
Monday
One of their own
Las Vegas police were forced to shoot one of their own dogs after the animal bit an officer during a foot pursuit.
The police dog, a 2-year-old Belgian Malinois named Marco, was in critical but stable condition after emergency surgery .
An officer shot the animal after it bit his partner during a chase near Alta Drive and Jones Boulevard.
The shooting happened after a Taser stun gun failed to subdue the dog, which resembles a German shepherd.
Tuesday
Fireman wins job back
Donald Munn, the poster boy for Clark County's battle against sick leave abuse by firefighters, won an arbitrator's decision to get his job back.
While it remains unclear exactly what Munn could get from the ruling, the decision will cost the county at least hundreds of thousands of dollars in back pay, benefits and legal compensation for him.
The decision came almost a year to the date of Munn's firing in a case that drew disparagement of firefighters, seen by critics as overpaid public servants who gamed the system.
Wednesday
Save Onion, part 2
The grandmother of a 1-year-old boy killed by the family dog says she never intended to give the canine to Henderson animal control officials for destruction.
Elizabeth Keller's statement was included in a new court motion filed by dog-loving lawyers in the legal battle to spare Onion the dog's life and send him to a Colorado sanctuary.
Thursday
Evict 'Mr. Vegas'?
The plan to make singer Wayne Newton's 52-acre ranch into a Graceland in the desert has stalled, with Newton and at least one associate graphically accusing each other of wrecking the deal.
In a lawsuit filed in District Court, entities tied to Newton's business partner Steven Kennedy paint a lurid picture of conditions inside the walled compound of the entertainer known for decades as "Mr. Las Vegas."
The lawsuit seeks to evict Newton, his family and several dogs and horses from the property so it can be turned into a tourist attraction celebrating the showman's career.
Friday
Two dead in Jet crash
Two people were killed when a small private jet crashed in the Boulder City desert.
The two-seat, single-engine jet crashed shortly after takeoff from Boulder City's airport.
The jet was built in 1981 and bought by California resident Walter Woltosz in 2010.
Woltosz' business assistant, Renee Bouche, said the jet had been loaned to a friend of Woltosz.
She declined to identify the pilot, but described him as very experienced and said the aircraft had been meticulously maintained.
NUMBERS
62
How many trips to the plate it took Las Vegas baseball phenom Bryce Harper to hit his first big league home run.
113
How many trips to the plate it took Angels slugger Albert Pujols to hit his first homer of the season, according to statistics from Baseball-Reference.com.
12,012
The number of cookies culinary students at the College of Southern Nevada, Cheyenne campus, baked Tuesday to send off to Nevada troops serving overseas.
94 percent
How much of the sun will be covered by the moon during today's solar eclipse over Nevada, which is set to peak at about 6:30 p.m.
QUOTES
"It's a miracle that God gave him back to us."
Gaudia Martinez-Seal, talking about her brother, Arturo Martinez, who was released from the hospital after his head was fractured by a claw hammer in a brutal April 15 attack in which his wife and daughter were killed.
"The bees were in my ears. They were in my nose. They were in my mouth. I was in a hell of a mess."
Albert Watson, recounting his recent ordeal on lone Mountain, where he inadvertently hiked into a swarm of bees and was stung more than 300 times.
"I came to Vegas because I wanted to, not because I thought it could help my career. I didn't even know they had comedy clubs here."
Ron Shock, a Las Vegas-based comedian known for long-form storytelling, usually based on his colorful past. Shock died Thursday at age 69.
"I have never seen so many people want to go to prison."
Ron Angelone, a former correctional director, talking about the crowd of more than 500 people who turned out Friday as the 150-year-old Nevada State Prison in Carson City was decommissioned.
MULTIMEDIA
lvrj.com/multimedia
SLIDE SHOW: Show & Tell: Dancers on the Strip
VIDEO: Foothill High School prom
SLIDE SHOW: ATV accident survivor Rylee Swartzel
VIDEO: Doug Elfman: What's hot this weekend
SLIDE SHOW: Thousands celebrate at UNLV spring commencement ceremony