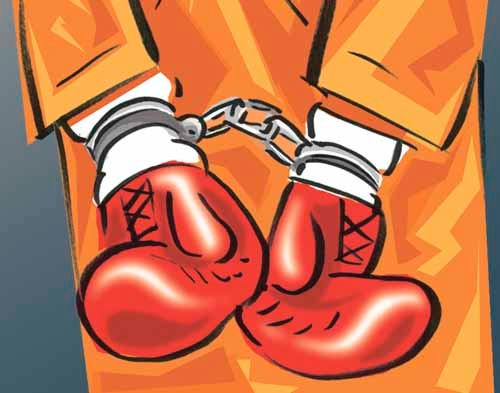 Boxing champ Floyd Mayweather Jr. pleaded guilty Wednesday to three misdemeanor charges and was sentenced to 90 days in the Clark County Detention Center as part of a deal that ends his two pending criminal cases.
The plea agreement clears the slate of felony charges stemming from a domestic violence incident and a battery on a security guard over parking citations.
Prosecutors sought the agreement in part because of reluctant witnesses and the prospect of calling Mayweather's young children to testify against him in court.
It's unclear what the guilty plea and jail time will mean for the 34-year-old boxer's next fight or for his career.
Monday
Abortion petition OK'd
After major editing by a judge, a Nevada Pro-life Coalition petition to outlaw abortion was cleared for circulation.
Carson City District Judge James Wilson rewrote language in the 200-word description of the petition to amend the state constitution.
Two days later, Wilson rejected a second anti-abortion petition for being too vague.
Tuesday
Zappos deal is done
The agreement expected to bring about 2,000 tech industry workers to downtown Las Vegas is now official.
Leaders of online shoe retailer Zappos.com announced they signed a 15-year lease on the current City Hall building.
The deal, agreed to in principle late last year, also will help city government avoid the ugly scenario of spending taxpayer money to move into a gleaming new City Hall on Main Street while the old City Hall sits vacant.
Wednesday
Poll: Four more years
President Barack Obama would win Nevada if the general election were held now, according to a new poll that shows Republican Mitt Romney the closest GOP competitor nipping at his heels.
The survey has Romney edging Obama among swing independents, but the president leads overall thanks to strong backing from Democrats as Romney fights to win over more Republicans.
The poll, commissioned by the Las Vegas Review-Journal and 8NewsNow, pitted the president in head-to-head matchups against Republican challengers.
Thursday
Officer was briefed
The officer who shot and killed Stanley Gibson had been told of a plan to take the man alive shortly before he fired, several Metropolitan Police Department sources told the Review-Journal.
Sources on Thursday said officer Jesus Arevalo, a nine-year veteran, had been briefed by supervisors about their intent to use a beanbag shotgun and pepper spray to subdue Gibson, 43, an unarmed, mentally ill war veteran who refused to exit his car.
Police previously indicated that Arevalo, 34, might have not known about the plan and that the Dec. 12 shooting was the result of miscommunication.
Friday
Navy clubs SEAL
Two months after he was convicted in Las Vegas of arms trafficking, former Navy SEAL Nicholas Bickle was given an "other than honorable" discharge, the most severe form of administrative separation from military service.
During his federal trial in October, Bickle was portrayed as the leader of a ring that sold unlawful firearms brought into the U.S. from Iraq, where he twice was deployed.
Bickle's discharge means the decorated sailor is ineligible to receive veterans benefits, payment for accrued leave, separation pay and GI Bill benefits. He is banned from wearing his uniform at official functions.
NUMBERS
6
Percentage-point advantage that President Barack Obama has over Mitt Romney, his closest GOP challenger, according to a new poll of Nevada voters.
242
Pages in a public order allowing NV Energy to raise rates by $15 a month for the average home. At least we think that's what the order says.
$50,000
Las Vegas City Councilman Steve Ross' estimate for the cost of a special recall election targeting him. Ross thinks it's a waste of taxpayer money.
$50 million
The difference between the low bid for the valley's bus contract and the bid from current operator Veolia. Ross and three others voted to give the contract to Veolia.
QUOTES
"Everybody asked me, 'Well why did you stay and put up with that bullshit.' Well, why do you think I did it? I did it because I love that man."
RONDHA GIBSON
Talking about her husband Stanley's struggles with post-traumatic stress disorder after his service in the Gulf War. Out of his medication and confused about where he was, Gibson got into a confrontation with Las Vegas police that ended in his death.
"Unless they're married, I don't want anyone in Nevada having sex unless I get a cut of the money."
BROTHEL OWNER DENNIS HOF
JOKING AT LEAST WE THINK HE'S JOKING ABOUT EXPANDING his ADULT EMPIRE IN NEVADA, WHICH WILL SOON feature an alien-themed bordello 90 miles northwest of Las Vegas.
"Each one of you has expressed and I say with great respect to the point that it might give a woodpecker a headache that you are interested in local jobs."
RICHARD BRYAN
Talking about the Clark County Commission's desire to see local people hired for a solar power project planned near Laughlin. The Former U.S. Senator represents the Chinese-based energy company behind the billion-dollar development.
MULTIMEDIA
VIDEO: Menorah lighting on Fremont Street in downtown Las Vegas
SLIDE SHOW: Boise State defeats Arizona State 56-24 in the MAACO Bowl Las Vegas
VIDEO and SLIDE SHOW: Oscar's Steakhouse prepares to open at the Plaza Hotel and Casino in Las Vegas
SLIDE SHOW: Pedestrian Santa
SLIDE SHOW: Family of 21
SLIDE SHOW: UNLV vs. Louisiana-Monroe
WEEK IN REVIEW: Top News