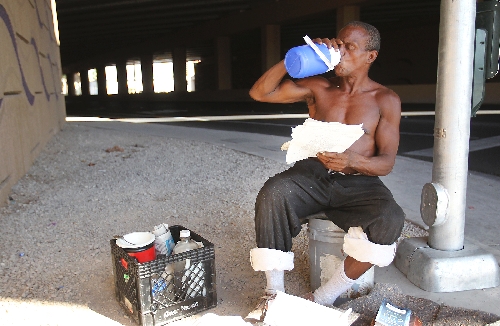 Perhaps his nickname should be changed to the Suncoast Swiper.
On Tuesday, Anthony Carleo, the so-called Bellagio Bandit, was sentenced to three to 11 years in prison for the Dec. 14 heist of $1.5 million in gambling chips from the resort.
Two days later, a different judge sentenced the 30-year-old Carleo to six to 16 years in prison for robbing the Suncoast in similar fashion.
The first sentence was handed down by District Judge Michelle Leavitt, and it drew some criticism from the gaming and law enforcement community for perhaps being too lenient.
The second, harsher penalty came from District Judge Michael Villani, who ordered the sentence in the Suncoast case to run consecutively to the Bellagio case, meaning that the 30-year-old Carleo faces nine to 27 years behind bars.
MONDAY
PRICEY PIPELINE
Opponents of a plan to tap groundwater across eastern Nevada said a new financial analysis prepared for the Southern Nevada Water Authority reveals that the project will cost billions more than previously thought and trigger massive water rate increases.
The report by a Las Vegas-based financial firm suggests the proposed network of wells, pipelines and power lines could cost as much as $7.3 billion and might in 10 years increase the average monthly residential water bill by about $30.
But water authority officials said the analysis represents worst-case cost and funding scenarios and actually demonstrates the economic feasibility of the project.
tuesday
heat finally here
After taking much of the summer off, Southern Nevada's trademark heat finally arrived with a record high of 110 that prompted a warning from the weather service and extra help for the homeless.
It would be the first of several record-hot days in a row, making it the hottest week so far this year.
WEDNESDAY
A GROWING CONCERN
In the latest sign of what may be a budding growth industry in the region, a 4-acre marijuana farm was destroyed by authorities on Mount Charleston.
The illicit operation was one of about a half-dozen marijuana farms that have been discovered in remote parts of Clark County in the past two months.
Police said growers are locating water sources and setting up sophisticated irrigation systems to cultivate their crops in places previously thought to be too hot and dry.
thursday
ross recall fails
Election officials rejected a recall petition targeting Las Vegas Ward 6 Councilman Steve Ross because it didn't have enough signatures to put the question to voters.
The effort fell short by 25 signatures, but anti-Ross organizers aren't giving up. They vowed to start another petition soon and said it will get enough signatures.
Until then, Ross is safe in office serving a term that doesn't end until April 2013.
FRIDAY
AWARD IN FATAL CRASH
A jury awarded $2.2 million to the family of a man killed in a car crash with a Las Vegas police officer.
Raymond Yeghiaszarian, 47, was making a left turn when he was hit by a squad car pursuing a van through the intersection on July 4, 2007. Officer Jared Wicks testified he didn't have his lights and siren on at the time of the accident.
The family's attorney only asked the jury for $250,000.
The police department is appealing the award.
NUMBERS
3 to 9
Roughly the number of minutes "Bellagio Bandit" Anthony Carleo could spend behind bars for each dollar he stole, based on his combined prison sentence of 9 to 27 years.
1,200
Approximately how many school buses will hit the road on Monday, as the new year begins in the Clark County School District.
315
Number of new homes sold in Las Vegas in July, down 22.8 percent from a year ago. One analyst predicts new home sales this year could hit their lowest level in 50 years.
3 to 5
The number of days, according to High Times magazine, until "all will be lost" for 4,000 seized marijuana plants that authorities buried in the ground Thursday.
QUOTES
"Everybody in Libya is very happy. The whole world will be happier without Gadhafi."
Dr. Hesham Mohamed
A native of Libya who completed his residency in internal medicine at the University of Nevada School of Medicine in Las Vegas.
"Well, they made a liar out of me, because they found water."
Kent Bitsko
director of the federal High Intensity Drug Trafficking Areas program in Nevada, talking about some enterprising farmers who established a 4-acre marijuana garden on Mount Charleston. Bitsko thought this part of Southern Nevada was too dry for such an operation.
"Construction no busy."
Landscaper Poncho Peres
delivering an understatement in broken English at a valley work site. Sales of new homes this year could hit a low not seen in 50 years.
"They're just mad at everybody and our inability to get anything done."
U.S. Sen. Dean Heller
Talking about voters in the run-up to the 2012 election, which Heller warned could see a wave of anger at the polls that would transfer control of the House, Senate and white House to the opposite party.
lvrj.com/multimedia
• VIDEO: UNLV football training camp in Ely
• VIDEO: Green Flag fighter pilots focus on air-to-ground coordination
• VIDEO: Anthony Carleo gets stiffer sentence for Suncoast robbery
• VIDEO: Skating Aratas take "Absinthe" audiences for a spin
• VIDEO: Movie Minute with Carol Cling 08/26/11
• VIDEO: Doug Elfman: What's Hot This Weekend 08/26/11
• VIDEO: Champion trick shot artists demonstrate their skills at local billiard hall