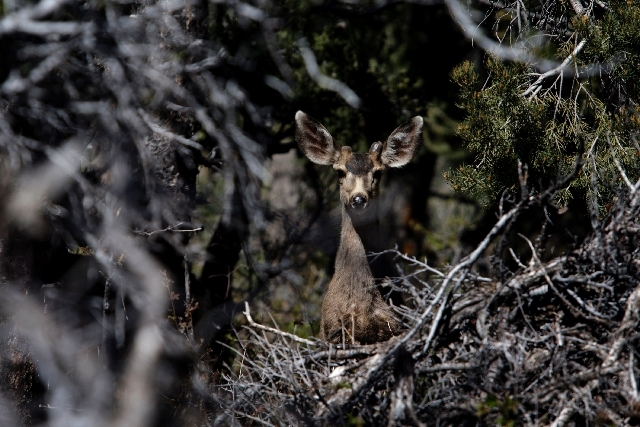 In a surprise move, the Clark County School Board selected Interim Super­intendent Pat Skorkowsky as the district's new superintendent in a 7-0 vote.
Complaints alleging open meeting law violations were filed with the state attorney general's office, springing from the lack of an agenda item announcing that such a vote would take place.
The board made the decision Tuesday night, considering no other candidates and refusing pleas from board President Carolyn Edwards to slow down in choosing the leader of the nation's fifth-largest district who would oversee a $2 billion budget.
Edwards then announced Friday that the vote would be cast again on June 3, the same day Skorkowsky's contract is to be negotiated.
"We don't think we did anything wrong," said Edwards, who maintains the vote was legal.
Monday
Stolen iPad recovered
Police found the iPad stolen from 15-year-old Marcos Arenas in a robbery that authorities say led to his death.
The two men arrested in the case, Jacob Dismont, 18, and Michael Solid, 21, were ordered held without bail. A preliminary hearing was set for June 7.
Dozens of friends and family members attended a funeral Friday for Arenas.
Tuesday
Gun checks get support
A bill requiring background checks for private-sale gun purchases won approval in the state Senate on a party-line vote with Democrats in support.
It was next to go to the Assembly, where Democrats also hold an advantage.
At a rally, Gilles Rousseau, whose daughter Lauren was among six educators and 20 first-graders killed in the Sandy Hook Elementary School shooting in December, supported approval.
"Lauren died doing what she loved, teaching young children," he said. "And she died in her classroom, while bravely trying to protect her children from danger."
Gov. Brian Sandoval has not indicated whether he'll sign the bill if it passes.
Wednesday
Suspicions close U.S. 95
A "suspicious device" in the southbound lanes of U.S. Highway 95 that was found by workers prompted officials to close the freeway for two hours.
A robot approached the pipe-shaped device, inspected it, and blew it up. Police described the device as inert, though they did not say what it was.
Thursday
The will of the people
Lawmakers passed two controversial measures along to the voters: a proposed mining tax and same-sex marriage.
Voters next year will be asked if the mining industry's limit on the taxes for extracting precious metals should be repealed.
The repeal would allow the 2015 Legislature to consider raising the 5 percent tax.
Legislators also OK'd a constitutional amendment that would allow voters to legalize gay marriage. It will need a second legislative approval in 2015, however, before voters can make their voices heard.
The proposal would remove Nevada's current prohibition on same-sex marriage from the state constitution, and add new language recognizing same-sex marriage.
Friday
Federal funds at risk
The Rawson-Neal Psychiatric Hospital made strides toward keeping its federal funding.
The federal Centers for Medicare and Medicaid Services announced it has approved a plan of correction submitted May 6 by the Southern Nevada Adult Mental Health Services, which oversees the Las Vegas hospital.
However, the mental health facility still faces the risk of losing millions of dollars in federal funds in the wake of an unannounced inspection by federal officials and also could face penalties in a separate federal investigation.
By the Numbers
1.8 million
The amount of counterterrorism funding the Las Vegas area received this year, which will be eliminated next year, federal officials decided.
30 percent
The drop in the teen birth rate in Nevada from 2007 through 2011, according to a report from the Centers for Disease Control and Prevention.
294
The number of people who have reported being sickened in an outbreak of salmonella at the Firefly restaurant on Paradise Road, an increase of 100 from early reports.
54.3
The percentage of Las Vegas Valley homeowners who owe more than their house is worth, down almost 5 percent from late 2012.
Quotes
"My mom is gay."
Michele Fiore, a Las Vegas Republican assemblywoman who voted with Democrats on a measure that would allow voters to legalize gay marriage
"Did i rape (the woman) or is she lieing."
Jose Canseco, in a tweet; former Major League Baseball player, a suspect in a sexual assault in Las Vegas
"This town used to be a dancer's paradise. There were shows at every hotel and a dancer could jump around from show to show."
Kim Cornell-Lyle, production manager of "Sirens of TI" on the Strip
"People are still quoting lines from that movie."
Gary Selesner, Caesars Entertainment regional president, on the effect the "Hangover" movies have had on the resort as the release of "The Hangover Part III" approached
"The Salton Sea is an accident. It's agricultural runoff; that's all it is."
Pat Mulroy, general manager of the Southern Nevada Water Authority on a California irrigation district's decision to use billions of gallons of Colorado river water to freshen the brackish inland lake in 2010
"All we talk about now, all we think about, is what salmonella could do to our baby."
Konstantino Kouris, who believes his pregnant ladylove, Lyudmyla Radchenko, contracted food poisoning at the Firefly and had to be hospitalized