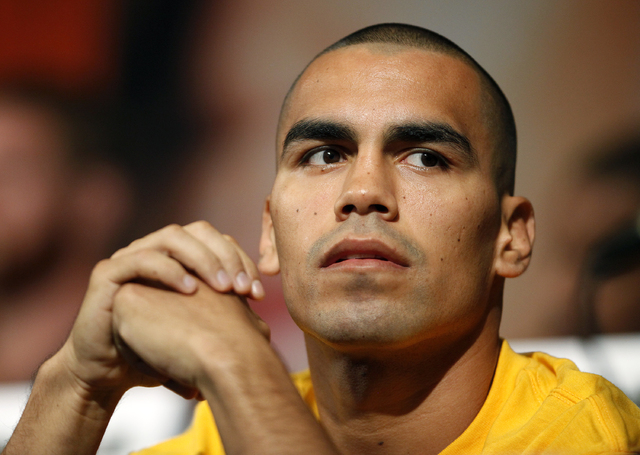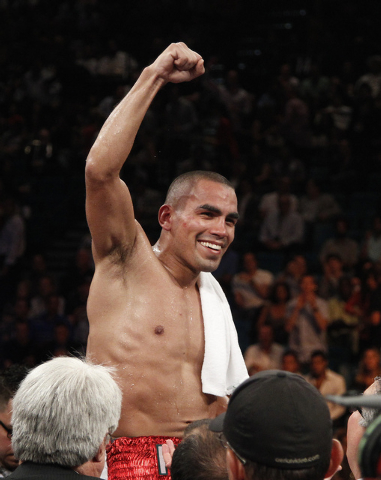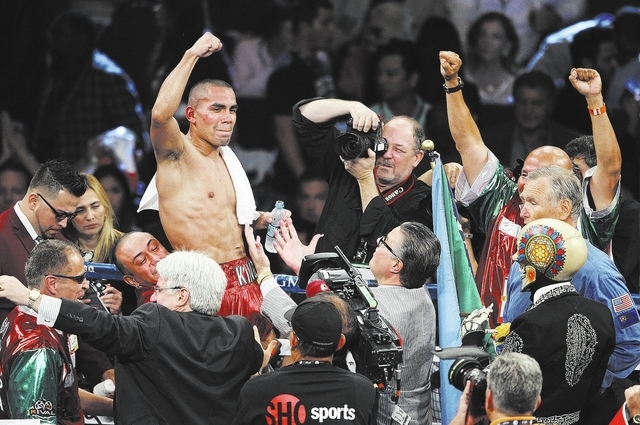 It's not clear whether champion boxer Carlos Molina, arrested in Las Vegas on a fugitive warrant earlier this week, will be released from jail before his title defense Saturday at the MGM Grand Garden.
Molina, 30, the International Boxing Federation junior middleweight champion, was arrested Tuesday afternoon by Las Vegas police on a fugitive warrant.
The warrant, issued in 2007, was for a parole violation for failing to register as a sex offender. He was convicted in 2002 of second-degree sexual assault of a child in Outagamie County, Wisc.
During a Thursday morning hearing before Las Vegas Justice of the Peace Joseph Bonventure, Clark County prosecutor Bart Pace agreed to set Molina's bail for the warrant at $10,000 after discussing the case with Wisconsin authorities.
Leon Margules, who promotes Molina, said "we made an agreement with Wisconsin" for the fighter's release in the sex offender registration violation. "The immigration issue is a little more complicated. I'm still trying to find out exactly why Carlos is being held. I'm hopeful we can get it resolved, get him released and get him in the ring Saturday.
"He told me he's holding up well, but he wants to get out and he wants to fight Saturday."
But before his release from custody, Molina had to also clear an immigration hold. He remained in custody at the Clark County jail as of 5:30 p.m., records show.
Molina, nicknamed "King," was arrested shortly after his press conference Tuesday at the MGM Grand promoting his undercard fight against Jermall Charlo. Canelo Alvarez's fight against Alfredo Angulo will headline the event, which will be broadcast on pay-per-view on Showtime.
Law enforcement sources said Molina was expected to be released before the fight. But he remained in jail Thursday afternoon, hours after his morning court hearing on the warrant. His next hearing was set for Monday, records show.
Richard Schaefer, CEO of Golden Boy Promotions, which is promoting Saturday's fight card, said the Molina-Charlo fight was still on.
"I'm waiting to hear from Molina's people. They're handling all of Molina's (legal) issues," Schaefer said. "We don't have to make a decision on the fight until the weigh-in (Friday).
"But I know Carlos wants to fight. He's very anxious to get in the ring and he's really fired up."
Schaefer said Charlo is aware of the situation.
"We're keeping his camp apprised of the situation," he said.
Molina's opponent said he was surprised by the news.
"When I first heard it, I didn't believe it," Charlo said. "I thought my trainer (Ronnie Shields) was kidding.
"But I'm going to keep doing everything the same way as if we're going to fight. I'm going to stay focused. I'm going to stay in shape. I'm not going to be distracted."
Molina (22-5-2) defeated Ishe Smith in a 12-round split decision for the title on Sept. 14 in a fight at the MGM Grand.
He's fought in Las Vegas several times, including twice in 2011 at the Cosmopolitan.
After the September fight against Smith, Molina said he wanted to fight the winner of the Floyd Mayweather-Alvarez bout, which headlined that event. Mayweather defeated Alvarez.
This is a developing story. Check back for updates.
Staff writers Francis McCabe and Brian Haynes contributed to this report. Contact reporter Mike Blasky at mblasky@reviewjournal.com or 702-383-0283. Follow @blasky on Twitter.