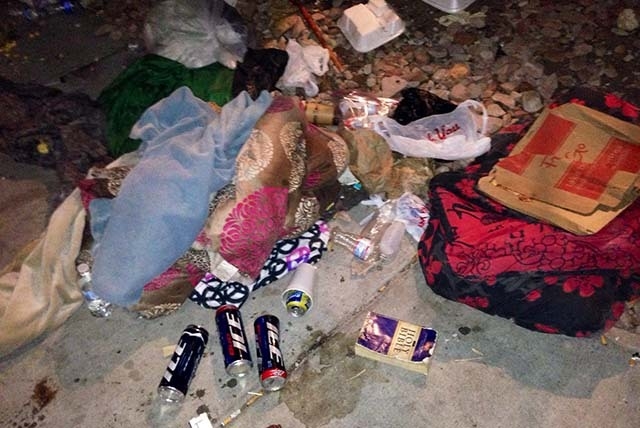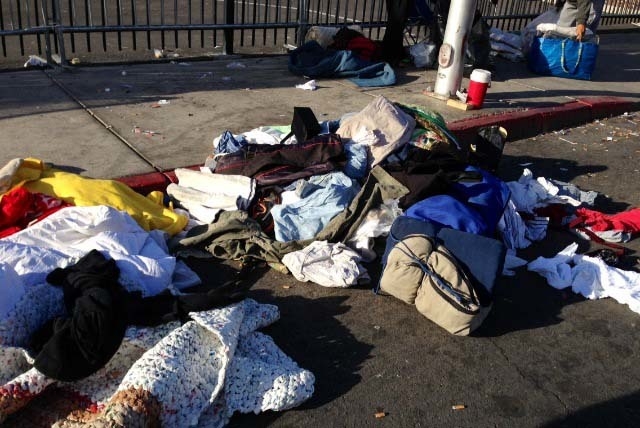 In some areas of Las Vegas, the streets are lined with homeless people.
Those streets are also lined with donations and trash.
Generous locals drop off food, blankets and clothing on sidewalks populated by homeless people and whatever does not get used becomes garbage, leaving used blankets and clothing, food wrappers and rotten food.
City officials and charity volunteers are left to clean up the mess, which also includes vomit and human feces.
"If we didn't clean up, it would be a complete mess," Catholic Charities volunteer Lavett Moore said. "Instead of utilizing the trash (cans), they're throwing it on the street."
This season of giving, Las Vegas police and charity officials have one request. Donate to a legitimate charity instead of donating to the homeless directly.
"If you donate to these agencies, you make a bigger impact," said Annie Wilson, Las Vegas police liaison for the homeless. "Most of the folks out here, we know. We've known them for years. It's about collaboration and working together as a team."
The garbage accumulates year round but during the holidays the donations overflow from the sidewalks into the streets, posing health and safety hazards, according to police officials.
"We'll come in here after the weekend. You can't even use the sidewalk," policeman John Schutt said. "There will be people sleeping, stacks of clothing, feces. We just pick up all the garbage … it's not stuff that can be reused."
The day after Thanksgiving, city officials filled up three garbage trucks with donated items that were spoiled or unusable on Foremaster Lane between Main Street and Las Vegas Boulevard North.
"Leaving items out here on the streets and sidewalks is not the best way to (give)," Schutt said. "If you want to donate, go to the shelter so it doesn't end up in the street."
What doesn't get used is just left there for the city to clean up.
"People just leave stuff on the street which I think is a shame," Moore said. "I hate filth. I wasn't raised like that."
Charitable aid agencies and the police said they appreciated the generosity of Las Vegas, but they want to ensure that the items donated are used and not wasted.
"There's no such thing as giving too much. What we're looking for is helping us look for the best way to give, to share and to help those in need," said John Fogel, director of development at the Las Vegas Rescue Mission. "We're thrilled people are giving. We want it to go to the best use and not just end up on the sidewalk."
The Mission has options for people to personally donate goods to the homeless without going directly to the people on the street which can lead to dangerous encounters.
"We've had people attack the people who try to help them," policeman Aden Ocampogomez said. "If they become victims, they don't want to give any more and then the shelters don't get what they need."
Police and charity spokespeople said another reasons donating to shelters is a better way to help is because it can actually minimize the homeless problem.
"If you give money to those folks, they don't have any incentive to leave," police sergeant David Schofield said. "Donate to the shelters. Don't hand money to folks on the corner because that just keeps people there."
Homeless people often don't go to shelters because they have no desire to comply with shelter rules. Without people donating to them directly, they would be forced to leave or visit the shelters.
"A lot of (homeless) would leave," Wilson said. "They would take the help. Most the people out here, they know me. My goal is to help the folks."
Contact reporter Rochel Leah Goldblatt at rgoldblatt@reviewjournal.com or 383-0381.