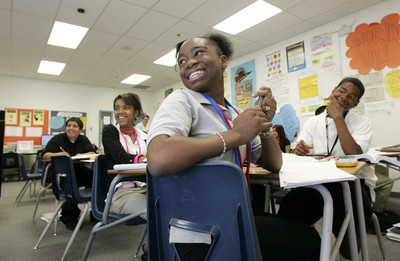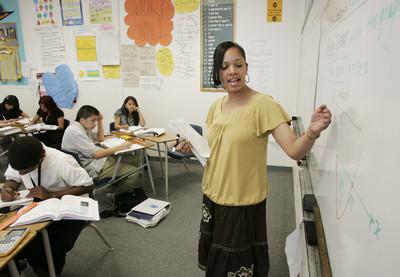 Byron Spencer, 17, remembers getting an eighth-grade report card three years ago that was "full of Fs."
Spencer wasn't alone. Only 17 percent of his West Middle School class could read and perform math at grade level.
"Students were getting ripped off," said Michael Barton, principal of the school near Martin Luther King and Lake Mead boulevards. "They were getting a substandard education."
Edward Goldman, Clark County School District's associate superintendent for educational services, said West was then the "worst performing middle school in the state."
Staffers were embarrassed.
"Our image has not been that great," said geometry teacher Kimberly McGee.
Things have changed since then, including the school's name, which is now the Preparatory Institute, School for Academic Excellence at Charles I. West Hall, or West Prep for short. The middle school also began a transition to a K-12 campus in 2006-07.
Pride is on the upswing, with test scores showing dramatic improvement at West Prep.
On the state-required exams for high school graduation given in March, 97 percent of juniors, or 36 out of 37 students, were proficient in reading; 73 percent, or 27 out of 37, were proficient in math; and 65 percent, or 24 out of 37, were proficient in science.
Of the 37 juniors at West Prep, Barton estimated that 80 percent were enrolled as eighth-graders three years ago.
"We are really pleased with their progress," the principal said.
Districtwide results on the state proficiency exams are not expected for two weeks. West Prep has not gotten its sophomore results, but they are expected to be better than the junior class scores.
"The up-and-comers always want to do better," said David Webb, a guidance counselor.
Based on the performance of the juniors, West Prep's high school program should make adequate yearly progress this year, as required by the federal No Child Left Behind Act, Barton said.
West's elementary school program has met that standard.
The middle school is in its sixth year of falling short of the federal benchmark.
Because the elementary school and high school programs are newer additions, the law does not require them to show as much progress as the middle school, which has been making strides toward proficiency.
But working against the middle school is the influx of students from 54 feeder elementary schools, who come to West with "varying degrees of proficiency," Barton said.
The middle school's enrollment is at 1,000 students. West's total enrollment for grades K-4 and 6-11 is 1,590.
Enrollment is expected to grow to 1,750 students next year with the addition of fifth and twelfth grades.
Barton said the middle school should improve when its elementary students advance to sixth grade.
Because West was considered a "failing school" at the end of 2005-06, about 350 students exercised their option to leave for another school.
"We're still losing some, but not as many," Barton said.
When Barton took over near the end of 2005-06, he kept only 13 of 67 staff members.
"Some were good teachers who were trapped (by circumstances)," he said. "Some didn't care."
Because of the school's poor performance, the district promised the community to put more resources into the school, Goldman said.
At $12,962, per-pupil funding for West Prep's middle school and high school students is about twice the district's average of $6,913, according to 2006-07 figures, the most recent numbers available.
"Obviously I'm biased, but I think spending more in education can make a difference when the money is used appropriately," Barton said.
West Prep qualifies for extra federal funding because it serves a low-income area. Last year, 80 percent of the students were poor enough to qualify for the free and reduced lunch program.
West also is in a neighborhood where Hispanics are the growing demographic. About 20 percent of the students are limited English speakers.
Junior Erick Macias, 16, said he started his freshman year "not knowing English, nothing."
He has passed all three state proficiency tests and wants to pursue a career in computer engineering.
Jhoana Valentin, 17, began ninth grade after moving to Las Vegas from the Philippines.
"It's really different," she said. "I feel like I'm very important. I feel like they really watch out for you."
The extra funding at West means that students benefit from class sizes of fewer than 25 students, compared with average classes of 32 students at other district high schools. West students also have a longer instruction day, from 8 a.m. to 3:30 p.m. compared with 7 a.m. to 1:30 p.m. at other high schools.
West offers a summer session so students can repeat failed classes or get ahead in credits. It also provides after-school tutoring and Saturday "boot camps" to get students ready for state proficiency exams.
Barton said he hopes the school's academic performance and federal economic stimulus funds will shield the school from budget cuts next year.
Currently, the school has 250 high school students.
The smaller enrollment has its trade-offs. West has no sports teams and few electives. Spanish, for example, is the only foreign language offered.
High school students are given the option of playing sports for other schools. Few manage to do so because they need to arrange their own transportation.
Lakeem Ellis, 17, gave up football to attend West Prep as well as some Saturday mornings to prepare for the proficiency exams.
"My family wanted me to do well," Ellis said.
Contact reporter James Haug at jhaug@ reviewjournal.com or 702-374-7917.
Slideshow
JUNIOR STATE PROFICIENCY RESULTS
March 2008-09
West Prep
Proficient in reading: 97 percent
Proficient in math: 73 percent
Students receiving free and reduced lunch: 80 percent
2007-08*
Clark County School District
Proficient in reading: 93 percent
Proficient in math: 69 percent
Students receiving free and reduced lunch: 42.5 percent
Other at-risk schools
Canyon Springs High School
Proficient in reading: 83 percent
Proficient in math: 49 percent
Students receiving free and reduced lunch: 47 percent
Western High School
Proficient in reading: 83 percent
Proficient in math: 43 percent
Students receiving free and reduced lunch: 52 percent
*Districtwide results for 2008-09 have not yet been released.
Source: Clark County School District