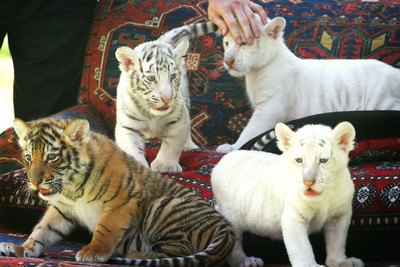 Siegfried Fischbacher has five reasons why his Friday the 13th birthday will have little to do with bad luck.
The entertainer and his partner, Roy Horn, will introduce five 6-week-old tiger cubs to the public today at Siegfried & Roy's Secret Garden and Dolphin Habitat at The Mirage.
The adventurous bunch of cubs — four females and one male — are all Fischbacher said he wanted as he turns 69.
"You see the smile on Roy's face and the whole thing," he said. "This is it — what more could you ask for?"
The cubs made their presence known Thursday, screeching and fumbling over each other as Fischbacher and Horn posed for photos, often playfully using Horn's lap as a personal jungle gym.
Two handlers were nearby to scoop up the cubs when they stumbled off a small couch to explore.
Horn offered the cubs kisses and caresses as they climbed and fumbled around him.
"This is the best rehab for Roy," Fischbacher said. "It gives him a reason to get up in the morning, to feed them a bottle and get comfortable."
Horn nearly died from a white tiger attack at The Mirage in October 2003 and has had several operations during his recovery.
He remained seated Thursday, didn't answer questions during the news conference and walked with help from a nurse and Fischbacher when it ended.
Fischbacher said Horn underwent knee surgery three weeks ago so that he could interact with the animals.
Although Fischbacher didn't say whether the cubs' parents are any of the pair's other animals, he said two of the four females are white tigers and two are striped white tigers. The male is a golden tiger.
"He's already the leader," Fischbacher said. "He's 'Svengali,' that's Roy's choice. He is with four girls. … He has to hold court."
The golden tiger cub is a new breed for Fischbacher and Horn, and he was selected from the pair's outside breeding program.
"We picked the ones that suit to our bloodline so we are not inbreeding," Fischbacher said.
All five cubs arrived at the entertainers' Jungle Palace compound three weeks ago and have already tripled in size. Each weighs a fluffy 15 pounds, and they consume milk and some meats every three hours. As of now, Svengali is the only cub to be named. The females will be named by local students at a later date.
The cubs will be on exhibit at the Secret Garden during the day and will retreat to a nursery on the grounds at night.
Fischbacher was unsure whether the cubs will be part of the duo's one-night performance at the "Keep Memory Alive" Alzheimer's fundraiser in February.
"We are going to appear, whatever it takes," he said. "With all these things, we create an awareness."
Until then, Fischbacher said, he and Horn will soak up time with the active fivesome.
"They are the perfect species, they fit perfectly into our family and, for Roy, they are the perfect rehab," he said. "Everything is just perfect."
Contact reporter Maggie Lillis at mlillis@reviewjournal.com or 702-383-0279.
ON THE WEB: Tiger cub slide show Tiger cub video