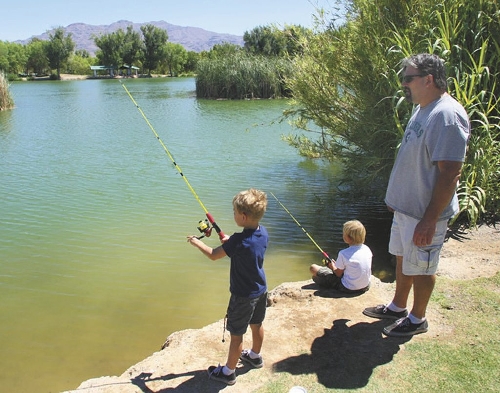 It probably will be harder to get a park named after yourself in North Las Vegas, at least until you have both feet in the grave.
City officials are considering new park and recreational center naming guidelines that appear to prefer the dead over the living.
The guidelines, which the City Council is slated to consider tonight , say "natural persons" for whom parks and recreation centers are named should be deceased for at least two years. The new guidelines do provide an exception to allow naming facilities after a "living person," but that would now require approval by a super-majority vote of the City Council.
The city decided to change its previous guidelines — which listed no distinction between the living and dead when it came to naming facilities — to avoid potential embarrassment that could come from a living namesake's indiscretions.
The two-year buffer ostensibly would allow plenty of time for any skeletons in said namesake's closet to emerge, Councilman Richard Cherchio said.
The namesake "wouldn't be able to do anything bad after that, in theory," Cherchio said.
It may sound macabre or jokey, but city officials have been seriously discussing changes to their park naming policies for some time.
The matter came up years ago when a community group asked that a North Las Vegas park be renamed in its honor, said Michelle Menart, a city planner. The city's guidelines, written in 1992, made it difficult to rename parks and did not allow renaming parks that were originally named for individuals.
"It prompted us to take a closer look at the entire policy and tighten that up, too," Menart said.
The new guidelines would allow parks or recreational facilities named after individuals to be renamed "under extraordinary circumstances" including the individual being convicted of a felony, a crime involving moral turpitude, or "any other disreputable behavior which would have a negative reflection on the community."
City officials cite the local example of late lawmaker Floyd Lamb, for whom Tule Springs, in far northwest Las Vegas, was renamed in 1977. Floyd Lamb State Park remained thusly named through Lamb's 1983 conviction for taking a $20,000 bribe from an undercover FBI agent.
In 2007, the state transferred the park to the city of Las Vegas, which renamed it Floyd Lamb Park at Tule Springs. One of the state's requirements for transferring the park was that "Floyd Lamb" remain part of the name.
North Las Vegas officials hope to avoid such complications when naming facilities for individuals by primarily choosing people no longer among the living. If the city feels strongly that a park should be named for a living person, the city wants the power to rename it if the person gets in trouble.
City staffers originally wanted a policy that allowed naming parks after people only if they were dead. But some council members objected.
"To say we have to wait until he dies first, that's ludicrous," Cherchio said.
The new rules still allow room to name facilities after the living.
"The ordinance spells out that you don't actually, physically, have to be dead," he said.
Former City Councilman Theron Goynes said the city should give preference to the living when naming parks and other facilities.
Goynes, 80, has a North Las Vegas park named in his honor. A school also was named for the longtime local educator and his wife of 50 years, Naomi.
"I go with the old proverb, give a person flowers while he's still alive and can smell them," Goynes said. "If you wait until after someone passes, who is there to get the honor? Let's just do it while they're in existence and contributing."
Goynes has drawn great pleasure from the park named for him, he said.
"I was very, very grateful," he said. "It felt good, and I might just stick my chest out a little bit and say I was deserving."
Contact reporter Lynnette Curtis at lcurtis@reviewjournal.com or 702-383-0285.