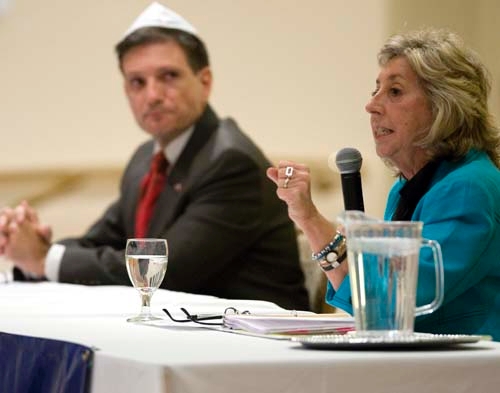 JOBS/ECONOMY
Titus: Voted in favor of the American Recovery and Reinvestment Act and says it created thousands of jobs in Nevada.
"The stimulus bill was absolutely necessary, and I would vote for that again."
Heck: Opposes the $787 billion stimulus act and says it increased government debt without creating jobs. Believes businesses fear potential tax increases under Democratic Congress.
"The role of Congress is not to create jobs. It is to set the conditions under which the private sector creates jobs. And you do that through a stable, fair, predictable tax base."
HEALTH CARE
Titus: Voted in favor of the Patient Protection and Affordable Care Act, even though polls showed a majority of Nevadans opposed the legislation. She says the bill created $40 billion in tax credits to make health care more affordable.
"There are some things that are more important than the vote count — and that is the future of the health of the people of this country."
Heck: Opposes the act, though he supports some provisions. Said it should have included tort reform and removed regulations that prohibit shopping for health insurance across state lines.
"Perhaps if there was more debate and a better understanding of what was in and not in the bill, perhaps we really could have had some meaningful reform that would have made sense."
HOME FORECLOSURE CRISIS
Titus: Supported legislation to make sure federal foreclosure prevention assistance could be extended to homeowners up to 125 percent upside down with their mortgages, as opposed to the 105 percent limit the Obama administration originally proposed. Also has made her office a clearinghouse for reliable information and free assistance for people facing foreclosure.
"Every person who gets protected from a scam is a success."
Heck: In general, Heck is skeptical about direct government intervention, favoring instead cutting taxes and creating a business environment he says will give employers the confidence to hire more workers. Says preventing tax increases and reducing regulation will help businesses create jobs and, by extension, reduce foreclosures.
"If you look at all the other crises we are experiencing … I think you can relate them to the fact we have the highest unemployment rate in the nation and people are out of work."