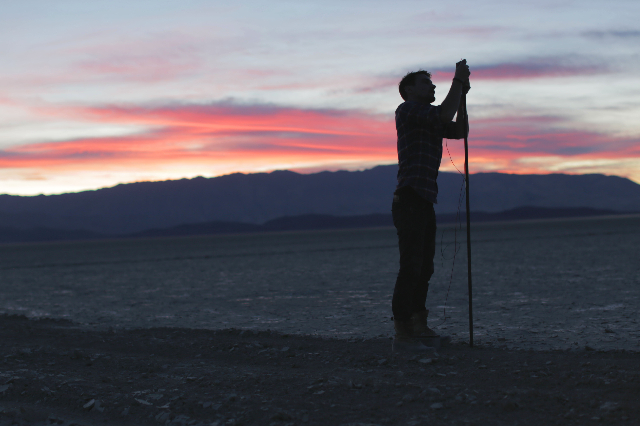 Where do you go if you want to build a scale model that accurately captures the solar system in all of its humbling emptiness?
Nevada is a pretty good place to start.
Last October, Los Angeles-based filmmakers Alex Gorosh and Wylie Overstreet spent about 36 hours in Black Rock Desert, 150 miles northeast of Reno, positioning planets and carving orbits across the face of the same dry lake bed that plays host to Burning Man.
The resulting, 7-minute film, "To Scale: The Solar System," debuted online Wednesday and is already a featured staff pick on the video-sharing site Vimeo as well as a viral hit on social media.
The film plays like a making-of documentary as Gorosh, Overstreet and three friends set up and shoot an epic, three-hour time-lapse using trails of light to show the orbit of the planets at their true scale and distance.
Remember those textbook diagrams and foam planets hung from string in your grade school classroom? All lies. Such representations simply can't capture the astonishing distances involved, Overstreet said.
To contain the orbits in their scale model, Gorosh and Overstreet needed an unbroken disc of lake bed 7 miles across — and that's without Pluto, whose eccentric path around the sun would have required at least another mile or two.
At the center, they placed a balloon sun about 5 feet in diameter. Around it they measured and drew concentric circles for their scaled-down planets: Mercury, the size of a pea, 242 feet from the sun; Earth, a marble, 579 feet; volleyball-sized Jupiter, half a mile; Saturn, a mile and change; Neptune, 3 and half miles.
As the sky grew dark, Overstreet and company walked lights around the orbits of the inner planets and drove the orbits of the outer ones as Gorosh filmed them from a nearby ridge. At about 35 mph, Neptune's path around the sun took 45 minutes.
Overstreet said he first started discussing the idea with Gorosh about two months before they filmed it.
"Once he described what it would look like, I wanted to see it," Gorosh said.
There was nothing arbitrary about their decision to use a blue marble to represent our world. It is explained at the beginning of the film with a quote from Apollo 15 astronaut James Irwin, who famously described the distant Earth as "the most beautiful marble you can imagine."
As the film notes, Irwin was one of only 24 people in human history — all Apollo astronauts — to have actually seen the full circle of the planet with their own eyes.
"They said it was completely life changing," Gorosh said.
The filmmakers hope their celestial scale model will convey even a fraction of that sense of awe.
"We are on a marble floating through the middle of nothing," Overstreet says at the end of the film. "When you sort of come face-to-face with that, it's staggering."
Contact Henry Brean at hbrean@reviewjournal.com or 702-383-0350. Find him on Twitter: @RefriedBrean