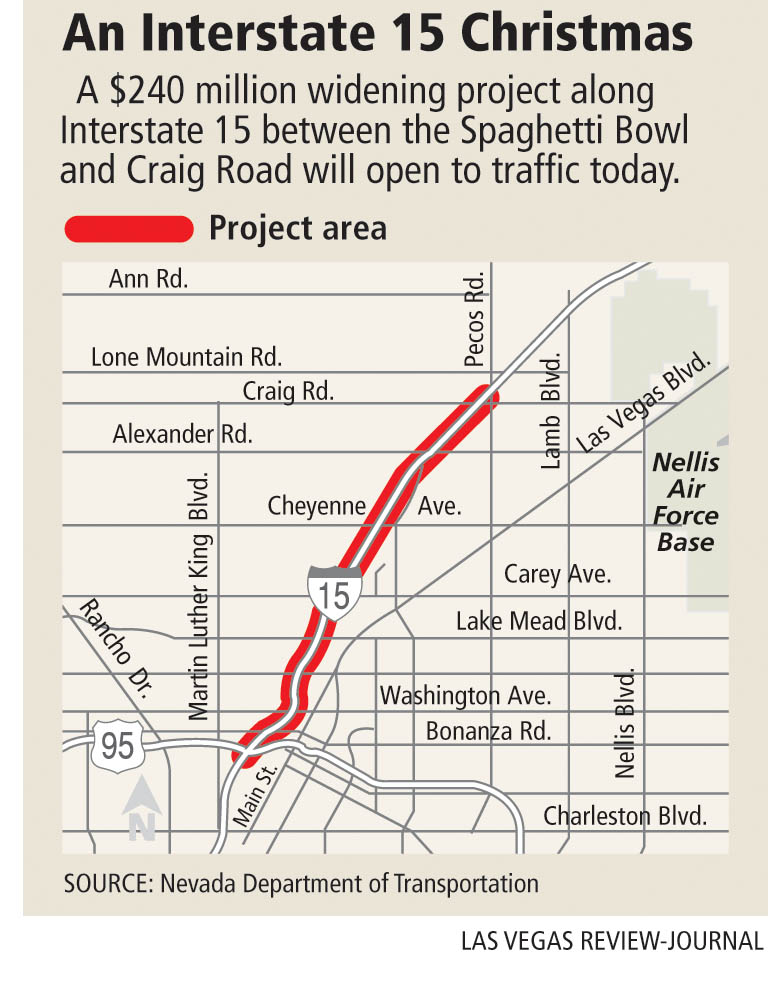 It's not often Christmas comes early, especially when the gift is from a government agency.
But the Nevada Department of Transportation is opening up the Lake Mead Boulevard ramps to and from Interstate 15 today — 10 months earlier than originally projected.
"Trust me, we've had a lot of sleepless nights," said Joe Schroeder, project manager for North Corridor Constructors, a joint-venture between CH2M Hill and Las Vegas Paving Co. "We targeted Christmas Eve last August. We decided to shoot high, and we pulled it all together."
The ramps are a significant element of the state's $240 million endeavor, dubbed the Interstate 15 design-build north project, which includes the widening of I-15 north between the Spaghetti Bowl to Lake Mead to 10 lanes. The southbound side of the interstate was widened to eight lanes.
The project also included the modification or building of 16 bridges between the Spaghetti Bowl and Craig Road.
The new stretch of roadway is scheduled to be open to traffic today, but some lane restrictions probably will occur within the next month as the final touches are placed on the highway and landscaping is finished, Schroeder said.
Transportation officials initially expected the project to be complete in the fall of 2010.
A key to the early completion was that the project was "design-build," meaning the design phase coincided with the building phase. Typically, a project is fully designed, then put out to bid, and finally construction starts.
Not only does the new method, which was used for the first time in Nevada on these highway improvements, speed up a project, but it helps save costs, Schroeder said.
"Everything happens at the same time, and when that occurs, then at any given time during the project, you can always be open to changing things," he said.
That translates into far fewer "change orders," modifications of plans or specifications that can raise the cost.
Schroeder credited motorists for allowing double-shift crews to work with few interruptions.
"The public became a key partner on the project," he said. "They helped by finding alternative routes to and from work, and that reduced the burden on this project. We operate from the standpoint if people have a good understanding of what's going on, they are smart about things."
And patient, even when the highway was reduced to two lanes in both directions from Lake Mead to the Spaghetti Bowl.
"It wasn't always convenient," Schroeder said. "But it went pretty well."
Contact reporter Adrienne Packer at apacker@reviewjournal.com or 702-387-2904.